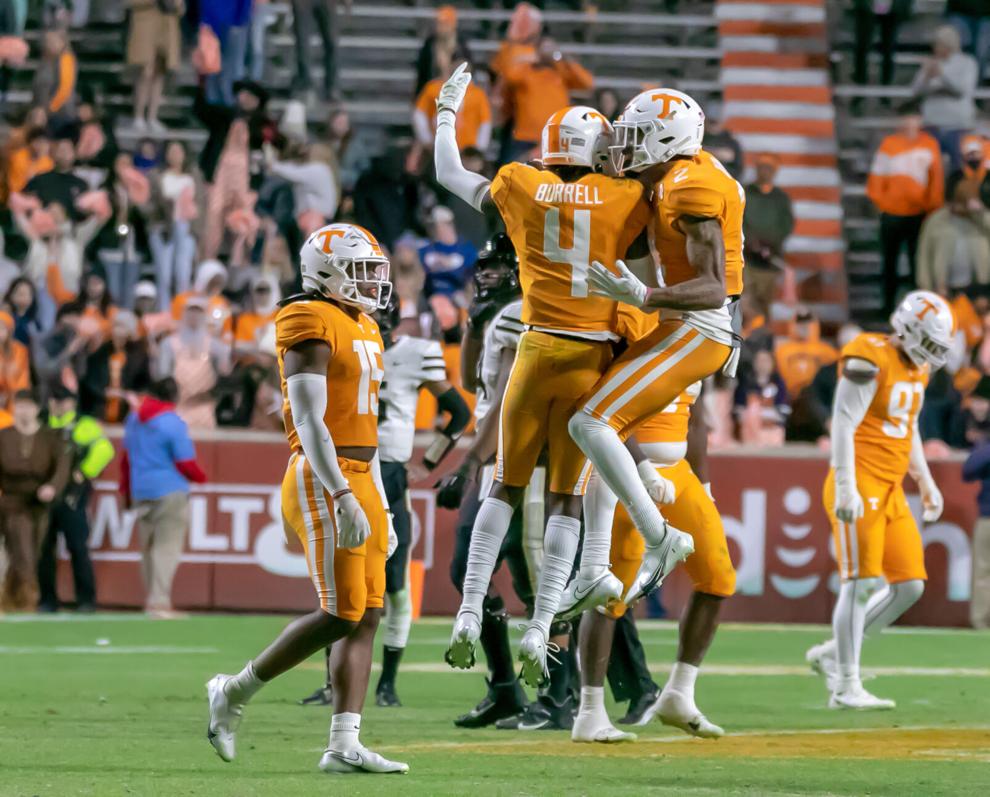 A year ago, Tennessee wasn't sure what to make of its linebacking corps.
The group had lost nearly all of its starters, none more notable than Henry To'o To'o's transfer to Alabama. Heading into 2021, there were a plethora of names at the position, but none were proven. No one stood out on paper. Yet the group over performed and was a surprising bright spot in Tennessee's seven-win season.
Now in 2022, three veteran players are set to lead a deep group of Tennessee linebackers – Juwan Mitchell, Jeremy Banks and Aaron Beasley.
"We're going to lean on some of the veteran guys who have kind of been in the fire a little bit," Tennessee linebacker coach Brian Jean-Mary said in a preseason media availability. "They are going to make really good decisions in intense situations in games."
Mitchell earned a redshirt in 2021, his first season at Tennessee after transferring from Texas. Mitchell was the Longhorns' leading tackler in the 2020 season, but he was limited to three games and one start as he battled a shoulder injury a year ago. He totaled eight tackles, a pass break-up and a quarterback hit (QBH) in those three games.
The talent has always been there for Mitchell, but for the first time in several years, he is finally healthy heading into 2022 and it has shown throughout preseason practice.
"It's really the first time probably in almost a year and a half to two years that he's (Mitchell) felt healthy," Jean-Mary said. "He's gotten all of the surgeries behind him and he's probably as healthy as he's been in a long time. You're starting to see the best parts of him."
If Mitchell can stay healthy for a full season, he gives the Vols a formidable group alongside fellow seniors Banks and Beasley, their two leading tacklers from last season.
Banks paced the Vols with 128 total tackles in 2021, while Beasley finished second with 84. Both were forces in both pass rush — Banks totaled 5.5 sacks and three QBH, while Beasley recorded 1.5 sacks, six QBH and two fumble recoveries — as well as pass protection. Banks also intercepted a pass and broke up three passes.
Outside of Tennessee's trio of seniors are a number of other intriguing options. Two other experienced Vols — redshirt senior Solon Page III and redshirt junior Kwauze (Pakk) Garland — become important depth pieces if Mitchell stays healthy. Page appeared in all 13 games a year ago, totaling 39 tackles and an interception, while Garland is looking for a greater role after getting into 12 games and recording a pair of tackles.
Jean-Mary is putting a greater emphasis on rotating players and keeping them fresh for the entire game, but most importantly the fourth quarter, where games can be decided.
"In this league, you're playing a quality team and most games are going to come down to the fourth quarter," Jean-Mary said. "The guys who are the freshest, if it's an equal matchup, that's probably the team that's going to win or give themselves the best opportunity to win. I thought we got wore down near the end of games. We're going to try to, obviously, keep guys as fresh as possible.
"We're not going to rotate just to rotate. We're going to rotate quality guys who give us a chance to play good defense and win games."
That's where Tennessee's linebacker depth will be so critical. Having a position five to six players deep — and even beyond that, as promising underclassmen like Elijah Herring, William Mohan and Kalib Perry should factor into the mix — could give the Vols that all-important edge in the final quarter of the game.
"Having guys that can rotate in and out and not have a drop-off, that's huge for a defense," Page said.