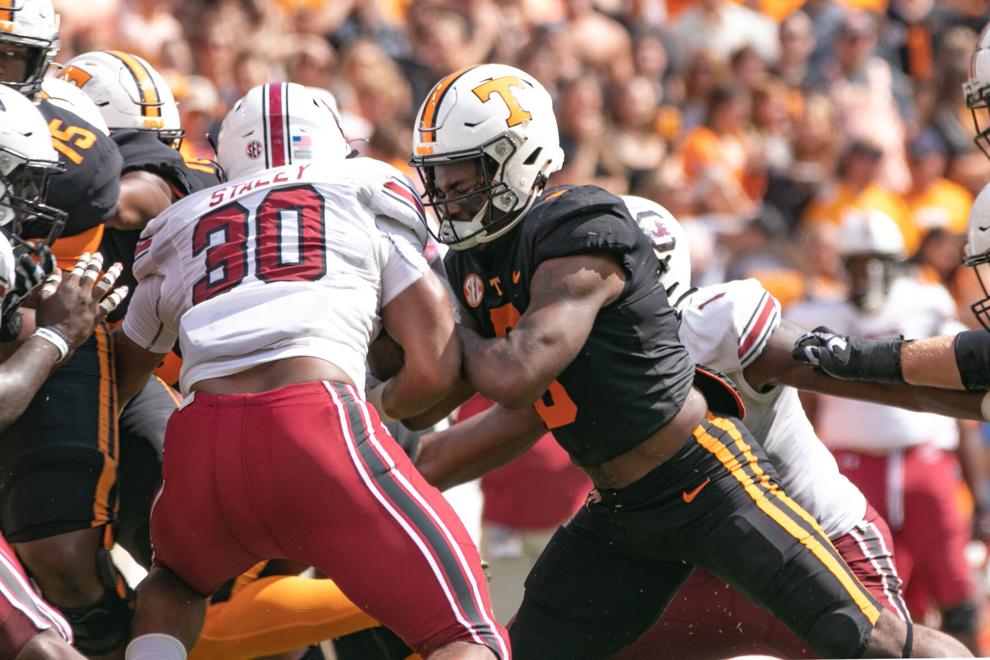 Tennessee was gunning for its second consecutive 60-point showing last Saturday against South Carolina, but they collapsed in the second half and nearly blew the game. Despite the stumble, the Vols still handled the Gamecocks 45-20 for their second SEC win of the season.
Here's how the Vols graded out.
Quarterback
Since taking over the reigns from Joe Milton III, Hendon Hooker has quietly become one of the top quarterbacks in the SEC. He's in the top-4 in completion percentage (69.64%), yards per attempt (9.49) and passing touchdowns (13) and has the highest QB rating (185.88).
Hooker continued that success with another excellent showing Saturday, completing 73.9% of his passes for 225 yards and 3 touchdowns. He also had 66 yards and a touchdown on the ground. His slow second half — 2-of-3 for 8 yards – is more on the coaching than Hooker himself.
In six games as a Vol, Hooker has already tied his previous career high of 13 passing touchdowns that he set at Virginia Tech in 10 games.
Grade: A
Running backs
Much like Hooker, sophomore running back Tiyon Evans has quietly established himself as a top-5 running back in the SEC.
Evans did not feast as much as he did against that bad Mizzou run defense, but he still was a major problem for the Gamecocks. He ran for 119 yards and a touchdown, averaging 7.4 yards per carry.
Evans suffered an injury late in the game and was replaced by Len'Neth Whitehead, who totaled 41 yards on 10 carries and added his first career rushing touchdown.
Marcus Pierce also got 2 carries for 6 yards.
Grade: A
Receivers
Josh Heupel and Alex Golesh have consistently called plays that set Tennessee's wide receivers up for success, and Saturday was no different.
Velus Jones Jr. led the way with 6 catches for 103 yards and a touchdown. The reception was a short pass to Jones on the outside, who ran nearly 20 yards after the catch for the score.
Cedric Tillman also caught 6 passes but for 59 yards.
JaVonta Payton found the end zone for the fourth consecutive game with a 39-yard touchdown catch – the first time a Tennessee receiver has caught a touchdown in four straight games since 2016.
Jalin Hyatt had 3 receptions for 21 yards, including a 3-yard TD catch for his first score of the season.
Princeton Fant also had a 3-yard reception.
Grade: A
Offensive line
The loss of Cooper Mays hurt the Vols Saturday. Jerome Carvin started at center and Ollie Lane started at left guard again, and the inexperience showed. South Carolina racked up 6 sacks on the day, 7 tackles for loss (TFL) and a quarterback hurry.
Despite that, Tennessee's offensive line also paved the way for another excellent showing on the ground – 247 yards and 3 touchdowns.
Injuries are tough to overcome, but the line will need better protection for its quarterback against quality teams.
Grade: C
Front seven
Tennessee's front seven was not as efficient in getting to the quarterback as South Carolina was, but the group still put together a solid day.
Aaron Beasley and Jeremy Banks started at linebacker with Juwan Mitchell out. The pair combined for 17 total tackles, 1.5 sacks and 2.0 TFL.
Backup linebacker Solon Page III had 6 tackles and 0.5 TFL.
On the defensive line, Byron Young, Matthew Butler and Tyler Baron all got to the quarterback, recording 0.5, 1 and 1 sacks, respectively. Young also had 2 quarterback hurries.
Grade: B+
Secondary
Tennessee's secondary was the star of the defensive effort Saturday. Redshirt sophomore, Brandon Turnage, making his first career start, paced the Vols with a game-high and new career-high 14 total tackles. Turnage filled in at the STAR position for Theo Jackson, who sat out the game with an injury. For his efforts, Turnage took home the SEC Defensive Player of the Week award.
Trevon Flowers was second on the team with 9 total tackles. Jaylen McCollough picked off South Carolina attempting a double pass for his second straight game with an interception and third of the season. Alontae Taylor had 3 pass breakups and 2 tackles, and Warren Burrell recorded 4 TFL.
In total, the Vols' secondary held Luke Doty to 167 yards, a 67% completion rate and no passing touchdowns, his first game of the season without a touchdown pass.
Grade: A+
Special teams
A strength of the team over the first several games, the Vols' special teams unit has slowly tailed off since.
The biggest special teams blunder cost the Vols a touchdown. South Carolina lined up for a field goal, but punter Kai Kroeger took the snap and found Payton Mangrum wide open for a 44-yard touchdown, South Carolina's longest completion of the day.
Chase McGrath made his lone field goal attempt – a 25-yard chip shot – and converted on all 6 extra-point attempts.
After not punting once at Mizzou, Paxton Brooks returned to the field for 5 punts, averaging 44 yards with a long of 60. He pinned the Gamecocks inside the 20 once.
Grade:C+
Coaching
By default, this might have been Heupel's worst game at Tennessee. The Vols built up a 38-7 lead at halftime, but nearly coughed it up in the second half.
Most of that came from less-aggressive play calling on Heupel's part, transitioning more to the ground game to run out the clock. The result was that Tennessee attempted only 3 passes in the second half and was outscored 13-7.
Heupel and the Vols went back to the up-tempo offense late in the game and added an insurance touchdown that sealed the game. The third-quarter lapse did not come back to hurt the Vols in the end, but an offensive stall-out like that cannot happen against higher quality teams, like Ole Miss, this Saturday.
Grade: C
Overall
There are only a few criticisms to make after a 25-point win. Sure, Heupel's play-calling could have been better in the second half and the special teams unit will need to address its recent slump, but those things are fixable. Heupel has shown this year that he can and will learn from mistakes.
The offense is hot at the perfect time, and the defense played well despite some key injuries. That makes the Vols' Ole Miss matchup an interesting one for sure.
Grade: B+