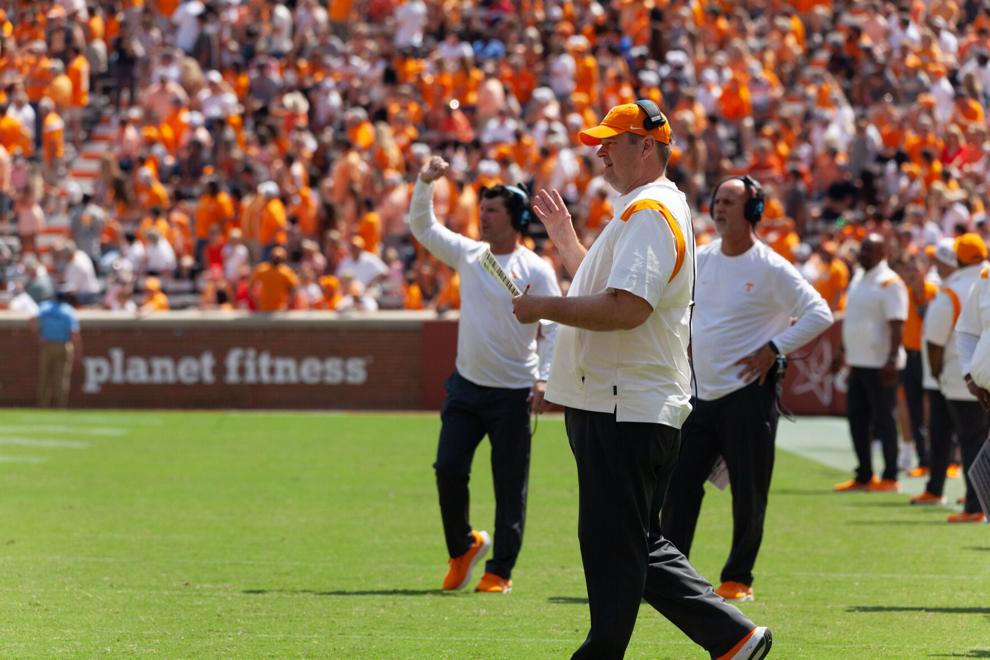 Losses are never fun. The Tennessee Volunteers (1-1) learned that first hand on Saturday, falling to Pittsburgh 41-34. Life does go on, however, and no loss will stop head coach Josh Heupel from appearing on 'Vol Calls.' This week, Heupel discussed bouncing back from a loss, updates on injuries, and quarterbacks.
Heupel started off the night praising his team's bounce back ability.
"It's been awesome. I said it after the ballgame, you're going to learn a lot about your football team, what their makeup is by the way they approach coming in the building," Heupel said. "The challenge for all of us, players and coaches together as a football program, was to take ownership in the things that we can correct.
"We've had a great week of practice, there's been great focus on the things that we know that we have to get better at and a part of that is the process, a part of that is the last 48 hours to kickoff. They've been great through Wednesday. Thursday and Friday gotta be right for us to go play our best brand of football on Saturday."
The first-year head coach was later asked about the process of recovering and continuing to grow as a program even through adversity.
"There's a process to being in the building, being totally engaged," Heupel said. "There's a process to what it looks like in our evening meetings, your tips and reminders of what gameday looks like, all things that we've talked about with our players, being on time for everything and being engaged and ready to go."
"The game's the most important thing and everything's a buildup to that and I think part of us growing as a program is understanding everybody wants to win once the balls kicked off, it's the process that matters and how you get there and the end results will show based on how you perform during the process," Heupel said.
Quarterback play has been a huge source of controversy within the Tennessee fan base. Starter Joe Milton went down with an injury against Pittsburgh and fellow graduate transfer, Hendon Hooker, has been taking over. Milton didn't play particularly well in his limited time on Saturday, so the jury is still out on who will get the start. Heupel commented on all of the quarterbacks practice performances this week and gave an update on Milton's injury.
"Hendon and Harrison have both been good in practice," Heupel said. "Joe's been out there a little bit more today than yesterday. We'll find out where he's at medically as we get closer to kickoff. The other two guys have been great with the reps that they've been given, I said this at the beginning of the season."
Heupel then discussed what needs to be improved in the passing game.
"First of all, the quarterback position in total, we got to take better care of the football," Heupel said. "We can be better in the pass game decision making. There's some things that we like that we've seen on tape too, but the strength of one position can never be one guy. Whoever gets the nod on Saturday, go out there and compete and play at a great level. Other guys get an opportunity, go out and take advantage of it. I anticipate seeing high-level play this week."
"(The vertical passing game is) something that we absolutely have to connect on, plenty of opportunities where we are clearly behind the defense and have opportunities to create huge plays that we don't take advantage of that we can, and I've seen us connect on those things during the course of practices and scrimmages. We gotta get right on game day."
Another huge issue for Tennessee last Saturday was penalties. Tennessee committed 13 penalties for 134 yards. Heupel discussed the uncharacteristic nature of those penalties and what may have caused them.
"It's been uncharacteristic of the competitive situations that we've been in," Heupel said. "We've only been inside of that stadium with fans against an opponent one time. Disappointed in the way that we conducted ourselves, a lot of controllables that were just outside of our character."
Heupel also spoke on if those penalties have been present during practice.
"No, we have officials every single day out in practice, obviously at all the scrimmage opportunities," Heupel said. "It was really a big game for our football team and when I say that I'm talking about our players. They've heard the outside noise, nobody was satisfied with a year ago. They're very prideful, it matters to them, they wanted to play at a really high level. They wanted people to see them play that way. In some ways I felt like during the course of that ballgame that energy came out and manifested itself in some of those uncharacteristic moments."
Heupel was also asked about the appeal of playing an instate opponent, even if it is an FCS team like Tennessee Tech.
"I think it's a great opportunity for both programs to get together," Heupel said. "Obviously a bunch of kids from the state of Tennessee will be on the field too which I think is unique and awesome for the entire state. A lot of fans will be able to watch people they're tied to and connected to. Absolutely looking forward to that."
Tennessee will face off against Tennessee Tech at Neyland Stadium on Saturday, Sept. 18 at noon EST.