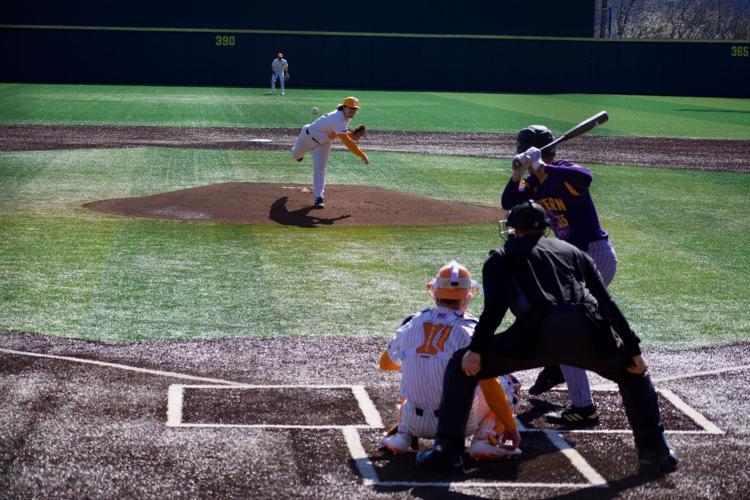 The Tennessee Volunteers have started the 2020 season in impressive fashion. The Vols are currently 10-0 and are ranked as high as No. 16 in the nation. They are a pitcher centered team with an offense that could explode at any moment. Tennessee also defeated two ranked teams, while winning the Round Rock Classic.
Here is a more in-depth look at the Vols' first month.
Overall team play
Tennessee opened up the 2020 season with questions about the offensive production. Those questions, however, were soon answered in the season opening series against Western Illinois.
In game one of the series, Tennessee defeated the Fighting Leathernecks 3-0, and hit two home runs. It was not until the next game when the Vols realized their true offensive potential. Tennessee won 19-0, on 13 hits, including two three-run homers. In the final game of the series, Tennessee drove in 23 runs on 19 hits and nine walks. In total, Tennessee scored 45 runs which is the most runs the Vols have scored in a three game series since their 2005 series against Radford.
"I think it was kind of a matter of time," Tennessee head coach Tony Vitello said. "I don't think we have the best offense in the country, at least I don't think we've earned that yet, but we certainly aren't the worst either. It was a slow start, part in due because of Western Illinois' pitching but we also didn't get it going the way we needed to. Once guys finally started shedding themselves of the adrenaline rush we were able to play and when this group just plays, they are pretty exciting."
While the offense was the main story, the pitching performed as expected in the opening series.
Vols' Opening Day starter, Chad Dallas, went five innings, giving up just one hit while striking out four and walking two. Chase Wallace got the call in game two and went 5.2 innings. Wallace surrendered two hits, walked just one batter, and struck out six. Jackson Leath started on the bump in the final game. He gave up three runs on only two hits and two walks, but struck out 12 over his 4.1 innings of work.
Tennessee's next game came against Charlotte. The Vols defeated the 49ers, 8-2, with starter, Elijah Pleasants picking up his first career win and the Vols recording 10 or more hits for the third consecutive game.
The Vols' first set of challenges came during the Round Rock Classic. Tennessee was set to play then No. 1 Texas Tech, Houston and then No. 25 Stanford.
Tennessee defeated Texas Tech 6-2, to open up the tournament. Starter Chad Dallas, threw five innings and gave up two runs on five hits, and walked two, while striking out 8. In the opening inning, Zach Daniels hit an inside-the-park home run to get the Vols on the board. Freshman Jordan Beck, recorded a two-run homer to give the Vols a 3-0 lead at the end of the first and they didn't look back.
The Vols clubbed a season high, five doubles in their 8-4 win against Houston, but none more important than Connor Pavolony's base clearing hit in the seventh inning to give Tennessee a 6-4 lead. Wallace made the start and got touched up during his 4.1 innings of work. The righty gave up three runs, three hits, and two walks, but did tally seven strikeouts. Leath entered from the 'pen and went 4.2 innings and gave up only a run while striking out eight.
Tennessee completed the weekend with a 7-2 win, after Stanford committed five errors. Pete Derkay came in to pinch-hit in the seventh and delivered a single that drove in a pair of runs. Drew Gilbert came in relief and threw 4.1 innings and gave up just a run while striking out three. Redmond Walsh threw the final three innings and didn't give up a hit and he struck out four batters.
"It is too early to talk about this in our sport, but your resume is important," Vitello said. "So you wanna build your resume for all the things that you want to happen in the postseason. You really can't pick out which game out of the 56 that would really make a difference. You need to treat all the games the same and give them equal value, so at the end of the year you can turn in your resume and give yourself the best shot."
Tennessee returned home after the Round Rock Classic where its next two games were victories against Northern Kentucky and UNC Asheville with the final scores being 15-1, and 12-1, respectively.
In their most recent series, the Vols' played George Washington and swept the Colonials this past weekend.
Tennessee won game one, 7-1, and was boosted by Trey Lipscomb's grand slam in the eighth inning. Dallas got the start and went seven innings, giving up only one run on six hits while striking out seven to just one walk.
In game two, Wallace and the Vols got down early. The starter went four innings and gave up four hits on three runs, two earned, walked three batters and struck out four. Two of those three runs came in the first and in the third, the Vols were down, 3-0. Gilbert hit a home run in the bottom of the third to get Tennessee on the board, but it was Derkay's two-run single in the fifth that proved to be the biggest hit, which tied the ball game at three. Walsh came in for Wallace and dominated the Colonials. The lefty went five innings and only surrendered two hits and struck out a batter.
The Sunday matinee saw a different Vols team than the previous two matches. This time, Tennessee jumped out to a 4-0 lead early in the third inning. Pavolony and Lipcius both had two hits, a home run and three RBIs. Hunley got the start and threw two shutout innings until Leath came in relief to throw four innings of two hit ball to secure the win.
Vol standouts
Tennessee has seen great performances from most of its players through the first month of play, and some even more impressive than others. Here is a look at some of those standouts.
Gilbert has only started in five of the team's 12 games, but he could see that change, due to his recent play. The freshman outfielder is hitting .375 with a .531 on-base percentage. He has also recorded a home run and five RBIs.
Daniels continues to be the team's best hitter since the start of the season. The Round Rock Classic MVP has a slash line of .368/.500/.763 and also owns a 1.263 OPS. The free-swinging right-hander has 14 hits and 13 runs in 38 at-bats. He leads or ties the team in doubles (six), home runs (three), RBI (12).
Jake Rucker has started in every game so far this season and remains a key cog in the offense. He is hitting .341 with three homers and nine RBI. He also gets on base at a .460 clip and is tied for third on the team with two.
Pavolony is showing that he is much more than a good defensive catcher. The backstop is hitting .333 in his sophomore campaign and while he has only walked two ties in 27 at-bats, he has made up for the lack of getting on base with power, as he has recorded two doubles and three home runs so far in the season.
Lipcius filled up the stat sheet this past month. The veteran first basemen took 28 at-bats and currently owns a line of .321/.548/.750, along with nine runs, four doubles, a triple, two homers, and 12 RBI. He also has a 1.298 OPS, which is good for second on the team.
Derkay is one of the best bench players in the nation after the month of February. The senior owns a team high slash line of .611/.682/.889 and an OPS of 1.571, which is also a team high. In his 18 at-bats, he has also tallied two doubles, a homer, and 11 RBI.
Hunley may have performed like the best pitcher on the Vols' roster this past month. So far, he has pitched 13 innings and has not allowed a run. He has given up just four hits and two walks, which puts his WHIP at a .46, and he has struck out 11 batters. The righty also leads Tennessee in saves with three.
Junior college transfer Chad Dallas has been a standout for Tennessee this season in three starts. While he has given up three runs, his ERA still sits at just 1.59, the best among the Vols' starters. He has gone 17 innings and has an opponent average of .197.
Leath is a strikeout machine. The righty has 27 strikeouts to three walks in just 14 innings. Not only that, he too owns a sub-two ERA and is tied for first in wins on the team with three.
Walsh entered the season as Tennessee's closer and while they have not needed him much in save situations, he has just one save, he is still dominating hitters. In 9.2 innings of work, he has given up just two hits and two walks, while striking out seven batters. Redmond has yet to give up a run and his WHIP sits at .43.
What's to Come
Tennessee has four games until they open up SEC play against South Carolina in Columbia. They host Wright State to Lindsey Nelson Stadium this weekend.. After that, they start next week against ETSU on Tuesday.