Tennessee baseball's No. 1 fan, Knox Borgerding, was ecstatic when he found out he was going to Omaha.
"Oh my gosh!" Knox cried in excitement. "No way! No way! I'm so excited!"
Knox's mother, Taylor Borgerding, surprised her 6-year-old son with tickets to the 2021 College World Series in Omaha, Nebraska, to cheer on the Vols as they made their first CWS appearance since 2005.
"Omaha was a blast," Borgerding said. "He got a lot of up front time with them right there. We did the Vol Walk with them. Omaha was an amazing experience. That was super fun."
Knox's connection with Tennessee baseball started with his grandfather, Borgerding's father, Steven. He graduated from Tennessee, and despite raising his family in Atlanta, Georgia, their veins ran orange. Borgerding even named Knox after the city where his grandfather went to school to honor her late father.
One Thursday afternoon in March of 2020, Borgerding decided to take a trip. The Tennessee baseball team was hosting an instructional clinic for children at Lindsey Nelson Stadium to raise money for the victims of the devastating tornadoes in Nashville. Borgerding and her sister picked up Knox from school early and made the drive to Knoxville for the clinic.
Borgerding and Knox arrived at Lindsey Nelson Stadium, and since parents were not supposed to be on the field, Knox went alone. As Borgerding realized too late, most of the other children who were Knox's age were accompanied by their parents, and Knox – who just turned 5 years old – was easily the smallest one there.
The fact that he was the smallest one there or that he was alone did not damper Knox's mood – which remained as energetic as ever – and he caught the eye of infielder Jorel Ortega, who was a freshman at the time.
"I see everybody going crazy over a little kid," Ortega said. "I start looking like, 'What is everybody looking at?' I see this little kid, he's literally dancing in front of everybody. Just having fun. Since that day, I started talking to him, having a good time with him."
Ortega and Knox immediately hit it off. Knox never meets a stranger with his outgoing personality, and he was soon following Ortega around the clinic. By the end of the camp, it was not only Ortega, but outfielder Evan Russell that had a budding friendship with Knox as well.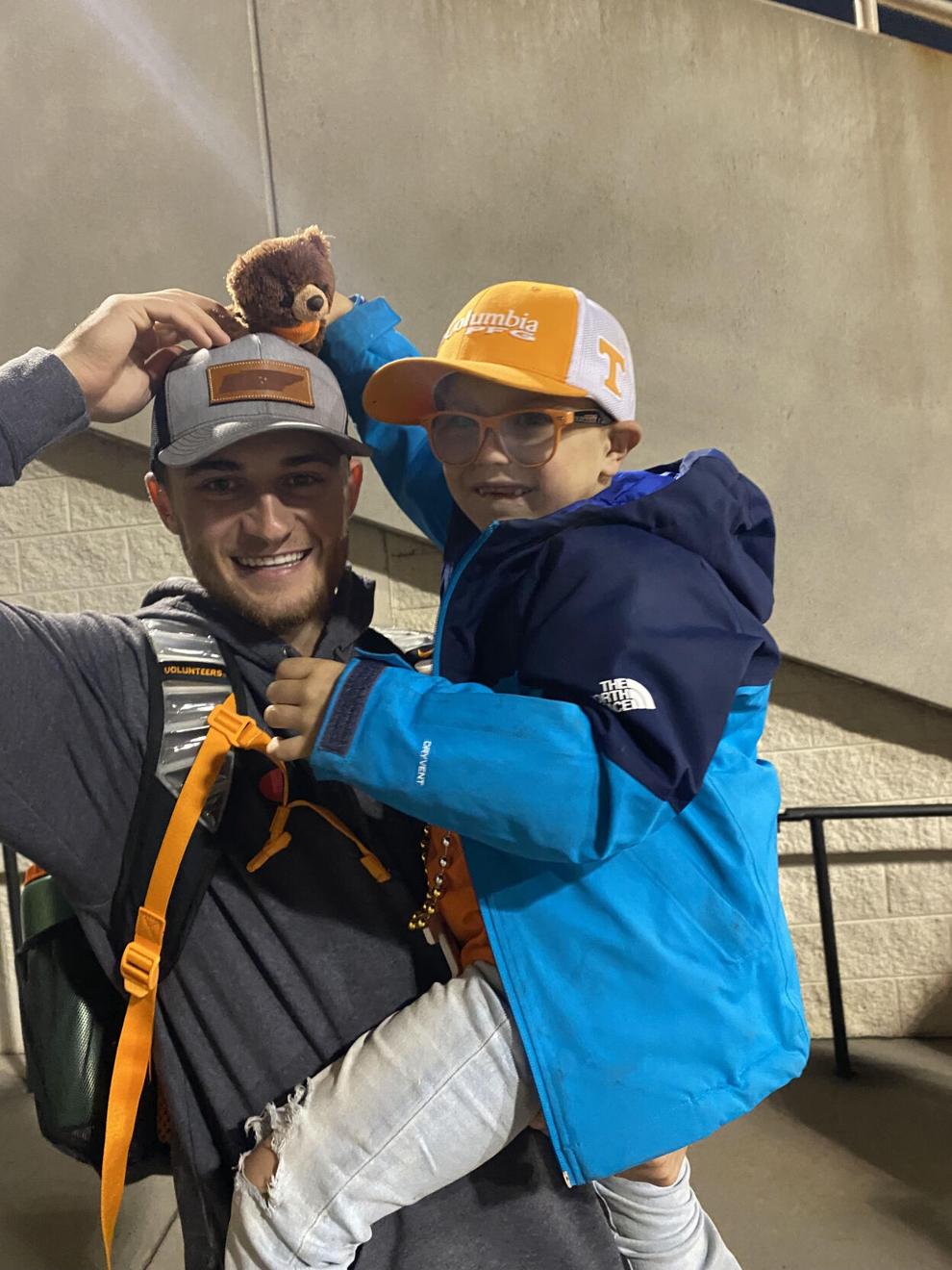 "Most of the time at camps, little kids are too shy to be themselves and really connect with the players, because when we come around, they just get big-eyed," Russell said. "But Knox was probably the most outgoing kid I've seen at a camp. You could clearly see the excitement that he had to be on Tennessee baseball's field and to be around the players."
The fact Knox attended the camp at all is nothing short of a miracle. Borgerding's pregnancy with Knox was routine and he was born healthy. Thirty-six hours after his birth, however, Knox was found unresponsive – he had been dead for 30 minutes.
"The doctors told us that you could have cut his head off and put it on the ground, and he would have better off than we found him," Borgerding said.
The doctors cool-capped Knox's brain – bringing the brain temperature down to help reintroduce oxygen – to keep him stable, but when an MRI showed oxygen deprivation on Knox's brain, Borgerding was faced with a choice.
"We were going to have to decide whether or not to pull the plug," Borgerding said.
Showing early signs of his strong-willed personality, Knox made progress each and every day. As he recovered, it no longer was a question of whether Knox would live, but what his quality of life would be.
Two weeks after his birth, another MRI revealed that all of the spots of oxygen deprivation on Knox's had regenerated and disappeared. Knox has no lasting effects from any of the complications.
"They told us he'd never walk or talk or do anything," Borgerding said. "He's a total walking miracle that he's even here, but the fact that he's thriving the way he is, it's amazing. He's just full of life."
Knox has grown more advanced than anyone could have imagined. Now in kindergarten, Knox is reading advanced book series like "Harry Potter." Knox also plays baseball for his local Little League team in Atlanta, where he likes to pitch.
That love for baseball is what led Knox to the clinic in Knoxville and to a friendship with Ortega, Russell and the rest of the Vols.
Ortega and Borgerding messaged each other the night after the clinic and stayed in contact as Knox was invited back and became closer with the team.
"I just told her how amazing Knox was," Ortega said. "I told her if anything was needed for him, I'm here any time."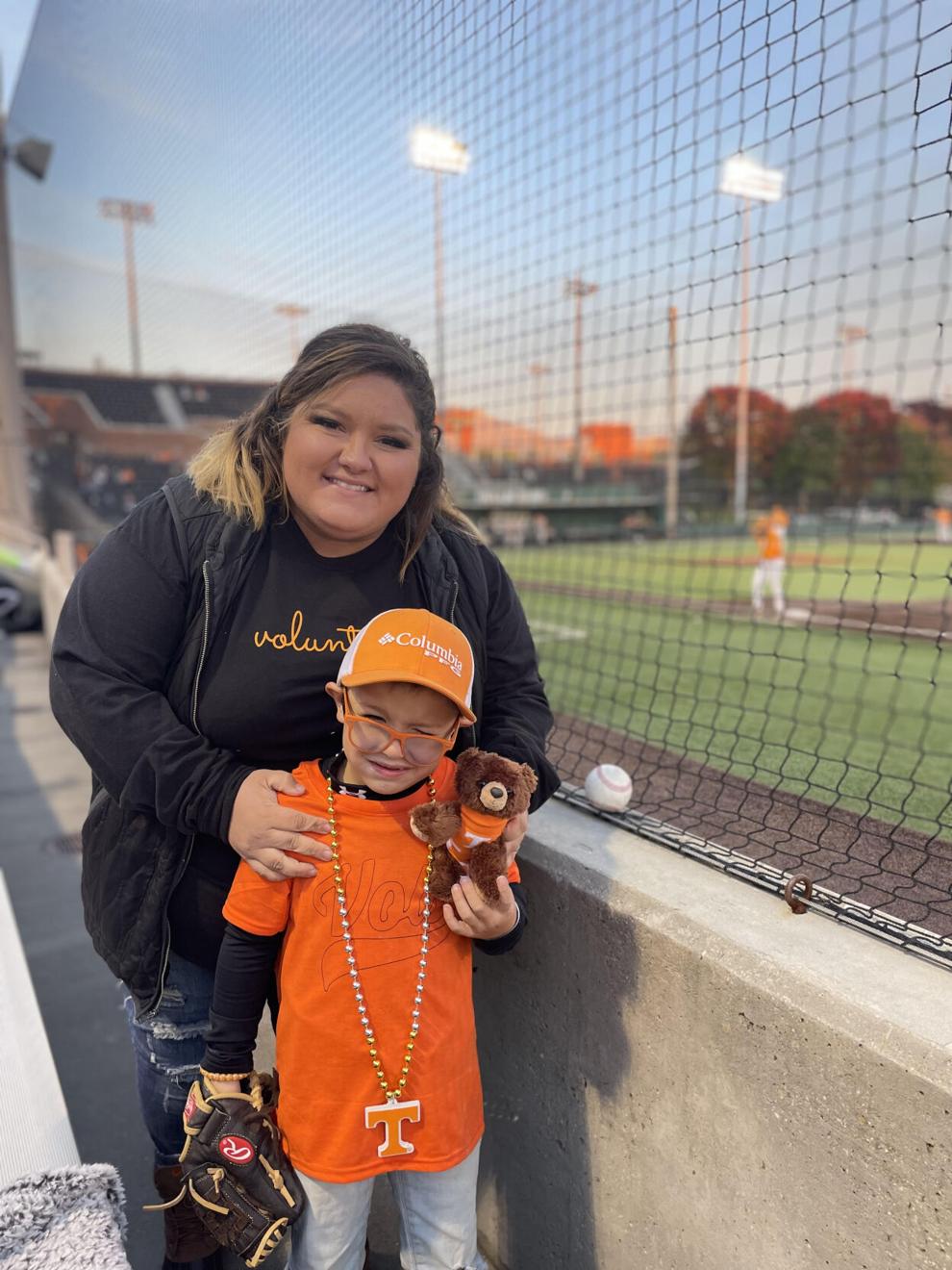 Knox traveled with the team to several of their biggest games. Knox and his mother were in attendance for the Vols' series at South Carolina, the SEC Tournament in Hoover, Alabama, and of course, the College World Series.
The Vols gave Knox memorabilia every time he was there to cheer them on. Head coach Tony Vitello's father made sure Knox had a baseball at each and every game. Max Ferguson also gifted Knox his SEC All-Tournament Team trophy from the SEC Tournament, which now sits in Knox's own trophy case.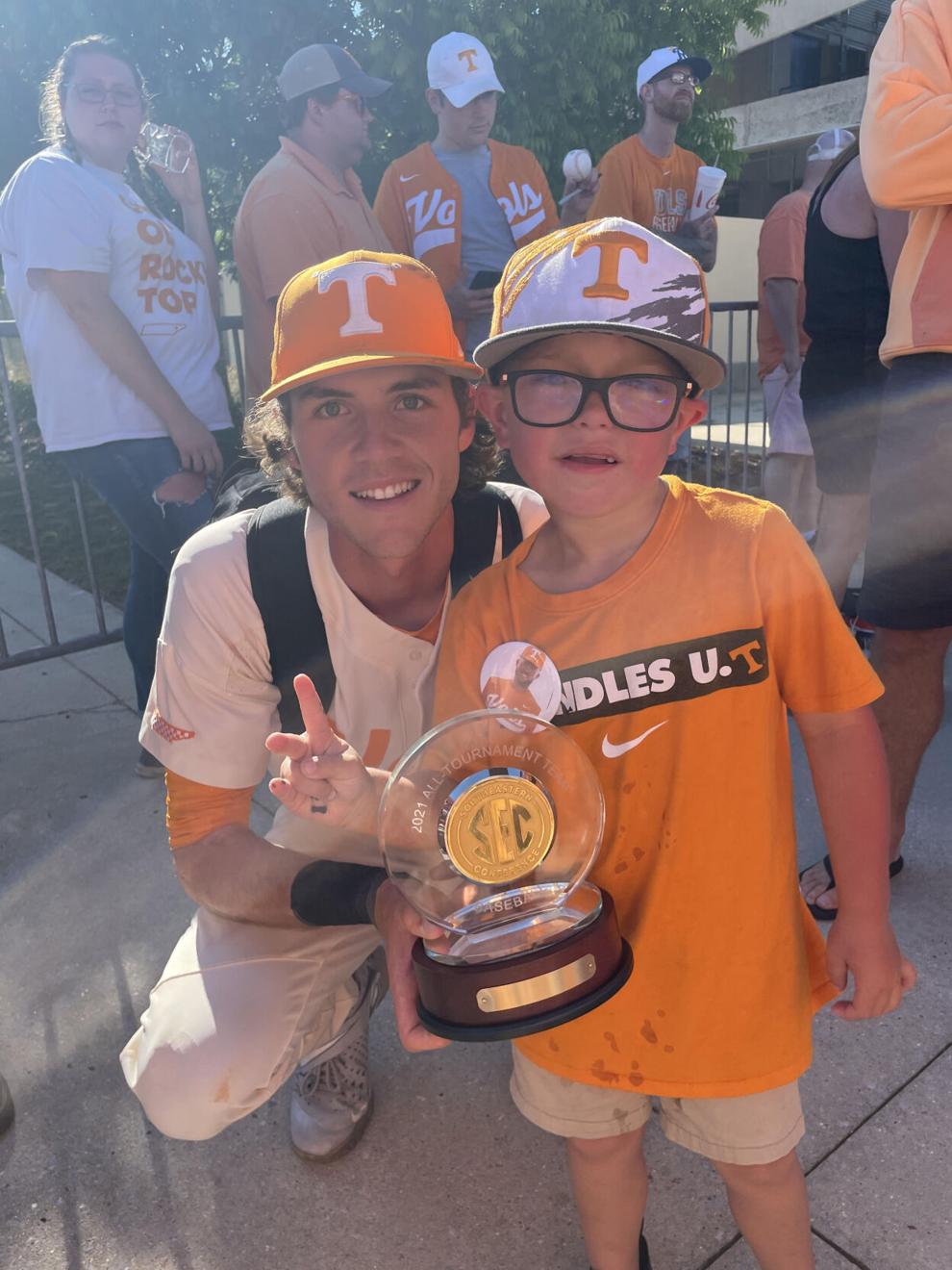 "To make an impact on kids that have made an impact on me, it's pretty awesome to have something that shows that all the hard work is going towards something good," Russell said.
Knox also got plenty of pictures and autographs with everybody on the team, from pitcher Zander Sechrist – who went to the same high school in Flowery Branch, Georgia, as Borgerding – to catcher Jackson Greer. Knox even copied Greer's tattoo sleeve with a fake sleeve of his own.
"They treat him like he's one of them," Borgerding said. "It's so sweet. It makes him feel so special. They're one of a kind."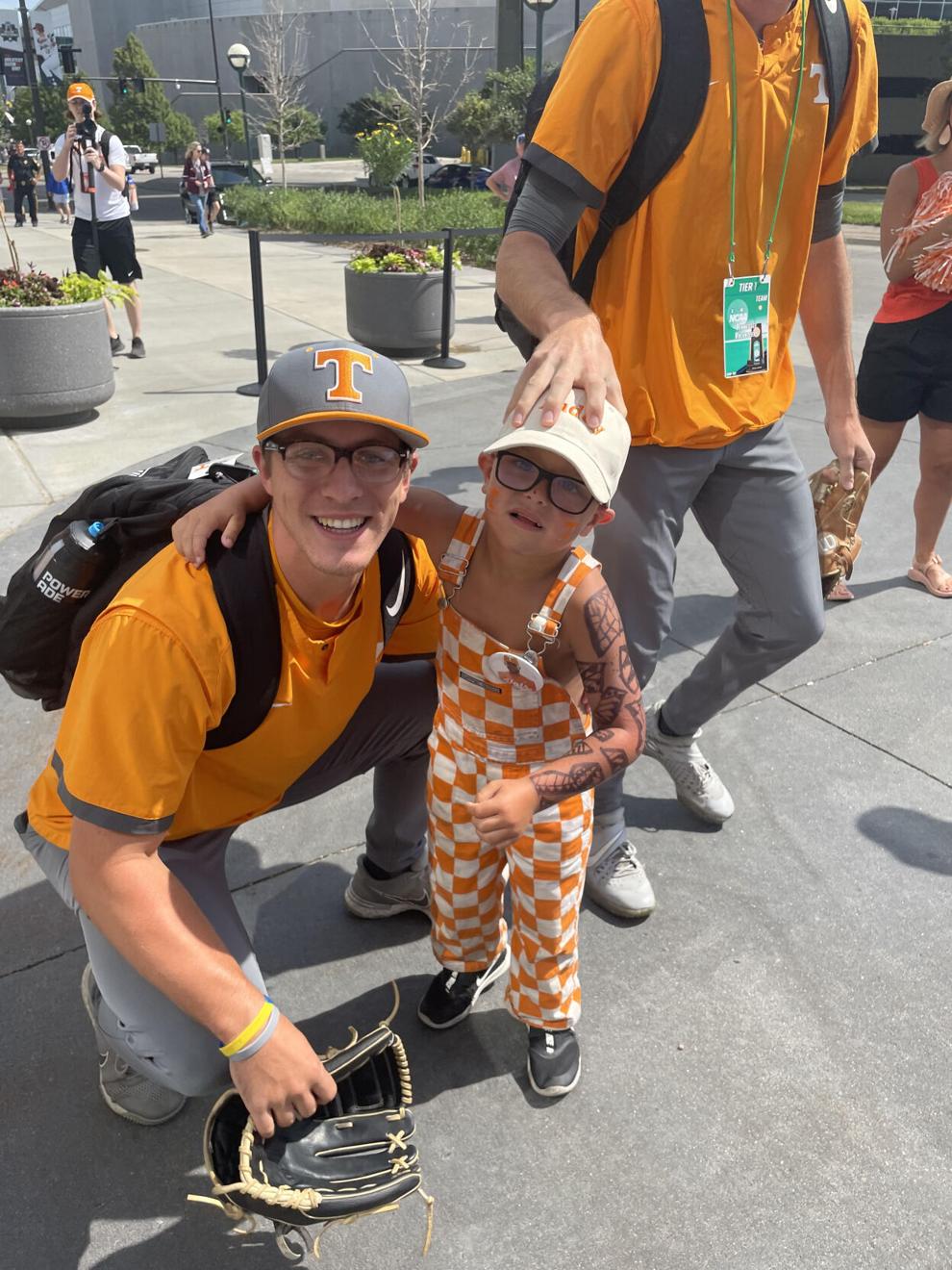 Ortega's and Russell's friendship with Knox goes deeper than gifts and pictures. Though they are collegiate athletes a step away from professional baseball, they are still encouraged every time they see Knox around.
"After a bad game, you're walking to your car, you're usually not in the mood of shaking too many hands or giving hugs. But it doesn't matter how you play, Knox is always screaming your name as soon as he sees you," Russell said. "It's almost relieving. It makes you forget about the good and the bad. Knox shows what pure love and pure joy is whenever you're around him. I think that's why he's so likeable for the guys. I think that's why he's so close to Jorel and I."
The players benefit from knowing Knox as much as he does from knowing them. The joy Knox brings is more important than home run they could ever hit. Knox has taught them perseverance, friendship and to enjoy life. That's why Ortega wants to give back.
With the opportunities created from the new NIL laws, Ortega is in the early stages of developing a t-shirt with Knox on it. The goal is to get Knox's story out, and a portion of the proceeds will go to charity.
"We just want to share with everybody Knox's story," Ortega said. "I feel like if you read about it, it would be very inspiring to kids in those situations. And not even just kids, but anybody who thinks, 'I can't do this.' And then you have this story come out about a kid who had complications at birth and now he's doing all the stuff that he wanted to."
Knox will be there for the Vols in 2022 as they look to repeat their success from a year ago, which is exactly where he wants to be forever. Knox's dream is to attend the University of Tennessee like his grandfather – he wants to major in aerospace engineering.
"Everything he's done up to this point, I don't put anything past him. I definitely think he can do anything he wants if he really, really wants to," Ortega said.
As Knox put it:
"I belong to Tennessee!"