Well into the third school year with the pandemic, COVID-19 has remained a large concern for a majority of students. Its lasting impact on the world and the community continue to be seen as cases continue to rise.
To get a broader picture of student's concerns, The Daily Beacon conducted an anonymous survey that was posted to social media and closed before the recent expansion of the mask mandate. The survey garnered 85 responses. The first question asked what concerns students had about COVID-19 going into this semester, with the option of selecting one or multiple choices out of the list.
From 85 respondents, 75.3% checked COVID-19, 88.2% checked the Delta variant, 61.2% checked social distancing, 76.5% checked mask requirements and 64.7% checked vaccine requirements. A final option allowed respondents to submit their own concern as an answer. Some answers included seating charts, lack of isolation and quarantine support and protection for employees.
After marking off their concerns, respondents were prompted with a short answer question about why those were concerns. A majority of the answers cited lax mask requirement enforcement, vaccinations not being required and a lack of social distancing in classrooms as part of the reason behind their concerns.
Interestingly, a few respondents had an alternative viewpoint for these concerns. A few short answers took issue with the mask requirements and some stated that vaccines should not be required.
In terms of overall response by the university, students weighed in on the survey with an option to pick from five responses about UT's handling of COVID-19. Out of 85 respondents, 3.5% said UT's response was great, 3.5% said that it was good, 18.8% said they were mixed, 32.9% said that it was bad and 41.2% said it was terrible.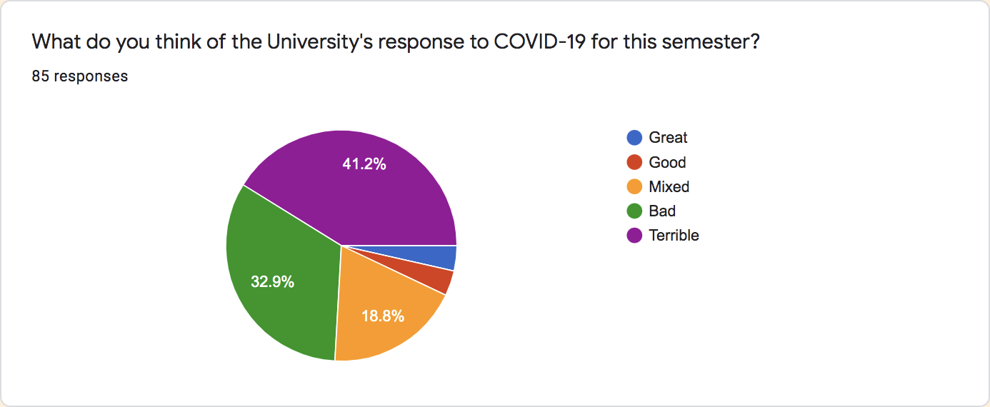 In another short answer prompt, most of the respondents cited the previous short answers that they gave as well as UT's half-hearted requirements as reasons why they think the response hasn't been good. A few did not like having to wear a mask, while a couple of responses cited the mask requirements as good.
On the survey, students were asked about the future of classes. 62.4% of  respondents said that classes will go back online while 37.6% said that the university will stay in-person.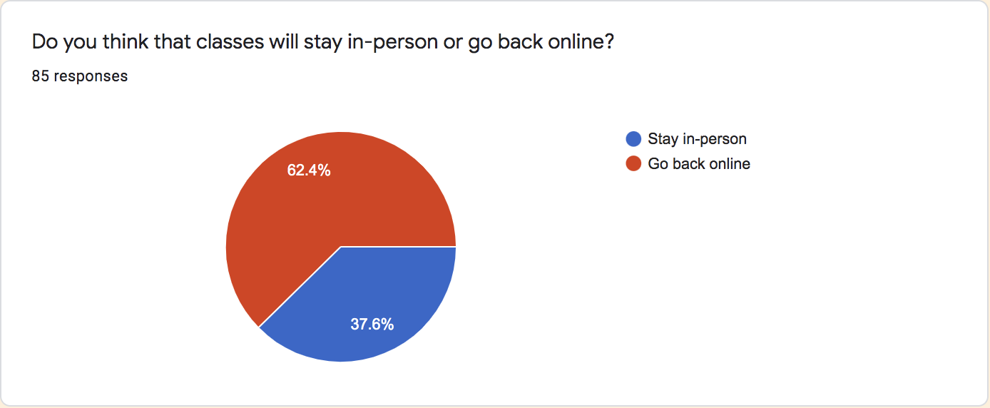 In another survey question, respondents gave an answer regarding restrictions on campus going forward. 75.3% of respondents said that restrictions will increase, while 24.7% said that they will decrease. Since the survey closed, UT announced a fuller mask mandate, changing the previous limited mask requirement. The university, however, will not require vaccines, even after the FDA approval of the Pfizer-BioNTech COVID-19 vaccine.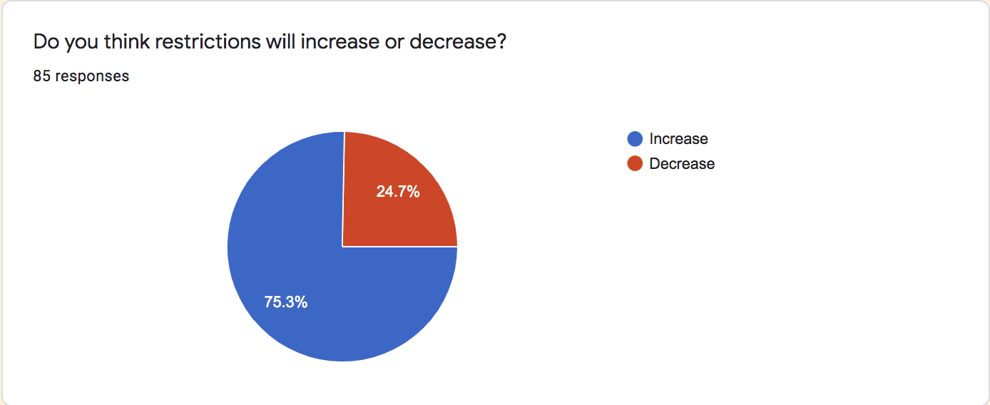 In a final question, 84 respondents gave an answer about the predicted spread of COVID-19 on campus. 88.1% responded that it will spread rapidly, while 9.5% said it will spread slowly and 2.4% said that it won't spread at all.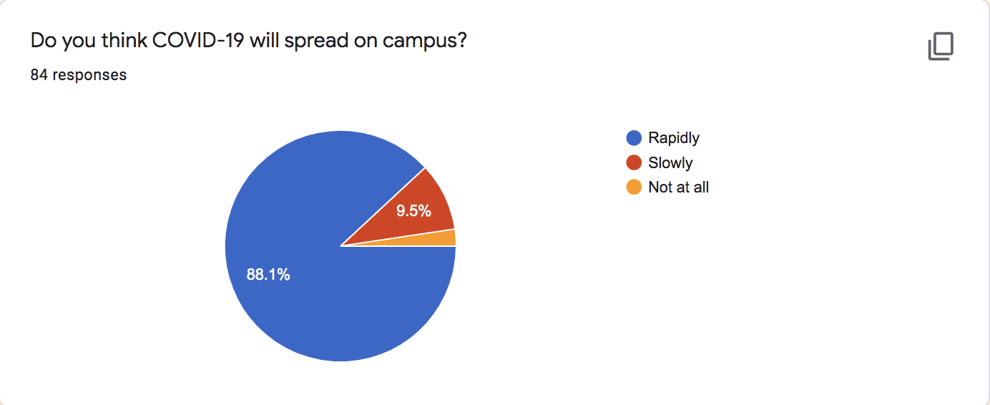 Although this doesn't represent the entire university population, the data covers a range of responses. Some students feel as though UT hasn't done enough, whereas others think they have gone too far. Only time will tell how or if COVID-19 affects campus once again.