Put UT Student Media to work for you!
To make a donation, click here now.
UT Student Media is home to the Daily Beacon student news organization, Phoenix Literary Journal, and our advertising and marketing team. We train students in a real-world environment by giving them valuable hands-on experience that will eventually lead to successful careers. UT Student Media also serves the UT campus by supplying news and information to the community through many avenues, including printed products, digital platforms, and social media streams. 
The need
In order to be successful in their roles, students need training. We help them acquire the skills they need, but nothing beats the learning experiences they receive at national conferences. Likewise, news that affects the Knoxville community doesn't always happen in our backyard: it happens in neighboring states as the Vols take on rival athletics teams. Sometimes news that affects the university community even happens halfway across the world. In order for us to continue giving our students these critical learning opportunities, we need your help. By supporting our campaign, you will help fund students' travel over the next 12 months, ensuring that our students continue to have these invaluable experiences. 
Specific plans
We need around $2,500 to support Daily Beacon sports journalists' annual game travel. Their travel is critical to keeping up our comprehensive, professional-quality coverage that will attract record traffic to our websites, and social media platforms.
Another $2,500 will let us send at least five students to the national College Media Association Convention in Dallas. 
$1,500 will help us send at least two students to the annual College Media Business and Advertising Managers conference in Fort Worth this spring.
We will also be sending the Daily Beacon editor to a summer leadership training workshop in Atlanta. The trip there is around $500. Our student advertising manager will also attend a similar workshop in Chicago with the cost of around $500. If we exceed our goal, we can send even more students on the mentioned trips. Please help us reach and exceed our $7,500 goal. 
How you can help
We appreciate any amount you can give, and we'd be honored if you shared this page with your friends, family and colleagues on social media, or by email.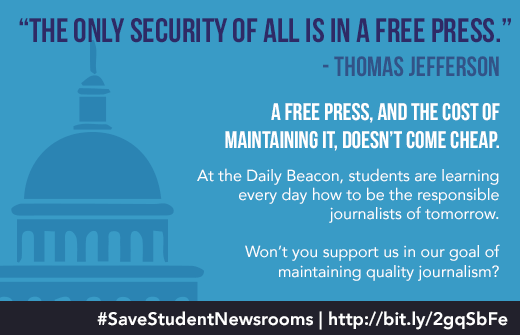 When you're ready to give, visit our donation page here.
Thank you
Traveling to conferences and news events is instrumental in helping our students learn the most with their opportunity in Student Media. These experiences will help launch their careers after they graduate. Thank you for helping our students achieve their goals and have an extraordinary experience at UT!