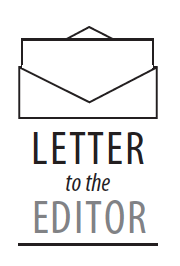 Knoxville voted on election day to re-elect its five City Council members on the ballot this year: Tommy Smith, Andrew Roberto, Seema Singh, Lauren Rider and Gwen McKenzie. These five will make up the majority for the next four years.
This year's city election cycle had a different tone than most in the past due to the Knox County GOP playing an active role in supporting candidates of its choice. Never before had a political party been so explicitly involved in these nonpartisan races. Their hand-picked slate of five GOP-backed candidates took on the five left-of-center incumbents in the general election held Nov. 2.
And their effort failed. The injection of partisanship by the county republicans mobilized liberal voters as much as it did conservative voters in this double-digit Biden-won city. Each of the five incumbents bested their opponents by 11 to 15-point margins.
In the District 4 race, Lauren Rider bested the GOP slate's marquee candidate, Jim Klonaris, who alone raised nearly $100,000 to fund his voter outreach efforts, an endless amount of yard signs and a slew of mail pieces.
The District 4 race's margin was the median outcome among the five races on the ballot, providing for a visual of where each of the slates was able to perform best across the city.
Note that the top two vote-getters in August district primaries face off in a city-wide general election.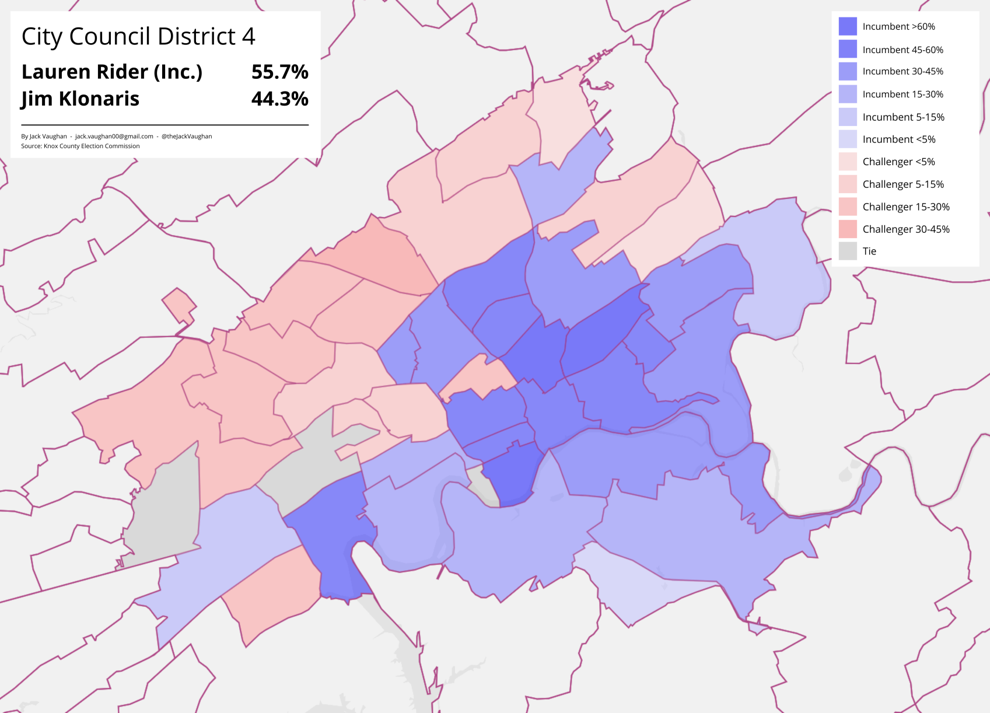 The other four races were decided by similar margins. Each incumbent easily carried North, South and East Knoxville, plus most of West Knoxville south of Middlebrook Pike. Each incumbent council member over-performed in their respective districts, most evident in Gwen McKenzie's strong showing in East Knoxville.
The northwest edge of the city from West Hills to Inskip was the only part of Knoxville that the challengers were able to consistently win. While these neighborhoods have drastically shifted left over the past decade, they still remain most fertile for conservative candidates to gain a foothold while aiming for city office.
This year's record-breaking turnout for a non-mayoral year city election can be credited in part due to the GOP's explicit involvement, but that increase was among both conservative and liberal voters. Turnout overall made up 85% of that of 2019, when Mayor Indya Kincannon was elected by a five-point margin.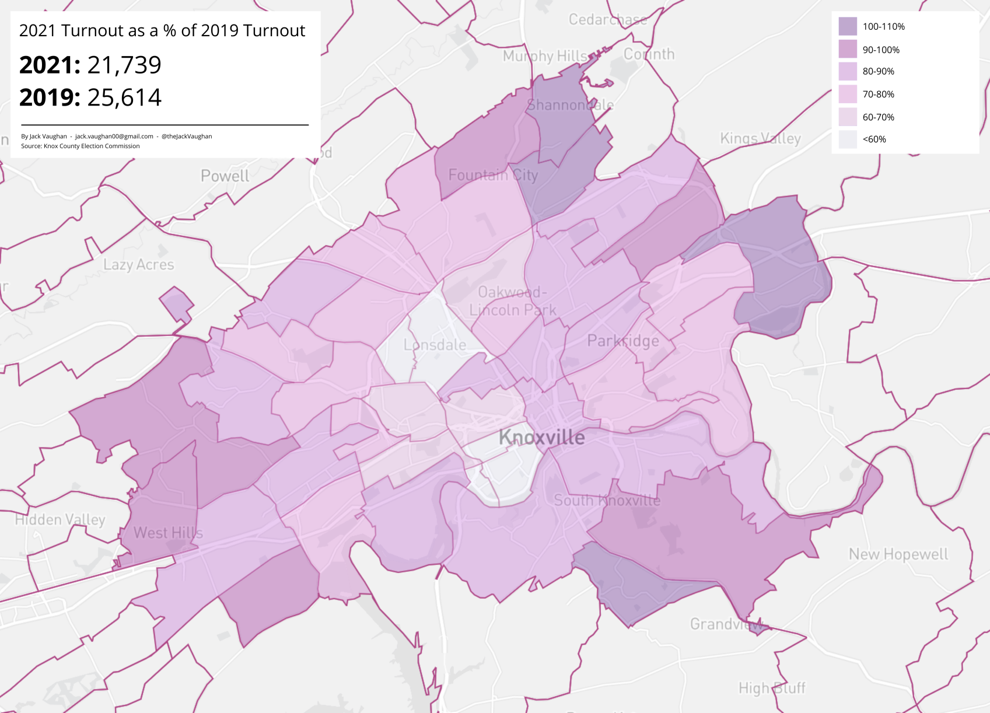 The above map shows 2021 turnout as a percentage of 2019 turnout by precinct, showing which parts of the city came close to matching mayoral-year turnout.
Assuming the GOP tries this again in 2023, turnout for a mayoral race will likely be record breaking. But in the end, Knoxville is still a blue city: Obama, Clinton and Biden comfortably won the city in the past four presidential contests. It's a near impossible lift for upfront partisan republicans to win here.
It is for the best that Knoxville voters did not buy into the negativity and laughably-exaggerated outrage offered by the GOP-backed candidates in the race. In one video shared by the party, Knoxville was declared as "the worst city to call home" in the state. It's one thing to run on ideas to make our city better, but decrying Knoxville as an awful, crime-ridden city did them no favors.
Former Amb. Victor Ashe, the longest serving mayor in Knoxville history, has been an outspoken critic of the Knox County Republican Party's attempt to win seats on city council.
"The current GOP leadership is an aberration and is clueless about the traditions of the city," Ashe said. "The GOP chair does not even live in the city."
Daniel Herrera, the chair of the local GOP, moved to Karns from Charlotte just three years ago. Herrera himself has lost two municipal elections before: once in New Jersey and once in North Carolina.
"Their current game plan will fail every time but a few can make money off of it," Ashe said.
While the GOP dumped huge amounts of money (we'll know just how much after the December filing deadline), the Knox County Democratic Party spent little cash, which they aim to put towards partisan races coming up in 2022.
The county overall is a bit less comfortably republican as the city is democratic, so look for democrats to win county-wide before any blatantly partisan republican like Klonaris can pull off an upset in the city.
Jack Vaughan is a junior studying communication studies and political science. He's a lifelong Knoxvillian and most recently served as campaign manager of Councilmen Tommy Smith and Andrew Roberto. He can be reached at cvaugha7@vols.utk.edu or @theJackVaughan on Twitter.
Columns and letters of The Daily Beacon are the views of the individual and do not necessarily reflect the views of the Beacon or the Beacon's editorial staff.