Nestled in a valley where Tennessee, Kentucky and Virginia meet, you would hardly expect there to be a small town.
About an hour and a half north of Knoxville, sandwiched between Harrogate, Tennessee, and Middlesboro, Kentucky, on State Route 32, lies the historic town of Cumberland Gap, Tennessee.
I know I throw around the term "small town" a lot in these columns, but hear me out on this one because it really is a small town. With its singular flashing caution light—not even a full traffic light—the best way to describe it is like an Appalachian version of Radiator Springs in the Pixar movie "Cars." That I saw, there isn't a single crosswalk anywhere in the town, either.
There's a couple of antique stores, one on either end of the town. There's a little picnic area, a few restaurants and a couple of bed-and-breakfast type spots. They've even got their own post office, so you know the little town's legit and not just a mountain mirage.
There's even, of all things, a small bicycle museum. The Little Congress Bicycle Museum is just a little climate-controlled room with no formal guard on duty, no entrance fee. Just a sign-in book and about 20 of the neatest vintage bikes you've ever seen, plus a nameplate and description of each one. 
The biggest attraction, besides its historic designation, is the town's location. It's nested nice and cozy almost smack dab in the middle of the Cumberland Gap National Historic Park. This means there are quite a few walking and hiking trails around, perfect for anyone wanting a bit of peace and quiet, Cumberland Mountain-style.
From what I read on the little map in the middle of the town, you can supposedly stand in three states at once—Tennessee, Kentucky and Virginia—somewhere near the town. Being short on time at that point, I didn't have the chance to locate that place while up there. I'll make it back up there and find it though, just to make sure it hasn't moved around any.
Full disclosure, this was not the first time I had stumbled into the town of Cumberland Gap. Late last year I swung through on my way into Kentucky, but this was my first exploration of the tiny town.
It's well-worth a quick stop if you're traveling up that way. Visit the museum, peek into the antique stores, get an ice cream at the tearoom up there. Or, lie down in the park and watch the clouds pass between the ridges of the Cumberland Mountains.
(Credit where credit is due: Hank, my faithful steed, supervised the writing and initial self-edit of this column. In truth, all he was doing was sniffing around for another horse cookie, but he still contributed something, somewhere. Thanks, Hank.)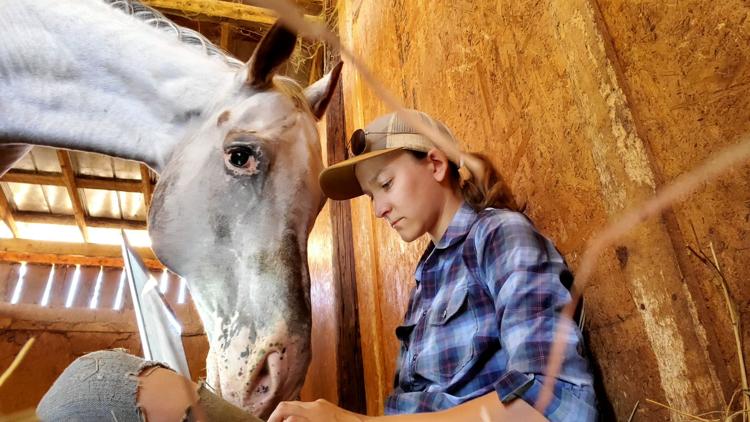 Kelly Alley is a senior studying journalism and electronic media. She can be reached at kalley2@vols.utk.edu.
Columns and letters of The Daily Beacon are the views of the individual and do not necessarily reflect the views of the Beacon or the Beacon's editorial staff.