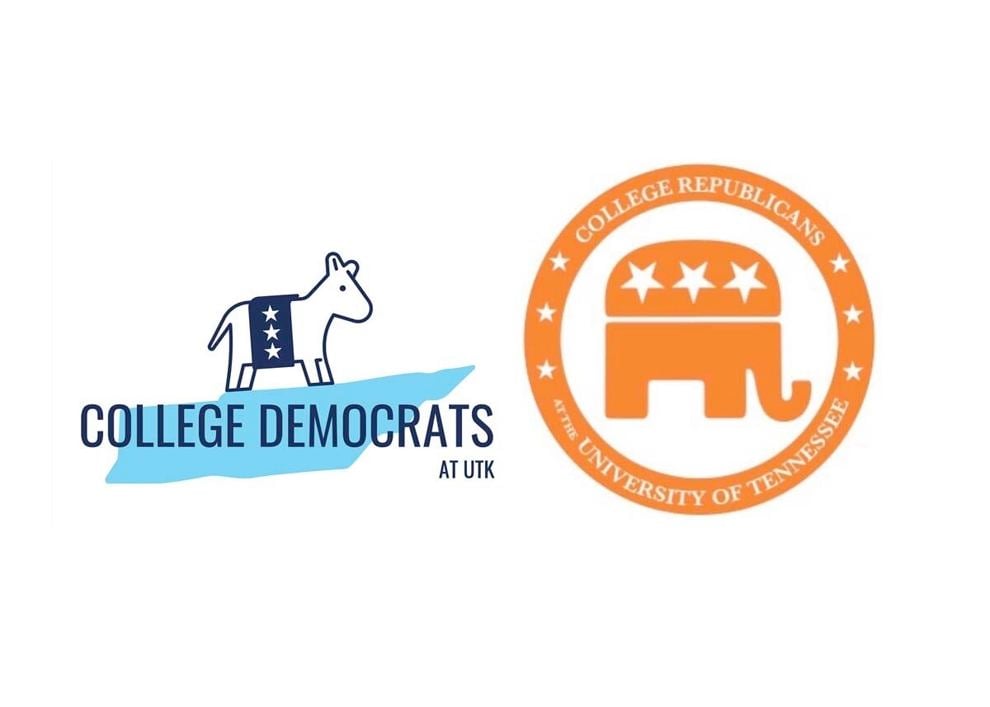 It's been a bit since the first "Battle of the Beliefs'" article, but it's that time again to view two opposing viewpoints on an equal, balanced stage.
Today's issue being discussed revolves around the recent situation of University of Tennessee President Randy Boyd helping fund an event for Tennessee State Senator Mark Pody. Many students were outraged with Boyd's public support, as Pody pushes for legislation that many students disagree with. To discuss the situation and the limiting of political statements made by administration are presidents of both organizations Chandler Palmer and Maxwell Hawkins.
Chandler Palmer, College Democrats
Randy Boyd's job as UT Systems President is first and foremost to protect students and help them grow as intellectuals. For the past four years, he has mostly done well in this capacity. He has increased representation of lower income students with TN Promise and he dropped his conservative PAC's when he took up this role. However, his relationship with a far-right extremist Mark Pody and his willingness to help his campaign exposes President Boyd's lack of judgement.
As a LGBTQ student, I was disappointed and left with many questions when I found out about President Boyd's support of Pody. First, I wondered how a person could be "close friends" with a loud and proud homophobe. After all, Pody is someone who has drafted failed legislation to prevent same-sex couples from getting married. President Boyd harmed a large portion of our student body by supporting this, which I think expresses a lack of judgement on his part.
Another question I thought when I found out about President Boyd's support of Pody concerns friendly political discourse. Last school year, President Boyd came to both the College Republicans and Democrats asking us to help increase friendly relations between liberals and conservatives on campus. I think this was a great idea, but supporting Pody is the opposite of supporting friendly political discourse.
After all, Pody is someone who paved the way for insurrectionists to storm our capital and overtake democracy. In the future, President Boyd must work harder to push for friendly political discourse in his own life.
Going to the LGBTQ town hall following this incident, I noticed many issues students have at UT. Numerous LGBTQ students walk around our campus and do not experience "Vol means all." We get harassed in our resident halls and don't have all the proper health care that many other schools provide. With all of this in mind, it's not surprising that UT is currently ranked the "second most LGBTQ unfriendly school" in the nation, according to the Princeton Review. To make "Vol means all" a true statement, we have work to do.
Overall, I do think President Boyd wants to support LGBTQ students on campus, but he has a long way to go in earning the trust of LGBTQ students. Donating to the Pride Center is a good place to start, but there is much more our campus will have to do if we don't want to continue being the second most LGBTQ unfriendly school in the nation.
Maxwell Hawkins, College Republicans
An individual must have their freedom to support any political candidate, no matter who they are.
However, in a non-political position of leadership in the way Randy Boyd is, it is rather unprofessional for him to do so, even though his freedom of speech must be protected. The political views of someone in a seat of leadership does not affect anyone in a serious manner. As a conservative, if Donde Plowman decided to host an event for Representative Gloria Johnson, for example, I would not consider that to be oppressive, but rather unprofessional.
I have not met either Donde Plowman or Randy Boyd, and it is possible that many students are in that boat, as well. Therefore, while it is unprofessional to publicly host an event for a political figure, all American citizens have the right to do this under the First Amendment. While the state senator that Boyd supports, Mark Pody, has had controversial views, including a failed bill that would give a father the right to veto an abortion, Boyd has made many comments on Pody's more controversial views saying that he does not agree with them.
This goes into another topic of does one individual agree with everything that a politician says if the individual votes for the politician. The answer is no. Just because someone might vote for someone does not mean that they agree with everything they stand for. That is because every single person is created uniquely and therefore should all have different thought processes. Even if individuals host an event for a politician, that does not mean that those individuals support everything that the politician says.
While Randy Boyd is free to support whoever he wants politically, due to his leadership position and past statements claiming he would remain a-political, it is recommended that Randy Boyd refrain from hosting these events in the future.
There are many other issues that are way more important than this issue. UT students can rally around the horrible parking situation instead of focusing on how Randy Boyd votes. Being as vocal on the parking situation on UT campus as many students are about.
Thank you to Chandler and Maxwell for representing their organizations this week. Come back next week for a discussion about gun control!
UT College Democrats and UT College Republicans are student run organizations dedicated to increasing political activity in students and electing political officials of their political parties in all level of government. Check out their Instagrams at @utcollegedems and @gopatutk.
Columns and letters of The Daily Beacon are the views of the individual and do not necessarily reflect the views of the Beacon or the Beacon's editorial staff.