Matthew Heimbach's "National Socialism or Death" college speaking tour began Saturday afternoon in Buehler Hall despite opposition and protest from the UT community.
Heimbach is the chairman of the Traditionalist Worker Party (TWP), a white nationalist organization which aims to create a white ethnostate. Heimbach was involved with organizing the 2017 Charlottesville, Virginia, protest supporting Confederate monuments. He is from Indiana and graduated with a degree in history from Towson University in Maryland, where his involvement in white nationalist and neo-Nazi movements began.
About 35 white nationalists, along with media affiliates, attended the event. No UT students attended. UT Police Department (UTPD) Chief of Police and Associate Vice Chancellor for Public Safety Troy Lane estimated there were 250 people who protested Heimbach's speech.
Heimbach said security officials did not allow UT students to attend. A Knoxville Police Department (KPD) officer confirmed there were no extra security stipulations on students and that they were allowed to attend.
TWP members met in the 11th Street Garage where Heimbach spoke briefly to them and led them in a chant. They marched in formation across the Pedestrian Bridge into Buehler Hall.
After a TWP member introduced Heimbach, the audience stood to clap, and many said, "Heil Heimbach," while giving a Nazi salute. Heimbach started by discussing his frustrations with the amount of security at the lecture.
"Are you really free if you have to go through a security checkpoint? Are you really free (given) the fact that people want to threaten to kill you, and if they had that ability, they would? We do not live in a free society. We live in a Lovecraftian horror landscape that LARPs (live action role plays) as a free society," Heimbach said.
Heimbach encourages his followers
Heimbach's speech focused on TWP's 25 points, the ideas Heimbach has for a white ethnostate in North America. Points discussed were healthcare, national socialism, gun ownership, the media, traditional gender roles and more. Much of Heimbach's speech was devoted to encouraging members to continue with their involvement.
"Let's just choose something different. That's what national socialism brings forward. We're taking the best parts of both political ideologies, and we're actually fighting for our people. You don't have to choose bad. You don't have to choose evil. You can choose something that actually makes your kids' lives better," Heimbach said. "Our party has gone from eight members that met in a Perkins that could almost fit in one booth ... to being able to have international contacts around the globe."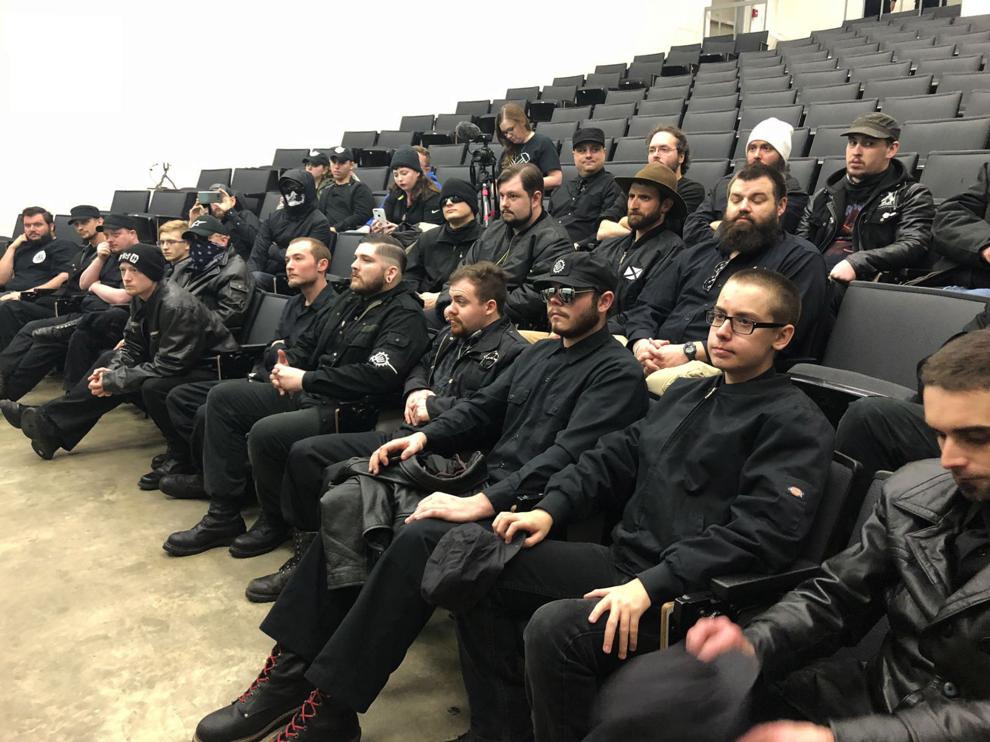 While encouraging his supporters, Heimbach discussed protestors and potential backlash.
"They're (protestors) scared of us. That's why they're out there. They're scared of us. But a national socialist knows: What's the worst they can do? Fire you from a 10-dollar-an-hour job? Call you names on the internet? Okay. The worst they can do is kill you," Heimbach said. "There is nothing greater you can do in your entire life ... than to lay down your life for your brother, and we understand that means our people. We need to be able to understand this, so if the worst they can do is kill you, that's an honor. That's a privilege."
Heimbach, who did not serve in the military, said that he would require men to serve in the ethnostate's military for two years, and 18-year-old, unmarried women would be required to work for two years in healthcare or childcare. Heimbach would require men who had finished military work to keep their guns in their homes.
"An armed man is a free man. No one has the right to take away your ability to defend yourself and your family — no politician, no one but maybe God himself because He gave you those arms in the first place," Heimbach said. "You have a duty and a responsibility to defend yourself and your family."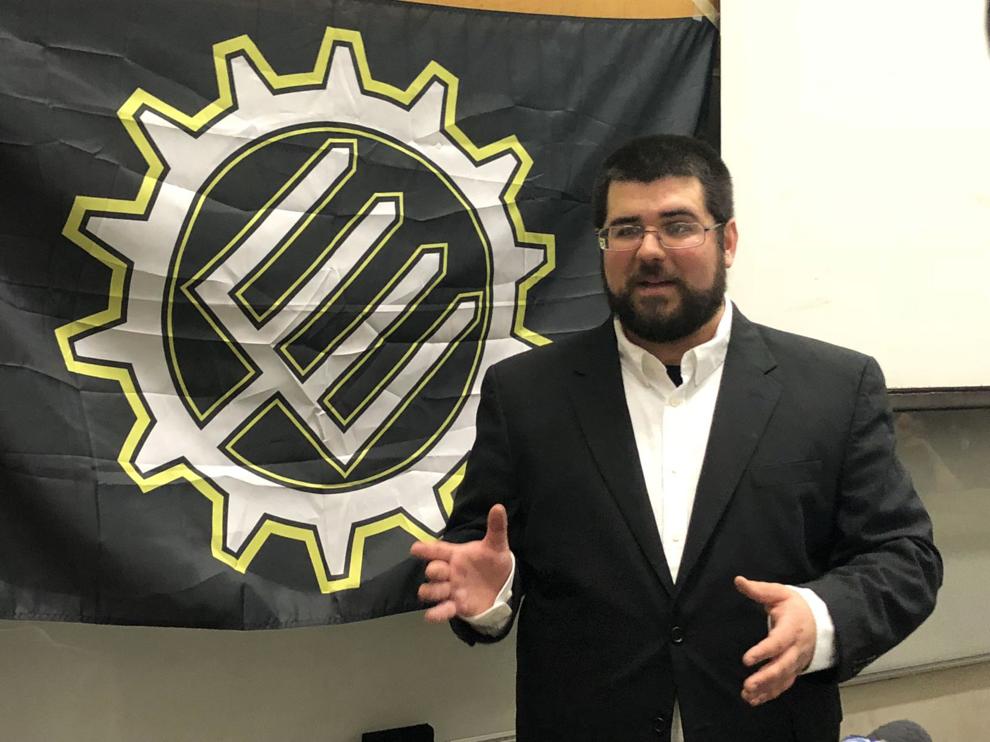 Heimbach's views on gender and other races
TWP members are proponents of stereotypical gender roles and believe only cisgender heterosexual relationships should exist. Heimbach referred to gay and transgender lifestyles and drug addictions as mental illnesses and antisocial behaviors.
"Antisocial behaviors are actually rewarded in this society. We (society) say being a good citizen and being a steward to your fellow kinsmen, whether man or woman, according to your roles, that is the highest honor of being an antisocial freak," Heimbach said.
As a white nationalist group, Heimbach said people often believe his group hates non-whites, but he said this is untrue.
"I was asked by a reporter one time like, 'What would you do if a black person was coming into your country?' I was like, 'Make sure he would get a visa, just like every country does when foreign peoples come into your nation,'" Heimbach said. "There's a lot you can do with people of color while respecting our racial differences and boundaries."
Heimbach has plans for the future
The ethnostate Heimbach hopes for is one he believes he may not see. Instead, he said he is starting a movement towards making it a possibility for future generations.
"This current system can't last forever. It's up to us to work together for our future. We have a fundamental right to organize, survive and build a future for our people," Heimbach said. "If you want to combat social injustice, you must replace it with actual justice that's found in a national socialism. Our ideas ... are built upon future. Every other option leads to death."
Heimbach's lecture tour is meant to continue on college campuses, and he has not announced the next university he will attend. He said Saturday's lecture helped his organization.
"The fact that it (the event) was so over the top that we just wanted to come, talk about positions, what we really believe that we have to bring out one step below the National Guard, it raised a lot of interest. So I think there's a lot of UTK students, a lot of students in general, that are hearing these ideas for the first time, and I think this is tremendously successful," Heimbach said.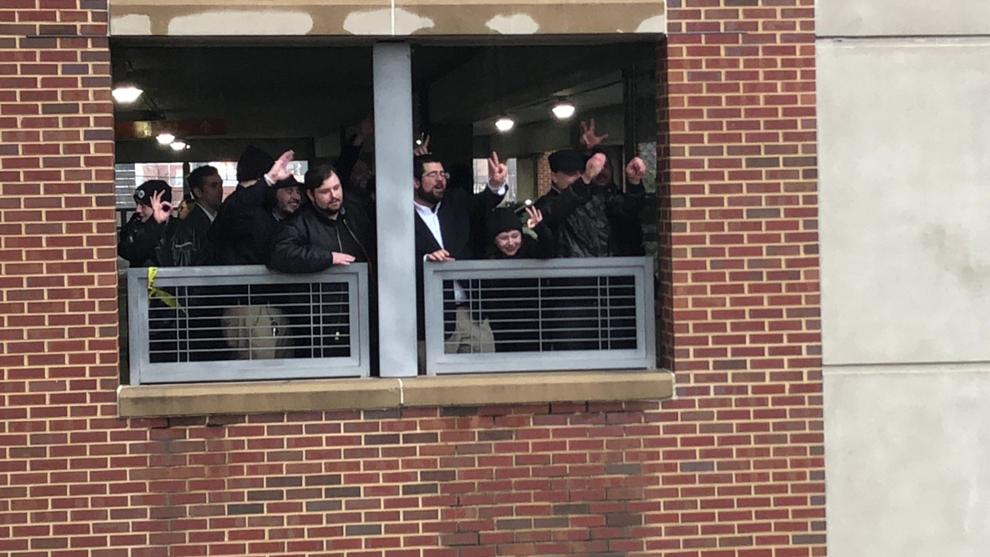 Davenport responds to the Traditionalist Worker Party
Although the university had a designated demonstration area for Heimbach's lecture which required a security checkpoint and clear bag policy, members of the UT community gathered in front of Hoskins Library and along the sidewalk across the street from the location of Heimbach's talk to protest.
KPD, UTPD, Tennessee Highway Patrol and the Knox County Sheriff's Office worked on safety and crowd control throughout these areas.
Following the talk and protest, Chancellor Beverly Davenport held a press conference to discuss her values against racism. Davenport repeatedly expressed before Saturday that no one at the university invited the group and that she did not welcome them.
"Our work continues. It didn't begin today; it won't end today. It's a lifelong process to fight for justice, for those values that we believe in," Davenport said. "Racism is something that we talk about, that we work on, that we study. We'll continue to work on that."
Annie Tieu assisted in reporting by attending Davenport and Lane's press conference.