Thousands rallied over the fate of the Fort Sanders Confederate monument Saturday in light of the white supremacist protests in Charlottesville, Virginia earlier this month.
Less than 40 protestors appeared in support of the monument, and nearly 3,000 counter-protesters were present even before the planned rally at 1 p.m.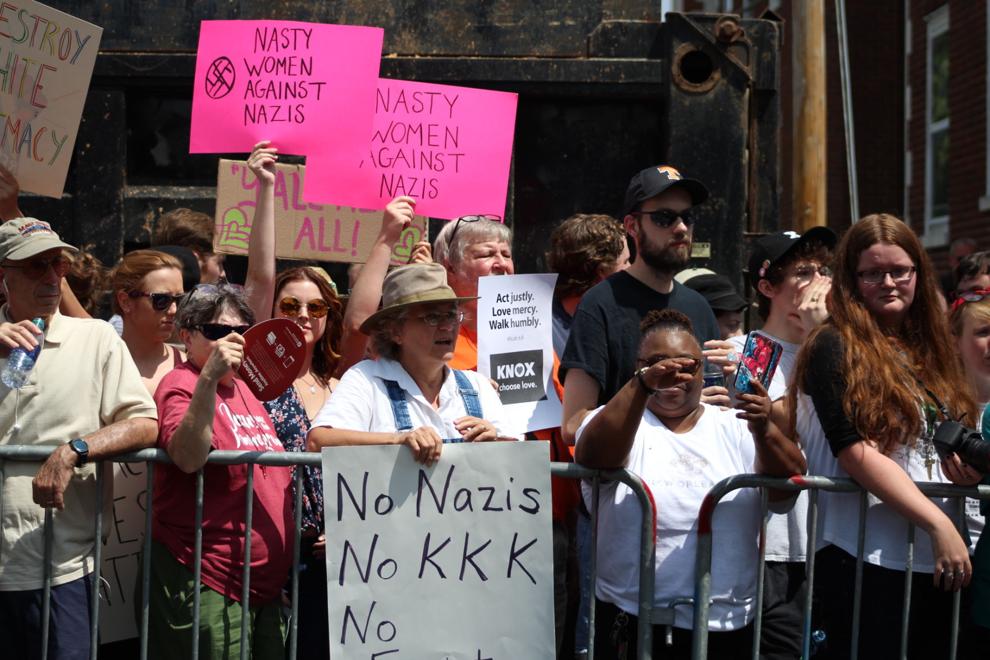 Protestors were separated by barricades and two rows of police officers standing in the street. 300 officers were on the scene and rotated positions. Police screened attendees with a metal detector and did not allow them to take in bottles, food, masks or items that could be used as weapons. Police officers also provided water to both sides.
The rally was originally sparked by the potential removal of the Fort Sanders Confederate monument, which honors Confederate soldiers who fell during the Assault on Fort Sanders in 1863. The monument was vandalized with blue paint on Aug. 16, but has since been cleaned. The memorial was the subject of many online petitions, which asked Knoxville Mayor Madeline Rogero both to keep the monument intact and to take it away. 
This week, several local leaders released statements prior to the rally. Knox County Mayor Tim Burchett and Republican primary congressional candidate Brad Fullington both condemned white-supremacist organizations, and UT Chancellor Beverly Davenport sent a message to the UT community, urging civil discourse and safety.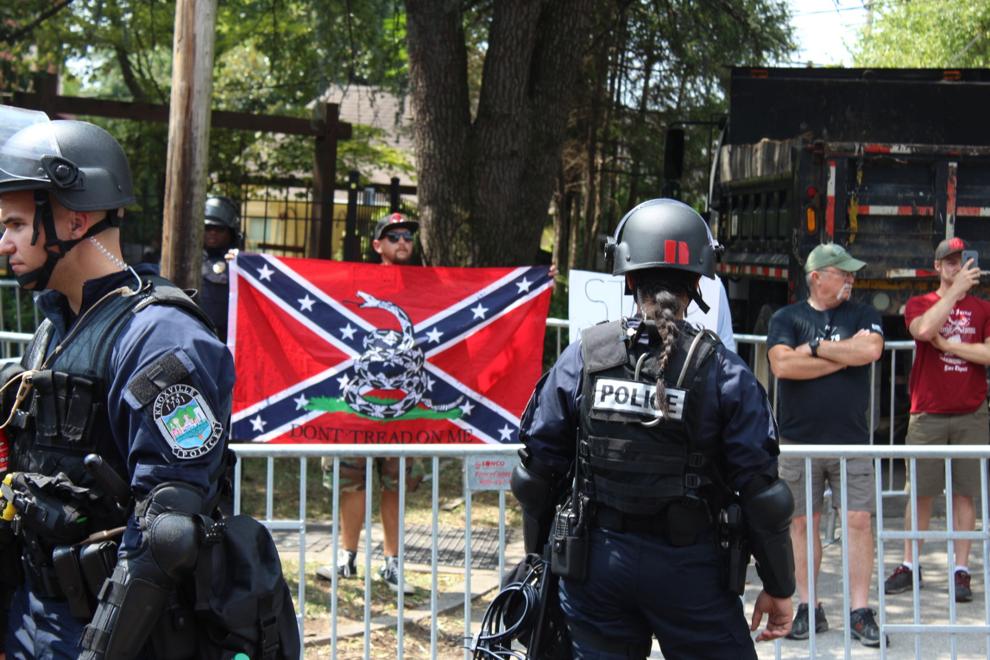 In spite of the public's wariness, the rally remained largely non-violent. Cooper Wade, an observer at the rally, said he came because of the national attention that similar issues have received.
"I just kind of heard it's a real big thing, and I was like, 'It's not very good what's been going on in Charlottesville (Virginia) and all over,'" Wade said. "It kind of seems like no one really showed up ... It's really surprising. Even with all the police here, everyone seems like they're being polite. Everyone's being civil, and no one's getting nasty, so that's good to see."
While the rally was planned by the white supremacist group Confederate 28 who disbanded recently, many of the protesters in attendance did not identify as white supremacists. Will McNahan, Knoxville citizen and protester, said he felt the counter-protesters were there for the wrong reasons.
"This (counter-protesting) is not how America handles things right here ... These kind of people are literally offended by everything," McNahan said. "There's millions of people who agree with what we do (support confederate statues) ... We don't hate black people. There's no Nazis over here ... They sit there blaming the few KKK, racist-type people on the Confederates ... This has nothing to do with racism. If you want to talk about racism, go find the racist groups. There's nobody racist here. There's no Nazi Germany here."
Other attendees said that they came out to stand against white supremacy and even suggested alternatives to the monument. Tessa Steele, a counter-protestor and Knoxville citizen, said the monument could be replaced.
"I think it's important to stand up and say that the majority of people aren't okay with that (white supremacy)," Steele said. "I don't want people to get sucked into thinking that white supremacy is okay or normal ... I think their pretense is the monument, which I would be totally open to having a calm and respectful debate where we can talk about that. But racism isn't something and white supremacy isn't something that's on the table for discussion."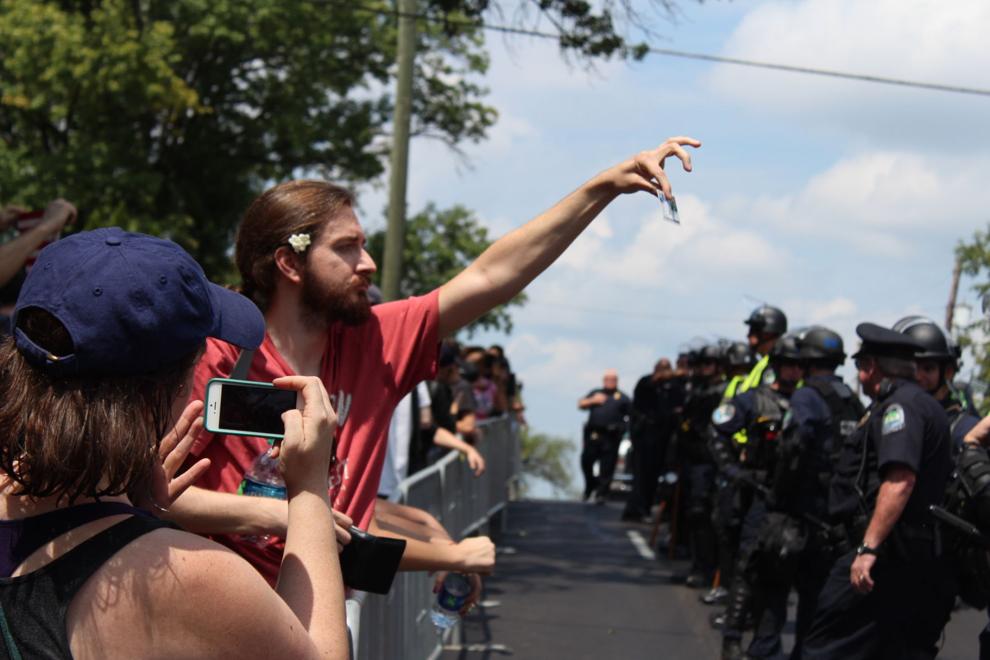 Some said that the monument represents the fallen Confederate soldiers more than anything else. Bryson Wilkerson, sophomore in Criminal Justice at South College, said he would honor a monument for any death.
"The other side keeps chanting it stands for racism and white supremacy, but reading it, it stands for soldiers that fought and died in war. Yeah, they happened to be Confederate soldiers, but had this been a Union monument or a monument, say, for soldiers that died in Iraq, I'd still stand for it," Wilkerson said. "To me, the bottom line for it is that it stands for loss of life."
McNahan said the monument highlighted an important part of history and that it was not associated with hate organizations.
"The KKK was a separate organization of wrong people who did wrong things. It has nothing to do with what's over here ... This right here (the monument) didn't offend anyone until now. All of a sudden everyone is offended by every monument and stone," McNahan said. "This needs to stay here because it's been here for 100 something years* like every other monument and statue has. It's a part of history. It's just like opening a history book and learning about the North and the South and the Civil War."
Jae Johnson, Knoxville citizen and rally observer, said that while he is in the middle of both sides of the protest, the history of the monument is not as much about heritage as many may believe.
"Change is happening — good or bad. It's better than what it used to be. A long time ago, the roles were reversed as well as the numbers," Johnson said. "They (Confederate statues) popped up during the Jim Crow and civil rights. That was to tell somebody something. If you really look at it, who were (they) talking to? ... And I was thinking, 'Whose heritage were they talking about anyway?' It wasn't for my side."
Nearby in Krutch Park, the Arts and Culture Alliance of Greater Knoxville, in partnership with the Alliance for Better Nonprofits and the Compassion Coalition, sponsored a Kindness Rally.
"At a time when demonstrations by hate groups are becoming increasingly common across America, including right here in Knoxville, the sponsors of this event felt a need to provide Knoxvillians with a peaceful, non-violent opportunity to show the world that we stand for the core values of love, justice and human dignity," the Arts and Culture Alliance said in a press release.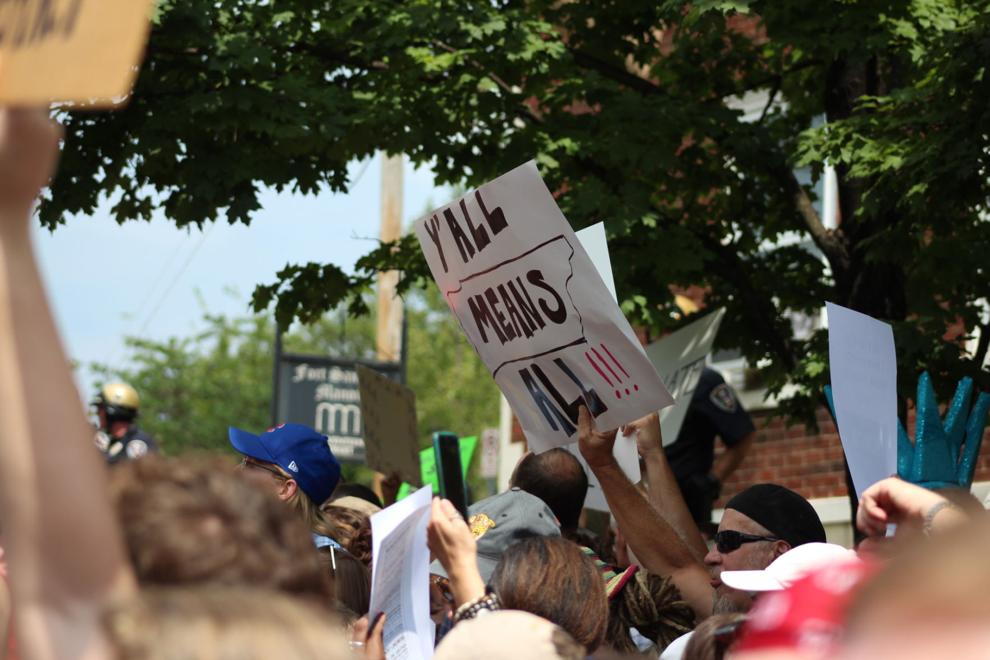 Chris Irwin, who helped organize the counter-protest, said his family is from the neighborhood and that he was born in Fort Sanders. Irwin said he knew the history of Fort Sanders and also disagreed with the protesters' reasons for the rally.
"If it's 'heritage, not hate', then we should have a 'Bury Confederates in Trenches Day' in Knoxville because our heritage is killing Confederates and burying them in trenches outside of Knoxville. That's historical reality."
*Editors' Note: The Fort Sanders memorial was erected in 1914 by the United Daughters of the Confederacy