Yesterday evening, Knoxvillians peacefully requested that the Knox County Schools not reopen as planned and risk increased infection rates.
A combination of teachers, students and concerned community members gathered on Gay Street yesterday to protest Knox County Schools. Specifically, they protested the school board's reopening of in-person classes this August.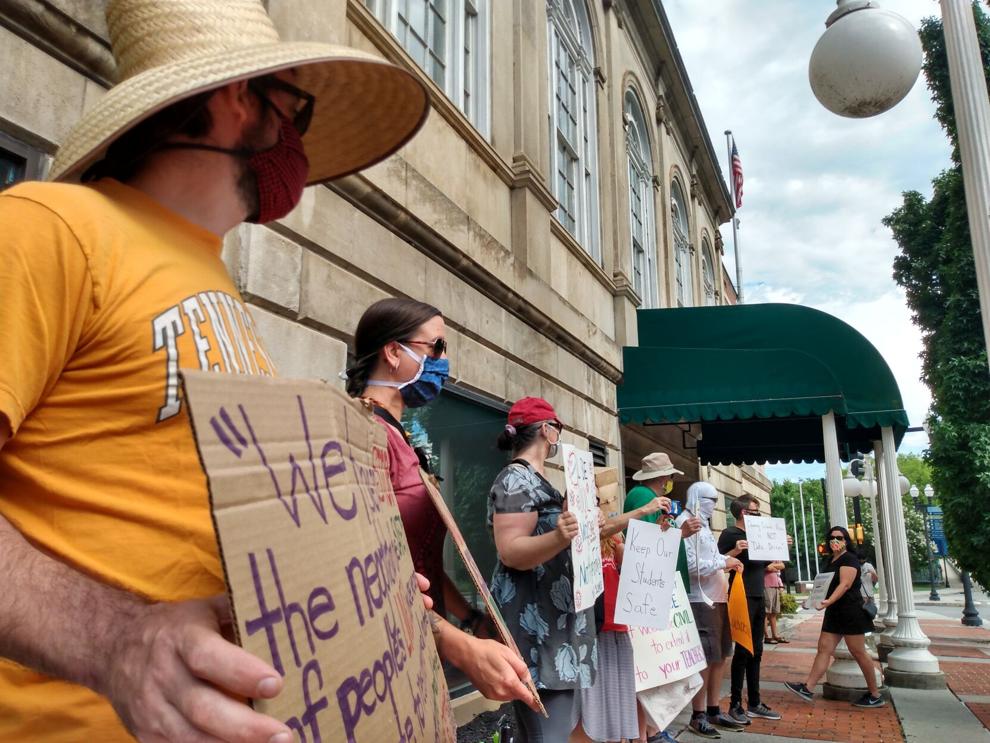 With the continued spread of COVID-19 in the U.S. and Knox County in particular, the protestors deemed the risk of infection too great to risk in-person classes, as protest attendee and Tennessee State Senate candidate Matthew Park explained.
"Now's not the time to discuss opening dates, not in a time of logarithmic spread," Park said. "Now's the time to discuss universal broadband, one device per child, universal childcare and alternatives for students who can't succeed via virtual learning."
The protestors made six demands: that no in-person classes take place until there are 14 days without new coronavirus cases, that additional technology be provided for equal access to digital coursework, that mental health professionals be hired to help students through the pandemic's emotional toll, that access to broadband internet be provided to all Knox County students and that Knox County Schools acknowledge how the pandemic has disproportionally affected African American communities.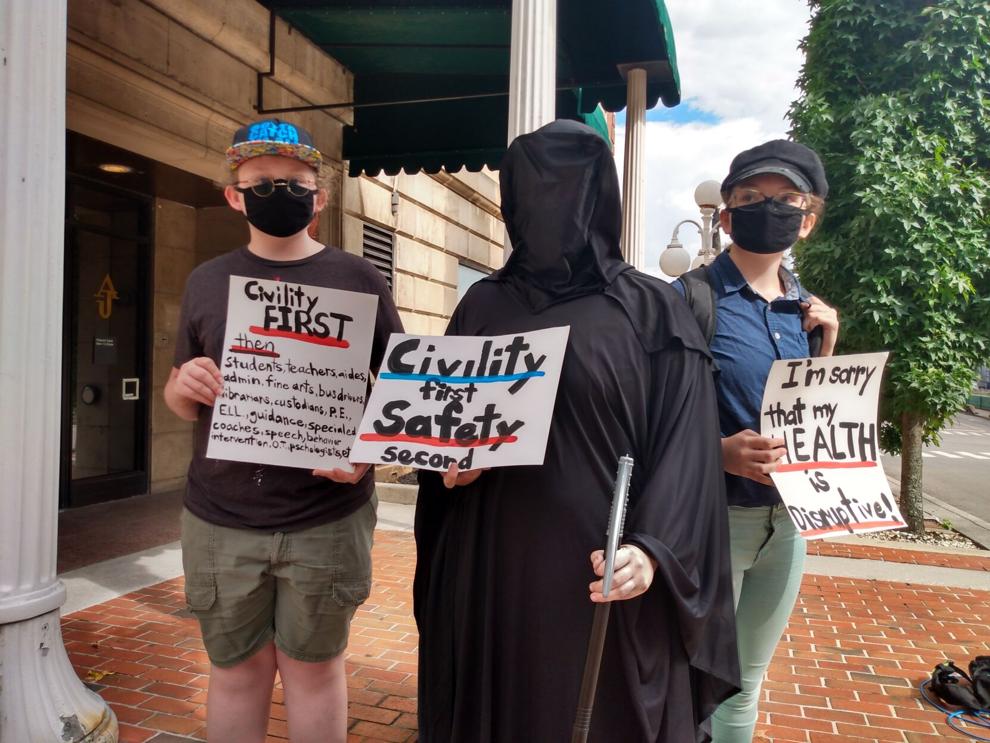 Park emphasized the pandemic's human cost. Knox County teachers, many of whom were given the choice of either teaching or taking unpaid leaves of absence, have expressed their worries about catching the virus.
"I see it everyday," Park said. "Teachers are posting on social media and calling me saying 'I don't want to die.' They're very worried. I've talked to teachers who've chosen a leave of absence, and it's destroyed their household finances. The human cost — on both a public health side and economic side — will be huge [if we reopen]."
According to Jane Skinner, retired teacher and member of the Knox County Education Coalition, Knox County Schools responded to demands with calls for "civility," accusing protestors of violating the district's civility code.
In a self-described "tongue-in-cheek" measure, the protestors renamed the event to "Civility 101," with signs like "I'm sorry my health disrupts you," and "I'll be civil when I'm safe," attempting to flip the script on KCS' claims.
A max of 18 attended, those 18 also representing teachers and community members fearing reprisal.
"Several people have been threatened about attending this event. Their concern was that we needed to be civil while we're here. That's where Civility 101 comes from," Skinner said. "Those who can't come back to the classroom need to be treated better than being told to take an unpaid leave of absence."
COVID-19 is primarily spread through physical contact and residue from breathing, coughing and sneezing. Though school children are less at risk than those over 18, children could spread the disease to those who are at risk. Similarly, immunocompromised students and teachers will be at a great risk during in-person schooling.
As of July 28, Knox County has 3,240 confirmed COVID cases and 26 deaths. Those numbers continue to increase at a rate where some predict another lockdown.
"Right now, we're unfortunately heading towards another shut down. We opened up too soon. The curve was not flattened," Park said. "We need to allow more time to figure all this out."
Specific actions the Knox County Schools can take include extending the deadline for students requesting online instruction out from July 22 and giving teachers the choice on their preferred instruction style.
However, some protesters are expecting Knox County Schools to proceed with in-person instruction. In this case, they hope the school district provides proper cleaning and protective equipment to both students and teachers.
"We're hoping local government comes to its senses. Instead of the plan being 'we'll wait and see what happens,' we need to take a more proactive approach," Kristen Moral, concerned parent and protester, said.
Richard Moral, Kristen's spouse, encourages Knoxvillians to start wearing masks and protect their fellow man.
"Walking past people who don't wears masks every day — they don't know if they're infected, and they could infect someone who then infects someone's mother or father, and that person could die," Moral said. "They've tied a social issue to politics. The two don't have anything to do with each other. You either believe the virus exists — in which case you should be doing things to protect you and your fellow man — or you don't. If you don't, look at all the doctors in Tennessee telling you it is [real]."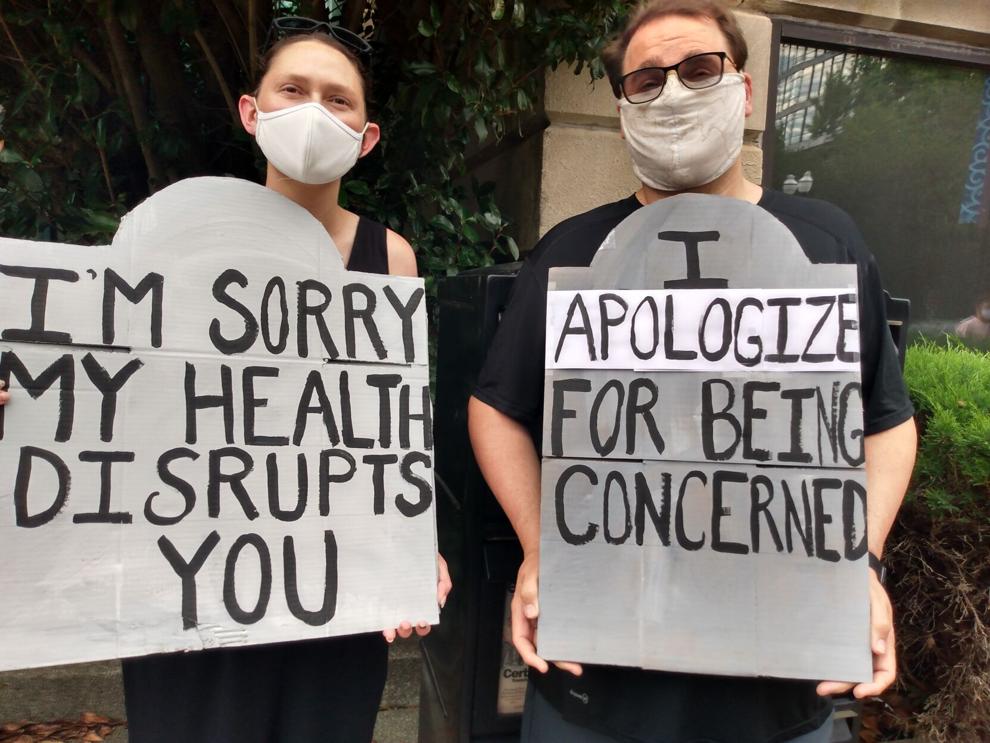 In the case Knox County Schools listens to demands and increases access to technology, the protestors acknowledge the effort will be costly. However, they hold that the proper education and safety of both students and teachers is worth the cost.
"It's going to be expensive. We have to admit that and be okay with that," Park said. "Public education already doesn't have the money to do what it needs to. Going into this new way of teaching and learning, we're going to need additional funds for public education."