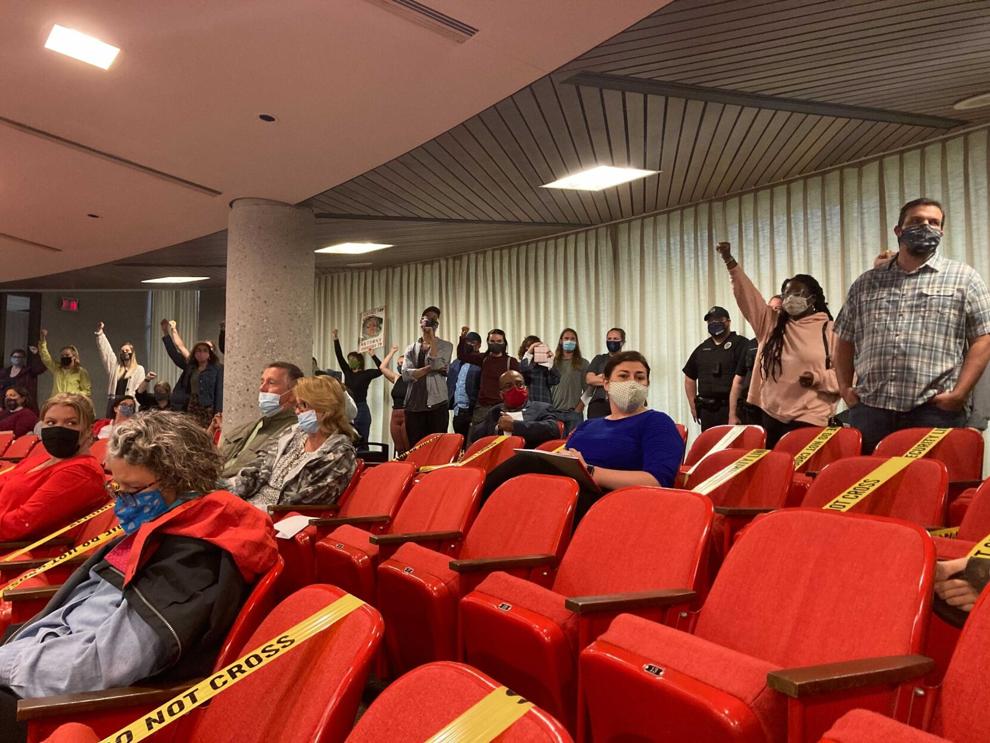 The first in-person Knoxville City Council meeting in over a year was interrupted Tuesday night when the family of Anthony Thompson Jr., a 17-year-old killed by a police officer at Austin East Magnet High School on April 12, joined protestors and disrupted the meeting at the City-County Building, prompting Mayor Indya Kincannon to call a recess and abruptly exit the room.
The disruption was the latest in a string of protests following Knox County District Attorney General Charme Allen's announcement on April 21 that none of the officers involved in the shooting would be charged, including Officer Jonathan Clabough, who fired the shot that killed the armed teenager. 
Thompson Jr.'s family members, including his parents and siblings, were led by Rev. Calvin Taylor Skinner of Mount Zion Baptist Church, a fixture at protests since last month's shooting. From the back of the room, Skinner's words, combined with the crowd's chant of "say his name!" drowned out the voice of the mayor and caused her to call a 10-minute recess.
"You say that this shooting was justified, his killing was justified. You say there's justice, but there is no justice. You say that there's peace, but there is no peace," Rev. Skinner said. "You will be held to account, as a minister of the gospel of Jesus Christ. You cannot turn away from injustice, you can't turn away from a hurting family who cry tears every day."
Councilwoman Amelia Parker and Vice Mayor Gwen McKenzie, whose district includes Austin East, left their seats and stood with the family during the brief recess. As the group of protestors raised their fists and criticized the mayor for leaving the room, Constance Every, another ubiquitous presence at racial justice protests across the city, made clear that she views the city government as complicit in Thompson Jr's death. 
"You all are murderers in this entire city," Every said. "How do you justify their son being murdered in an Austin East High School bathroom? How do you justify that? 17 years old, and you run from them. You murderers! You are murderers! Everybody has to have a parent, but if it was your child, you would want the same thing."
The disruption came roughly half an hour into the meeting, but the tensions between Mayor Kincannon and protestors were present from the beginning. In her opening remarks, Kincannon expressed appreciation for the Knoxville Police Department, speaking over protestors in the audience who called out, "they kill us" and, "they're murderers."
"I want to take a moment to thank the brave men and women who protect and serve our community every day," Kincannon said. "The last few weeks have been particularly challenging and emotional for our entire city. There are a lot of people hurting in our community, and that includes those at KPD. Our officers join KPD and come to work every day to protect and serve the community and to keep us safe. It breaks their hearts as it does mine when tragic incidents result in harm to the very people they are trying to protect. I want our officers to know that I support them, I appreciate the compassionate and professional way they approach their work."
There was sustained tension throughout the meeting, which lasted for over three and a half hours. More than a dozen Knoxville residents spoke before the council in short statements of protest that ranged from lessons in American history and the psychology of trauma to full throated rebukes of Mayor Kincannon's handling of the shooting. 
One resident, Tyler Gibbons, spoke on nearly every ordinance, from a rezoning appeal to a transfer of public property for a charter school system, tying each policy back to the gun violence at Austin East and ending each statement with a call to arrest the officers involved. 
"This is the same type of zoning that's thrown District 6 into a 42% poverty rate, the same type of zoning that led to high crime rates near Austin East," Gibbons said. "This type of expulsive zoning is further enforced by over-policing and harassment of residents, while not actually preventing the deaths, the gun deaths of five children. This type of systemically racist policy is what led KPD to allow officers to kill a child in a bathroom. Arrest the cops that killed Anthony Thompson Jr. Say his name."
Barbara Cook, a retired manager in the Knox County Government, said that the actions of the officers were "reckless and negligent" and called for an independent commission to review school safety policies. 
"There is something terribly wrong with a system that supports policies that allow police officers to go into a school to arrest a juvenile without any notification to the parents, the principal or other school administration, or not trying to develop an alternative place and time to make such an arrest," Cook said. "I submit that these officers had much more than 11 seconds to make a life-ending decision."
Much of the disagreement between the council and protestors pertained to the mayor's proposed budget for the upcoming year, which will be subject to legislative hearings on May 13 and 14. Protestors did not believe that the budget reflected the large-scale transfer of funding away from policing and towards community development that they had hoped for in light of recent violence. 
Even as Mayor Kincannon touted various aspects of the upcoming budget, from the new Affordable Housing Fund, to the commissioned study on disparity and the funds allocated for the African American Equity Restoration Task and the Burlington community, protestors called out what they view as overfunding of the KPD and co-responder programs that pair police officers with social workers. 
David Hayes, a candidate for City Council District 1, placed a large image of Anthony Thompson Jr. before the pedestal as he spoke to the council in opposition to the budget. Hayes and other activists would like to see less (or no) funding for KPD, and increased funding for social services, education and alternative response programs that would lessen the interactions between residents and law enforcement.
"This budget fails our communities," Hayes said. "It fails to address the root causes that could've saved the lives of young people like Anthony Thompson Jr. It guarantees tragedies like Ant's death and all the deaths of young folks who've died, unfortunately. It guarantees that those will continue."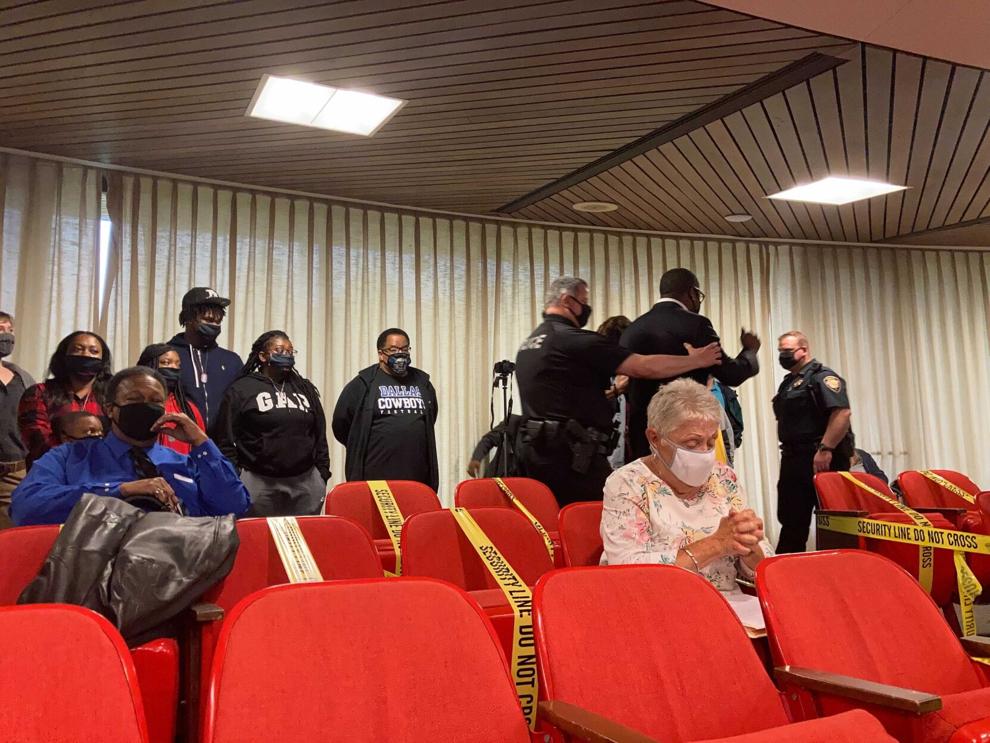 In contrast to the angered protestors demanding the arrest of the officers involved in the Austin East shooting as well as fundamental changes to the city's budget and management, there were residents who came to the meeting to serve as counter-protestors of sorts. 
To the groans of many protestors, resident Knoxville enthusiast R. Bentley Marlow rose to let the mayor and the council know that their detractors did not represent the whole city.   
"I have full faith and confidence in all of you that you guys are working together to move Knoxville forward and I am sorry that you get ridiculed, but that's part of the job I guess," Marlow said. 
"I just wanted to take a few moments to let you know that not everybody in Knoxville hates you. Not everyone believes that you or KPD is murderers and not everybody believes that you guys are indifferent to human suffering. I've gotten to know many of you personally and I think you're all more or less really good people and I just wanted to give a little support to you cause you're taking a lot of heat."