In April, the mural of beloved East Tennessee star Dolly Parton, located in Strong Alley in downtown Knoxville, was defaced. The singer's face was tarnished with a wad of black spray paint over her lips.
The mural, painted by Colton Valentine through the Dogwood Arts' Art in Public Places Mural Program, had not actually been completed prior to the vandalization. Valentine was in town for the weekend from San Antonio when he painted the portrait and ran out of time to add more detail to Parton's image.
So, when Parton was defaced to resemble a goth version of herself, Valentine called on another artist to repair the singer's visage.
Local artist Megan Lingerfelt, who also worked with Dogwood Arts, was on scene when Valentine initially began painting the mural. He originally wanted to paint Elvis Presley, and when Lingerfelt suggested Parton instead, she and another artist were shocked to hear that Valentine was unfamiliar with Parton. They sang "Jolene" with the hopes of jogging his memory, but to no avail.
After Parton's defacing, Valentine asked Lingerfelt if she could fix Parton's lips. Lingerfelt did indeed repair the singer's face, but also took the opportunity to add a bit of classic Parton-esque flair to the image.
"I was really, really keen on adding the curls and some really outlandish makeup and accessories and the denim jacket and the butterfly, and all things that kind of said, this is Dolly," Lingerfelt said.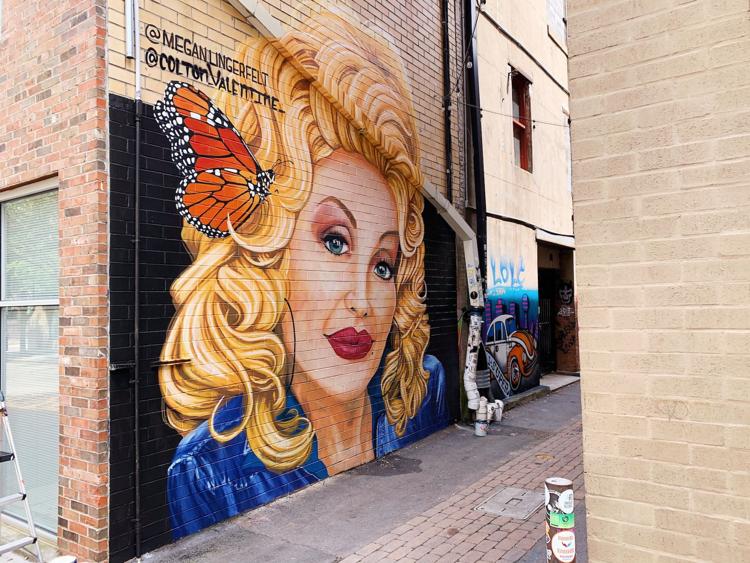 Now, three months after saving Parton, Lingerfelt has completed another mural downtown and just around the corner from Dolly, entitled "Windows to the Smokies." The 12-by-50-foot piece features a design of several detailed different windows framing a view of the Smoky Mountains. The mural is located on the side of the Lerner Lofts building on the corner of Wall Avenue and Gay Street, making it the first mural to be completed through the Dogwood Arts program outside of Strong Alley.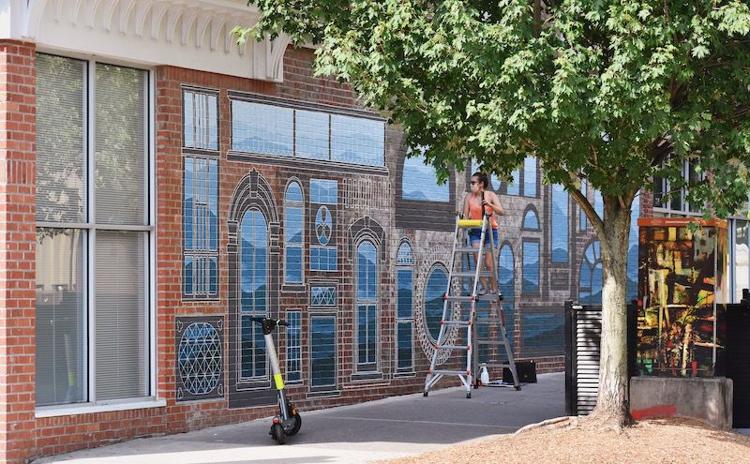 The Mural Program was created two years ago and has focused its efforts in Strong Alley, a historic artists' haven that was revamped in 2012 by the Downtown Knoxville Alliance. The alley is coated with colorful murals from many different artists, and the site is a popular destination for downtown visitors. Since its founding, the Mural Program has funded 22 murals downtown.
Any person or organization can apply to be a muralist with the program through a semi-annual application process, and those selected are given stipends to cover the cost of supplies, equipment, time and anti-graffiti coating, which is applied on top of a completed mural and allows spray paint to easily be scrubbed off in the case that the mural is vandalized.
Shannon Heron, the media coordinator for Dogwood Arts, explained how the Mural Program drives business downtown in the digital age, in addition to providing professional opportunities for artists.
"My favorite part about the program is that it's public. It increases access to the arts for everyone. You don't have to go into a museum or a gallery to experience art, but it's just out there in the public and anyone can interact with it and start conversations," Heron said. "It really benefits the downtown Knoxville area. It drives traffic downtown. People come down to take their Instagram shots and stuff in front of these murals, and while they're downtown, they'll grab a cup of coffee, so it really helps the business down there."
Dogwood Arts began design for Lingerfelt's mural last July. Lingerfelt, who had lived in Knoxville for less than a year at the beginning of the design process, was quickly drawn to the Mural Program after volunteering for Urban Artworks, which creates murals with underprivileged youth in Seattle.
Program Manager Kate Creason originally proposed the idea for the mural, and Lingerfelt was quick to find inspiration simply by observing downtown Knoxville.
"I was wandering around, and I was inspired by all of the old architecture and the old windows in Knoxville, and at that point, I was still pretty new to the city so that was what really caught my eye," Lingerfelt said. "I was playing with designs with a whole bunch of windows. I think I originally took pictures of more than 50 windows. There's so many cool ones around downtown."
After establishing the general window design, Lingerfelt determined that an image of the Smoky Mountains would be the best fit for the picture on the other side of the windows. An Asheville native, Lingerfelt was familiar with the local outdoor area.
"It felt appropriate to kind of celebrate the natural beauty of the area, so I went with the Smokies," Lingerfelt said.
Lerner Lofts voted on the final design, and the physical painting process began this summer. Lingerfelt painted for 24 days over a period of five weeks. The mural was one of the longer projects she has completed, which she chalks up to the design's intricate detail applied onto a textured surface.
Like Heron, Lingerfelt appreciates the public nature of the Mural Program, both for its accessibility and the constructive criticism it provides to artists.
"Having focused on studio art for so many years, I worked kind of in solitary, and you know, you make pieces and you go through different phases of liking and hating them in your own space in your own head. ... Working in public and having whatever I do at every step of the way available for comment and criticism, it's really great. ... It's almost like having a studio mate in the form of random strangers," Lingerfelt said.
"I really, really love putting stuff out there that just is for anyone, and downtown Knoxville, you have locals, you have people that are wandering around on their lunch break, you've got tourists, you've got quite a few homeless people, and it's really great to have my work available to literally everyone," Lingerfelt said.
Lingerfelt is also grateful to the city of Knoxville for its support of the arts and the community it has offered her in the short time since relocating from Seattle.
"Whatever I thought it was going to be has been so far exceeded," Lingerfelt said. "It's been really, really wonderful. Honestly, the community that I've felt here in the past year and a half is so much more that I ever felt in the art scene in Seattle, and I think it's just because its a smaller city, and there's a little bit more room for artists to have a moment to be seen and there's not as much competition."
After spending time wandering through the city and compiling what she saw into one final product, Lingerfelt feels more in touch with her new home than ever.
"I feel so connected to the city after having this experience of kind of translating the character into one composition," Lingerfelt said. "That has really made me feel like I've made something that's of the city, for the city, in the city."
Applications for the next round of the Mural Program open August 3 and can be found online here.