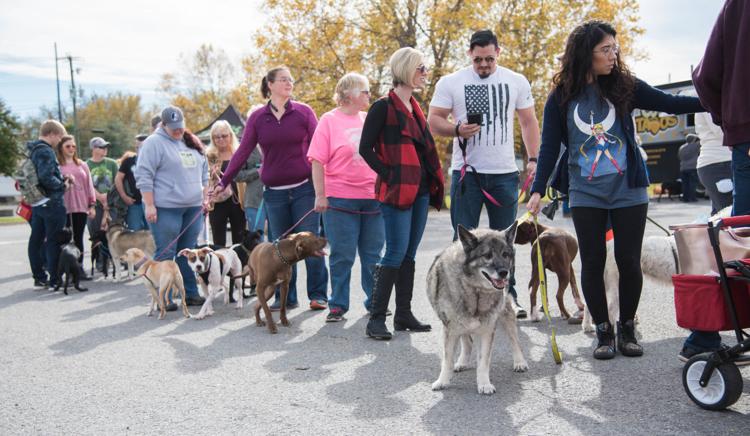 At a time when companionship has been challenging to come by for some, people have been turning to animal shelters to fill that void.
In light of recent complications stemming from the COVID-19 pandemic, citizens of the Knoxville area have flocked to Young-Williams Animal Center and the Humane Society of the Tennessee Valley to make a new friend during these trying times.
When asked about the recent upward trending adoptions, Janet Testerman, CEO of Young-Williams, said that nearly 600 animals have been adopted from the shelter.
Testerman explained why there has been a recent spike in adoptions.
"Pets really help us during a crisis, during a stressful situation. Those that have considered adopting before realize that this is a good time because they're spending time at home," Testerman said. "They want that companionship. Those animals help us emotionally."
As for Tennessee in particular, Testerman attributed the rising adoption rates to the Volunteer spirit.
"People want to help. We are the Volunteer State, so people want to contribute," Testerman said.
Testerman pointed out that the BISSELL Pet Foundation has been greatly assisting local shelters by helping to lower adoption fees. Running currently through May 17, Young-Williams is conducting an adoption special.
Testerman also confirmed that the increase in adoptions came approximately around the same time Gov. Bill Lee's now-lapsed Safer at Home initiative was implemented. Some of the shelter's new policies have also helped to attract people to the shelter during this time, such as a new curbside pickup feature, as well as their foster to adopt program, where newly minted pet owners have an opportunity to see how their chosen pet will transition into a new home routine.
But, it's not all one-way departures. Testerman added there's been an influx of around 1,000 animals. While more animals are finding their new homes, others have been left with uncertainty.
Testerman noted that while there has been a flow of increased pet surrenders to the shelter, more people are deciding to foster pets for the time being.
"There's definitely been an increase in our foster network, and currently we have about 150 animals in foster," Testerman said. "That's been really exciting to see. The community has really stepped up."
Humane Society of the Tennessee Valley Shelter Manager Ashley Schneider reflected that sentiment as well.
"We have definitely had a large increase in the number of foster homes, as well as many wanting to help donate to our organization," Schneider said.
With respect to community response, Schneider echoed what Testerman had to say.
"We are just proud of every person or family who decided to open up their homes during this and every other time," Schneider said.
At the conclusion of the pandemic, businesses around the world will look different. Pet adoption agencies are no exception.
For that reason, Testerman said it is important to continue awareness efforts. She believes that more people are now familiar with Young-Williams, and she hopes that the community will continue to be ambassadors for their mission. If the community continues to do that, she says, then more animals will be able to find homes.
As for Schneider, she recognizes that some fear an increase in surrender of animals that were adopted during the Safer at Home orders, but she remains optimistic.
"Normally, no matter what the reason people have for adopting, they become emotionally attached to the animal and make it work," Schneider said.
For more information, visit Young-Williams or the Human Society online.