Across Tennessee, people took to the streets in major cities on Sunday afternoon to protest Governor Bill Lee's stay-at-home orders and the closure of many local businesses.
The rally in Knoxville took place outside the closed West Town Mall as more than 50 protestors lined Kingston Pike and Morrell Road. Holding signs like "Help our small businesses," "Land of the Free, Not Tyranny" and "We are all essential workers," the crowd waved at cars passing by and asked for honks in support.
While some still followed the recommended six feet apart rule and wore masks, many did not social distance themselves as they stood side-by-side waving flags and signs, greeting each other with handshakes and hugs.
Organized by several different groups including #FreeTN, a group "joining together to fight for our freedom, our constitutional rights," according to the group's Facebook page, the event focused on protesting Governor Bill Lee's orders of shutting down all nonessential businesses.
Protesters rally against shutdown of businesses amid coronavirus pandemic
Protester Michael Murphy heard about the protests from social media and came out to support the group, feeling that the government orders were infringing on the constitutional rights of Tennesseans.
Murphy said that it was understandable trying to slow the spread of the coronavirus, but he felt there were discrepancies with people being able to continue to shop in crowded stores like Kroger's but were stopped from going fishing by themselves, like a friend of his.
"I just think small businesses (and) middle class Americans ... are being hurt. And that's the backbone of our economy. I understand trying to slow the infection rate and everything, but why kill the economy? I mean, more people died from the flu last year than the Coronavirus, and they didn't shut down the government last year for the flu," Murphy said. "... So, I mean, I can see both sides of it, but I feel like when when they start infringing on people's individual constitutional rights that's when I need to participate."
Tennesseans lined major roadways in Nashville, Johnson City, Chattanooga, Memphis, Jackson and Cookeville to air their grievances against Lee's executive order during the seven Freedom Rallies across the state.
Knoxville resident Kim Adamo came to the protest to show support for her friends who are facing hardships because of a lack of income as businesses have closed down.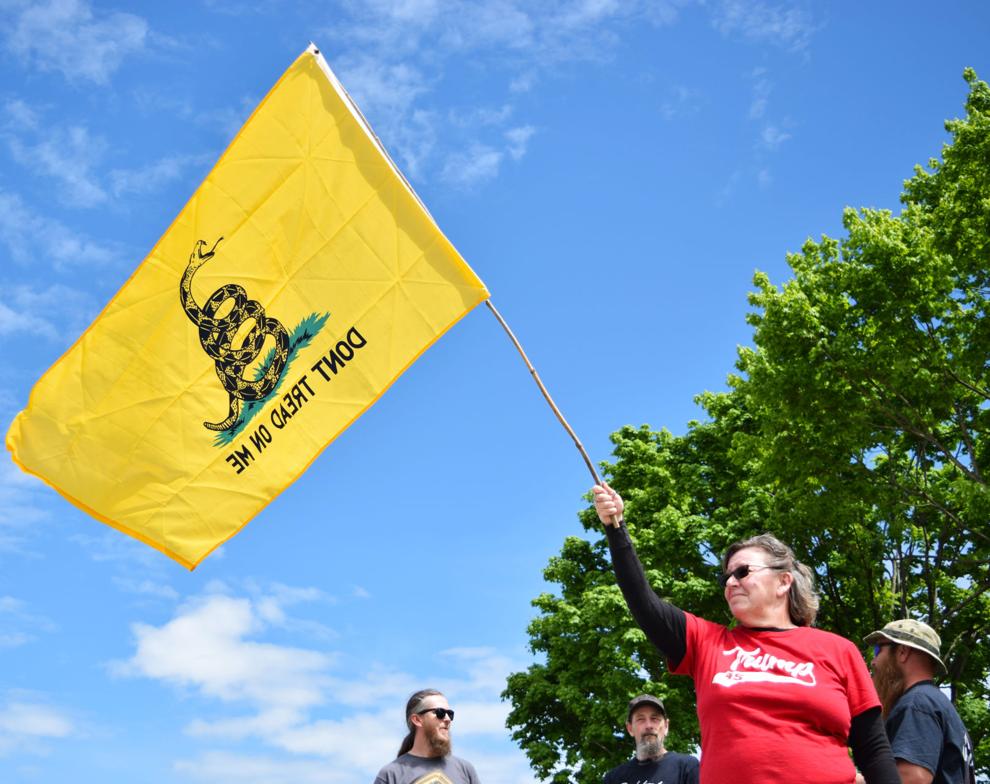 "We have multiple friends who own businesses or who work in businesses that are closed right now," Adamo said. "And it's a hardship that is taking on their families. And the ability for us to help them is diminishing because we're taking $1,000 hit per week ourselves. My husband is supposed to be able to go back to work May 4, but we're not even sure if that's going to happen."
Adamo, who has been an activist since 2006, when she joined to fight against Common Core in Long Island, joined some activists groups after moving to Tennessee three years ago to find like-minded people with whom to protest issues that affect future generations.
Adamo explained that she believed it was time for Tennessee to begin opening up for mental health reasons, financial reasons and for the sake of children.
Adamo, who is a stay-at-home mom and was already homeschooling her children before the pandemic, said that both the children go to school and are being affected by not being able to socialize with others.
"Just that all people are essential, and all children are essential. That's what people are missing out on. These children who go to school every day, who see other children every day, whose main meals are through the schools, those kids are totally overlooked right now," Adamo said. "So my advice is that for everyone just to find the kindness in their hearts to realize that, unfortunately, when there are viruses, illnesses going around, that people are going to die, right? Pneumonia, the flu — I mean, there's a million viruses out there, right? And that we need to stop fearing each other and find the humanity."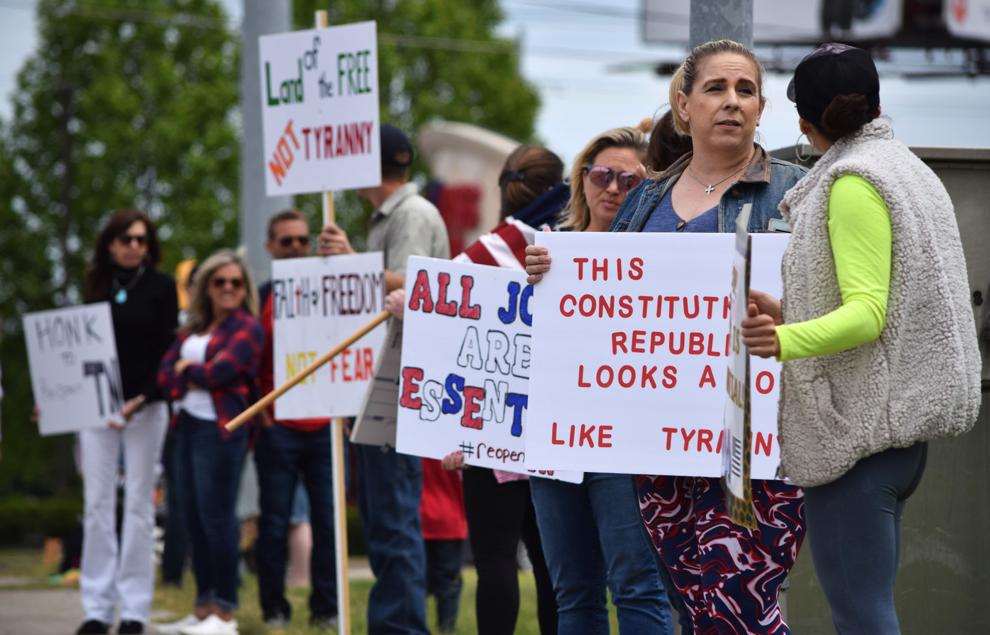 Rich DeForest, local business owner of Networking Today International, had an American flag in hand as he came to join the protests. DeForest's company is a member organizations of other small businesses and he said many of them are being hurt financially at this time, and he's concerned for the middle class.
"That economic devastation can only roll downhill to everybody else," DeForest said. "The wealthy, they'll survive this. The ultra poor, they'll survive this, but the majority middle class are going to get crushed. And we have to do something about it. We have to allow them to operate safely, but to operate, and if we don't, the consequences are going to be very real."
For DeForest coming out to protest was also his way of showing support for kindergarteners, high schoolers and college students like his daughter who won't be able to walk the stage for gradation.
The afternoon sun bore on as protestors continued to stand together waving signs and flags as cars drove by, sending their message to Lee and other government officials, Adamo said that people need to help one another in times like these.
"We need people to be the light," Adamo said. "And I feel like that's what this is about. These people are trying to spark that light of hope that this will come to an end."