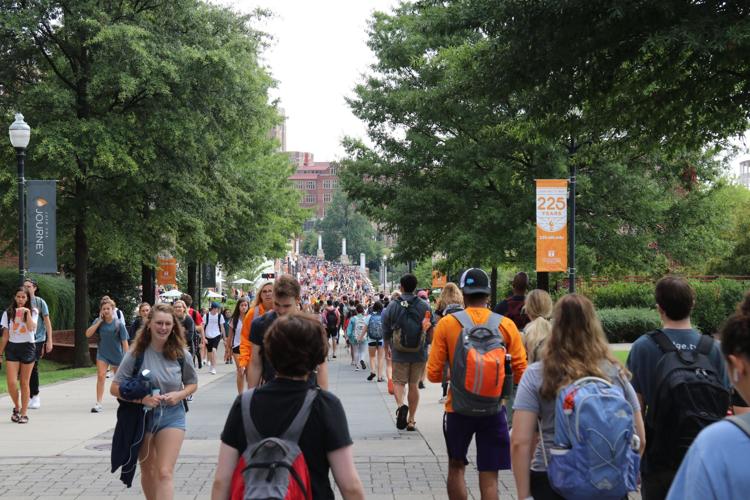 KNOXVILLE,Tenn. -- For students attending college, either at two-year or four-year institutions, rising tuition rates and a lack of affordable housing options play a key factor for those struggling with housing security. 
Most Americans don't see the hundreds of individuals dealing with homelessness in different ways -- they don't see the single mother seeking a safe shelter with her small children clinging to her, the young adult jumping from one friend's couch to the next after aging out of the foster care system or the independent college student living out of a car after paying for tuition and books.
Last year in the U.S., approximately 35,038 unaccompanied youth were counted as homeless in a single night -- 89% of which were between the ages of 18 to 24, according to the Annual Homeless Assessment Report. The report was published by the Department of Housing and Urban Development to the U.S. Congress, which provides nationwide estimates on homelessness. 
"It's a complex issue and there's no single profile of what a homeless person is or looks like. It's as diverse as the rest of us are," Michael Dunthorn said. "So you have veterans, you have families, you have youth and young adults, you have people who are chronically homeless which means they're out there and stay out there unhoused for long periods of time." 
Dunthorn is the homeless program coordinator at Knoxville's Office of Homelessness, and he has spent 20 years advocating and working for a diverse homeless population.
"Each one of those things, each one of those populations and more will have different reasons as to why they got to homelessness," Dunthorn added. "The truth is homelessness is actually a symptom of other systems in the community running out for people." 
It hasn't been until recent years that there has been a growing awareness of the increasing homeless population among college aged students. 
 Currently, HUD's definition of homelessness excludes most children and youth whose families are staying in motel rooms or staying temporarily with other people because they have nowhere else to go.  
SchoolHouse Connection, a national non-profit organization working to overcome homelessness through education, has been pushing for legislation to align with the McKinney-Vento definition of homelessness which does include couch-surfing, sleeping in a car and staying at motels. 
The Homeless Children and Youth Act would not only align HUD's definition of homelessness with other federal programs, but also improve HUD homeless assist data and transparency, and require HUD to score applications on whether they're cost-effective in meeting goals identified by communities in their local plans.
In an April 2018 report done by the Wisconsin HOPE Lab, now known as the Hope Center, it was found that 66% of participants, or 704 students, had couch surfed within the past year. 
Dunthorn explained that in terms of patterns in Knoxville, there has been a cycle of ebbs and flows with more concerns rising about youth and young adults, as the number of homeless veterans have gone down. 
Nationally, the number of veterans experiencing homelessness declined by 2% between 2018 and 2019 according to the HUD report with 37,085 veterans experiencing homelessness on a single night in 2019. In comparison, while the number of unsheltered youth and young adults declined between 2018 and 2019, the assessment found that 45,629 young adults were experiencing homelessness on a single night that same year.
Overall, the trend finds that there are more youth and young adults who are struggling with food and housing security today. In a 2019 study done by California State University, almost 42% of students at CSU experienced food insecurity. 
Food insecurity is the "limited or uncertain availability of nutritionally adequate and safe food, or the ability to acquire such food in a socially acceptable manner," according to a 2019 HOPE Lab report surveying college and university basic needs insecurity.  
The report also found that of the nearly 86,000 participants who responded from the 123 two- and four-year institutions across the U.S., about 38,700 had been food insecure in the 30 days prior to the survey.  
The trend can be attributed to different factors, but for those students who do enter into higher education institutions, it could be that rising tuition rates and a decrease in federal and state funding for universities play a significant role. 
Since 1994, the inflation adjusted costs for tuition for both two-year and four-year public universities have steadily increased, while state funding for higher education for 2018 was $6.6 billion below what it had been in 2008 before the Great Recession.
In addition, those struggling with housing and food insecurity in college are a diverse population. Some young adults who have returned to school to get their degree may also have children depending on them. In a 2014 study by the U.S. Office of Policy Development and Research, 26% of all undergraduate students were found to be raising dependent children.
Jillian Sitjar, program manager for higher education with SchoolHouse Connection, said it's important to include parenting students in conversations about college students' homelessness as they are one of the most at-risk groups.
"I was kind of shocked by that number because when I was in college, that just wasn't something I saw when I was in college a few years ago and it just shows, ... That's the "traditional" student that we're seeing right now," Sitjar said. 
 For these parents, obstacles like the high cost of childcare, having to usually work full-time jobs to support their family and housing can be a part of the reason why they have financial struggles.   
The complexity of college student homelessness not only includes factors as to why some students experience homelessness, but also who is affected. 
"It doesn't take a lot to make a difference," said Annette Beebe, case manager and Youth WINS program manager at the Community Action Committee. "It's spreading the awareness and knowing that we have college students living in their cars and that we have youth that want to go to college and can't even fathom that right now, because they're worried about where they're going to sleep."
The article has been corrected to reflect the right information.