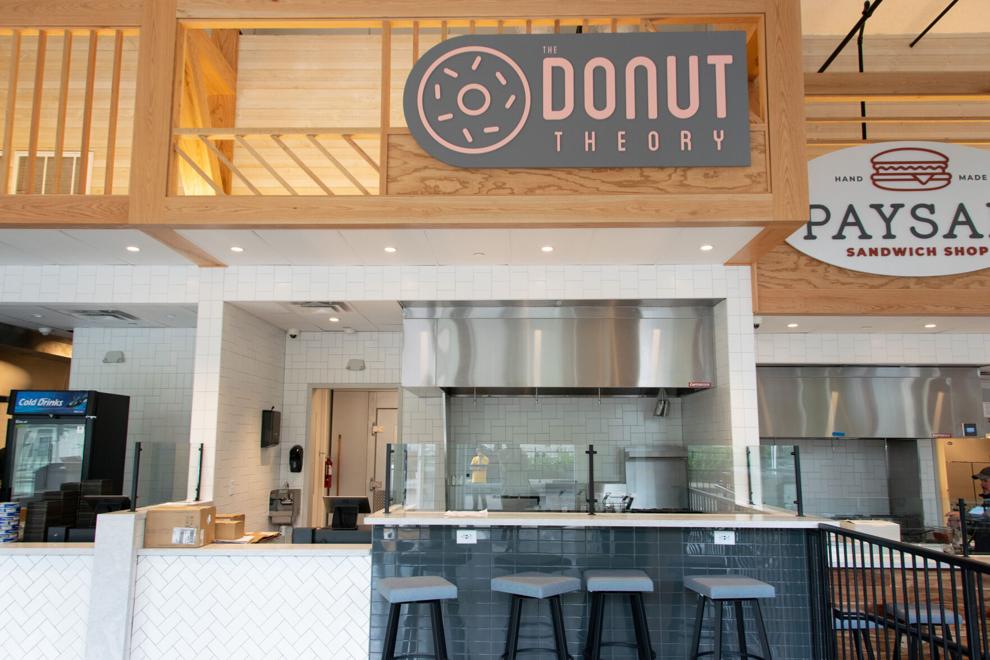 With a new store, the Donut Theory continues to provide Knoxville with gluten-free donuts.
The Donut Theory was started by Laura Crawford, a culinary degree recipient with Celiac disease. She started the business out of her kitchen during the COVID-19 pandemic, but it quickly grew. After a successful kickstarter, she sold donuts out of a food truck before recently acquiring a storefront in Marble City Market. The shop is open from 9 a.m. to 9 p.m. and for an extra hour on Friday and Saturday.
She talked about traveling across the country with her husband Daniel Crawford, which prompted a search for good gluten-free donuts. She found one shop in Boston that delivered what she was looking for, influencing her drive for making donuts.
"In 2019, we went back to Boston, went there again, tried it and I told my husband, 'If they can do it, so can I,' because there weren't good gluten-free donuts here in Knoxville," Crawford said. "I basically told Daniel that I wanted to bring that idea, that concept, here."
Before the storefront, Crawford focused on making donuts. The old-fashioned style donuts come in a variety of flavors, such as a classic donut or cookies and cream. They also make specialty donuts, like an apple pie flavor or "the Parent Trap," which is a cookies and cream donut with a peanut butter glaze.
Crawford takes great care to make quality donuts. The entire kitchen is completely gluten-free with no outside food permitted inside. It took her several recipes to get it right, but the growth of her business indicates that she is serving the gluten-free community in Knoxville well.
"I just want to do gluten-free, and I want to do it really well," Crawford said. "For all the people out there who that's their need is gluten-free, that's the need that I'm trying to meet."
She mentioned some other businesses that provide alternative solutions. She talked about Free Reign Bakery and Benefit Your Life as other bakeries in Knoxville that have baked goods for gluten-free and allergen needs.
In addition to the storefront, Crawford introduced some new gluten-free menu items along with the donuts. They added fried chicken, macaroni and cheese, jalapeno coleslaw and some extra desserts, all gluten-free. She talked about these new items and their response to them while breading chicken in the kitchen.
"The response to the new menu items I think has been really great," Crawford said. "We created a product that was excellent. And so, when people who have been following us heard that we were adding something, I think they knew they could expect it to be done really well, and so I think we had a lot of people come out super excited to try our stuff because they already had really good experiences with our donuts."
Crawford also talked about opening up the store in Marble City Market.
"It's like beautiful chaos," Crawford said.
This sentiment was echoed by kitchen supervisor Savana Lara, who has been working with the business since the food truck in June. She talked about moving from the food truck to the Marble City Market location.
"It's been interesting to switch from that, to being here with customers and adding more than just making donuts," Lara said.
Lara is a student at the University of Tennessee studying advertising. She has been able to work with Crawford and use what she is studying with the business. She talked about her experience working with the Crawford family.
"Laura and Daniel are super great bosses," Lara said. "They are super understanding, like they understand that you have a life outside of work. And so they want to make sure that you live your life, and they've been super supportive."
Since opening two weeks ago, Crawford has worked non-stop with barely any time to spend with her family. But, she talked about why she is working so hard to keep her business going.
"It's a lot, but I'm doing this because I want to meet a need that's not being met, and I also want to build something for my family," Crawford said. "I want to build a future for my kids. I want to build something they can be proud of, and I want them to be able to look back. Even though they don't get it right now, I want them to be able to look back and be like, 'My mom worked really hard to provide for me.'"
She discussed potential ideas for a future location, which would act as more of a stand-alone shop to serve her family and customers. But Crawford is currently building her business at Marble City Market while providing for her family.
Lara talked about seeing them succeed.
"I just want to see them grow," Lara said. "Outside of them being my bosses, they're like family to me, and you want your family to succeed, and you want them to do well."