Knoxville residents looking for a sweet treat to satisfy their cravings are in luck with bakery Ham'N Goodys nearby.
Customers can choose from an assortment of cookies, cakes, and various other pastries prepared by the bakery. However, after stocking up on sweets and chatting with the friendly employees, customers may find they have satisfied something much more than just a sweet tooth.
Found at 314 Northshore Drive, Ham'N Goodys has been welcoming customers since 1978. While founding owners Leroy and Emily "Cookie" Shoemaker originally opened doors to a gourmet meat shop with just a few tea cakes and cookies for sale, their business is now locally famed for its delicious baked goods, such as the infamous lemon cookie.
Although the bakery has been around through several decades, it remains rooted to its Christian-values and family based beginnings. The Shoemakers intentionally sought out someone who would uphold their own values when selling their bakery, which is why former salesman and customer of the shop, Dale Harold, now calls himself the owner.
"I was actually a salesman, I worked for a distributor," Harold said. "I would come in here three times a week and take their orders for eggs, butter, flour, coffee and all that stuff. I had a lemon cookie every time I came in."
"When (the Shoemakers) got to the point where they wanted to sell, they wanted it to be somebody that had the same Christian values and Christian beliefs," Harold added. "They wanted somebody that would keep a bible verse up on the board, and wouldn't be afraid to be Christian in the business. I try to carry that on my sleeve and I try to keep that up front."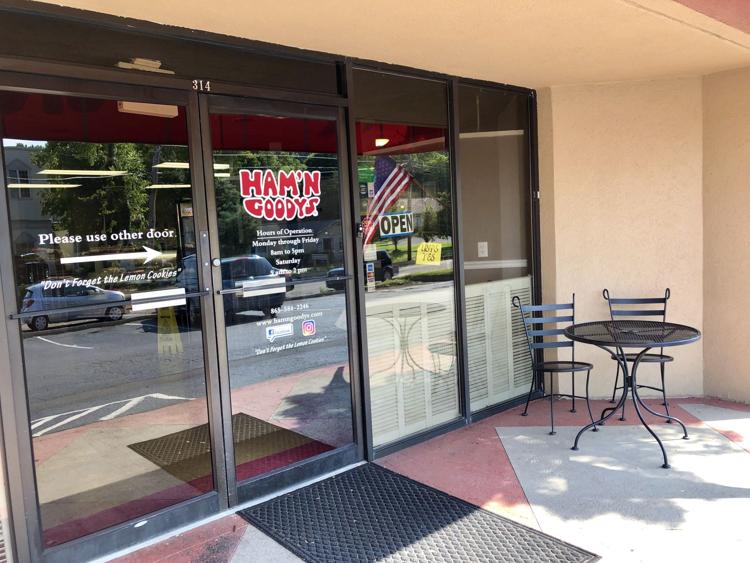 It's evident upon opening the doors of the quaint bakery that it has no intention or need of switching things up, something that Harold says he believes gives the bakery a unique atmosphere.
"Sometimes we describe it as having that atmosphere of when you go to your grandmother's house. You walk in, she comes to you, she pulls you in and takes care of you," Harold said of the bakery's comforting qualities. "You just feel at home."
Customers aren't just receiving a make-believe, promotional show of values when they walk in and feel at home. That feeling is something deeply ingrained into all aspects of the day to day at Ham'N Goodys.
"It's nice to watch employees come in and the first thing they do is they walk around and greet each other. They'll come in, they'll get a coffee, they'll walk around and they say good morning. It's nice," Harold said. "Its not show for the customers it's just how we are. We're like that with each other as well."
It's the circulation of those notions of family and nostalgia from both sides of the counter that creates the fond feeling the bakery radiates. The warm, inviting pastry shop may be infamous for items such as lemon cookies and tea cakes, but a visit to Ham'N Goodys will leave customers feeling fulfilled to a much deeper extent.
"That atmosphere does not come from me, or these four walls, or the great cookies and cakes we have. That comes from the people that are on both sides of the counter. Whether it's the people that are working or the clients coming in, they are so gracious and so wonderful," Harold said. "It really all just kind of stirs in the crock pot and makes this great atmosphere where everyone is comfortable and at home, and time almost slows down, just for a minute."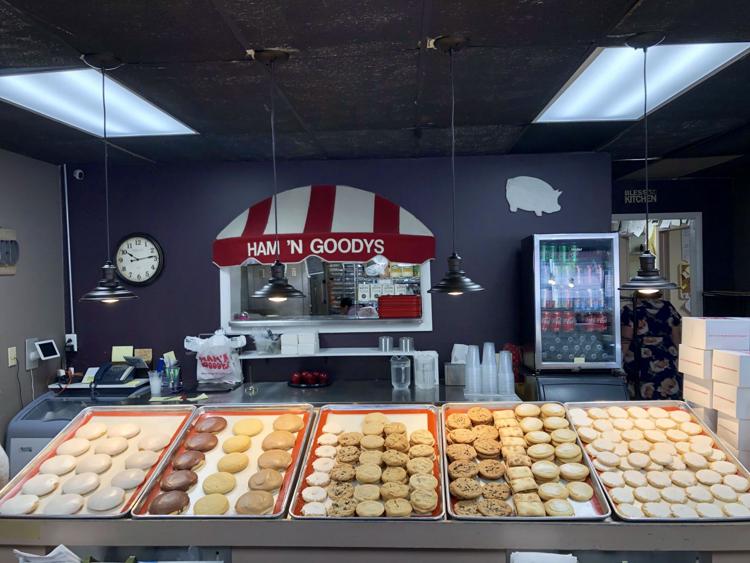 It's that feeling, and of course the delicious baked goods, that makes Ham'N Goodys a staple in many households, generation after generation.
"It's wonderful to see somebody come in with their three year old by the hand and talk about when their grandma used to bring them in here twenty years ago to get cookies, and now I'm going to get you some cookies."
"Whether it's a holiday meal or a birthday, all these meaningful moments in peoples' lives, so often in the background there's a Ham'N Goodys box," Harold said. "That's so cool to be apart of those special moments."
Though tradition and history are a large part of the Ham'N Goodys brand, several new and exciting things have been popping up for the busy bakery.
One of those changes can quite literally be seen "popping up" around East Tennessee, as the bakery recently introduced its cookie trucks. Multiple trucks are sent out every week, so customers across the region have a chance to fill their cookie cravings.
"Usually we do [a food truck] or two a day, for four or five days of the week," Harold said. "That's a way we're actually taking the cookies to the people. It's been really fun to watch."
The trucks go as far north as LaFollette and as far south as Chattanooga, so far-off fans of the bakery should definitely keep an eye out for the traveling trucks.
Additionally, early risers looking for a home-cooked breakfast can now stop by the bakery bright and early at 7am. The shop's opening hours will soon be pushed back the extra hour as it introduces breakfast to its classic menu.
Due to booming business and the ever-growing notoriety of their lemon cookie, Ham'N Goodys has also recently opened the doors to a second location in Cedar Bluff. Though content with the one original location, Harold says he feels that the bakery's second location was something his business was being led to do.
"Our goal was not to grow outside of here," Harold said. "God just opened a door, so that's where we went."
Always finding its place amidst both the tradition and churning business at Ham'N Goodys, one thing stays a solid staple for customers: the infamous lemon cookie.
"We ship [lemon cookies] all over the country. They've even been up to the space station. They sent five dozen up when a UT student was up there," Harold said. "They asked him if he wanted anything special to take with him, and he said he wanted some lemon cookies from Ham'N Goodys."
However, the cookie represents more than just the bakery's best selling pastry. It represents the values the bakery was founded on, and the values it continues to nurture within itself and the community.
"[The Shoemakers] always told me the secret ingredient in their lemon glaze was prayer. Everyday, the place is prayed over, the food is prayed over, the people are prayed over," Harold said. "Out in the car, I sit out there and I say 'God bless the food that we make today and the people that are making it and everybody that comes in.'"
The lemon cookie is also one of the main ways the bakery utilizes its products to give back to the community. The shop partners with a multitude of local sports teams, churches, and organizations in a bid to help their fellow community members.
"The heartbeat of the community is typically schools and churches. We donate to almost anybody who asks. That's just the right thing to do. We don't claim that on our taxes," Harold said. "It's the community. We're apart of the community, they're apart of our family. Whether it's a cake walk or a bake sale, or they need something to auction off, we always donate."
Harold reveals that organizations often come back having sold seven to eight hundred dozen cookies. "Evidently, it's pretty easy to sell cookies," Harold joked.
Located so close to UT's campus, the bakery welcomes all students to come down and give the bakery a try, for both freshly baked goodies and that fond family feeling.
"We do a lot of fundraisers, and a lot of sponsorships and events that go towards UT's campus. A lot of the clubs and groups come in and they ask for donations. And I think the lemon cookies kind of speak for themselves," Emmerie Wheeler, a Ham'N Goodys employee and a junior studying kinesiology, said of the bakery's appeal to students.
Everyone knows that college students are fond of some free food, so they should prepare to be excited. Harold is all about spreading the love when it comes to some Ham 'N Goodys lemon cookies.
"Anytime a student comes in and asks for a free lemon cookie, they'll have no problem," Harold said. "First lemon cookie is always on the house."
"We hope [UT students] come visit. Just for that feel of hospitality," Harold added. "Whether they're from Michigan or California, hopefully when they walk in they feel at home."