For the nearly three years I've been eating on the strip, my friends and I have always brought up trying House of Dragon, but we have never actually gone in until now.
If you haven't noticed it before, I don't blame you. It's a small, hole-in-the-wall establishment, and it's relatively far down the road. Meanwhile, there are other venues where students can eat Asian food much closer to campus.
We went on a Friday night around dinner time. You know, the time when most restaurants should be packed, but House of Dragon was silent both in business and in background noise. They didn't have any music playing, and they weren't making any noise in the kitchen.
On one hand, the total silence in the dining room gave us a unique experience, because most restaurants are noisy or at least have music playing. On the other hand, the total silence felt jarring, unusual even. We weren't sure if we could even talk for fear of disturbing the silence, though there were no other diners to disturb.
Even though that atmosphere was non-standard, the dining room was perfectly clean, and I didn't notice any extraneous issues with it that would cause it to lose any points.
It appeared as though they only had two people on staff — a waitress and a cook. Because of that and the low amount of business they had, they likely weren't prepared to serve our party of six. It took a while for the food to come out, longer than it has taken at other restaurants in the area.
Despite that, the waitress was very kind and there was nothing I could reasonably complain about in terms of service because, in this situation, it isn't her fault that it took a while for the food to come out, and it can't be blamed on a lack of diligence from the cook.
That's because when looking at the menu, they had most everything under the sun that you would expect and more. I didn't count, but it was a much more diverse selection than you could get at places like Chaiyo's, Jai Dee or Panda Express. That diversity includes items like pig intestines.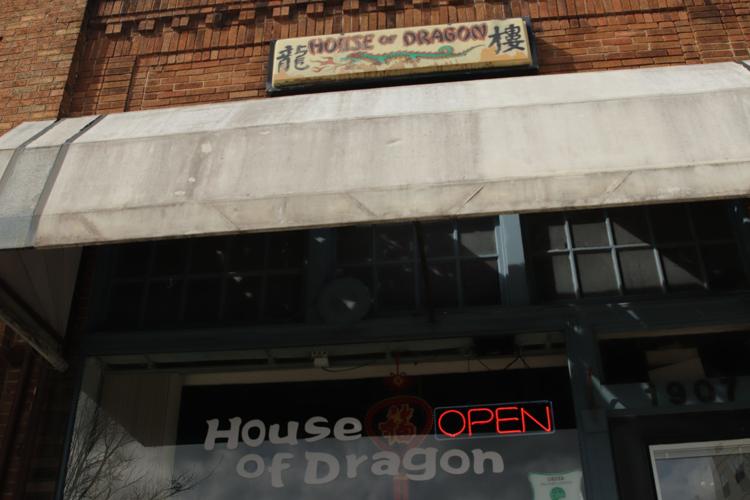 By himself, the cook prepared six massive meals, each of us getting something different. And all of our food pretty much came out at the same time.
The prices for the dinner plates felt steep at first, reaching over $10 for many of the items. However, upon receiving our food, we realized that the prices weren't steep at all. The serving size they provided was more than our money's worth, and the quality of the food was better than I expected.
Every person in our party was more than happy with their meals, saying they'd be happy to eat there again. Of course, none of us ordered anything like pig intestines, but if you're so inclined to do so it's available.
Another thing that's worth noting is that their drink selection is served in bottles, so there were prices listed even for the water. However, none of us were charged for water despite the bottle being priced at over a dollar on the menu.
To compare House of Dragon to the other Asian restaurants around UT campus, it is definitely one worth going to and one I'd be more than happy to recommend and visit again in place of the others. There are a few select items that it is lacking that you'd only be able to get at Chaiyo's or Jai Dee like sushi. And that's fine because House of Dragon is a Chinese restaurant — though they did have Pad Thai on the menu, strangely enough.
Overall, I had a very positive dining experience at House of Dragon. The only suggestions I can make after that single trip is that they should play some music softly in the dining room to offset the dead silence, and they should put their little dragon mascot on the window outside to draw in more customers, because at is, the roadside presentation doesn't attract customers.
Next time you want Asian food, don't go to Panda Express or Chaiyo's or Jai Dee. Give House of Dragon a shot; you won't be disappointed.
4/5 Torches