Euphoric Cheese Shop co-owners Amy Burritt and Cheri Intveld didn't originally plan to have careers surrounding cheese. Though Burritt's family had their own cheese shop called South Slope Cheese Co in Asheville, North Carolina, she and Intveld felt that having their own cheese shop in Knoxville was the way to go.
Although the best friends had experience working with specialty food, they said that they found that charcuterie making was what truly brings people together. They also liked the idea of people gathered around a beautiful board as a time to eat and talk.
"It was kind of that dream 20 years in the making I'd say," Burritt said. "When we were young we had talked about opening a coffee shop, but Knoxville has lots of coffee shops, and really good ones. So we decided to do something different."
Burritt had a degree in communications and marketing and Inveld's was in family services. Burritt spoke about their paths to opening Euphoric Cheese Shop.
"When you're in school, there's so much emphasis put on what your degree program is and what you're gonna do immediately after college," Burritt said. "And I think both Cheri and I had the experience of following the circuitous path that didn't lead where either of us necessarily planned. But it's okay. And it's actually kind of fun."
Wende White is a cheesemonger with a culinary background and has been working at Euphoric Cheese for over three months. She spoke about her own experience and background.
"You're expected to know what you want to do for the rest of your life and there's too much pressure there," White said. "That's not for everybody, and that's okay."
The shop opened on Feb. 18, 2021, and White spoke about how the business has been booming ever since.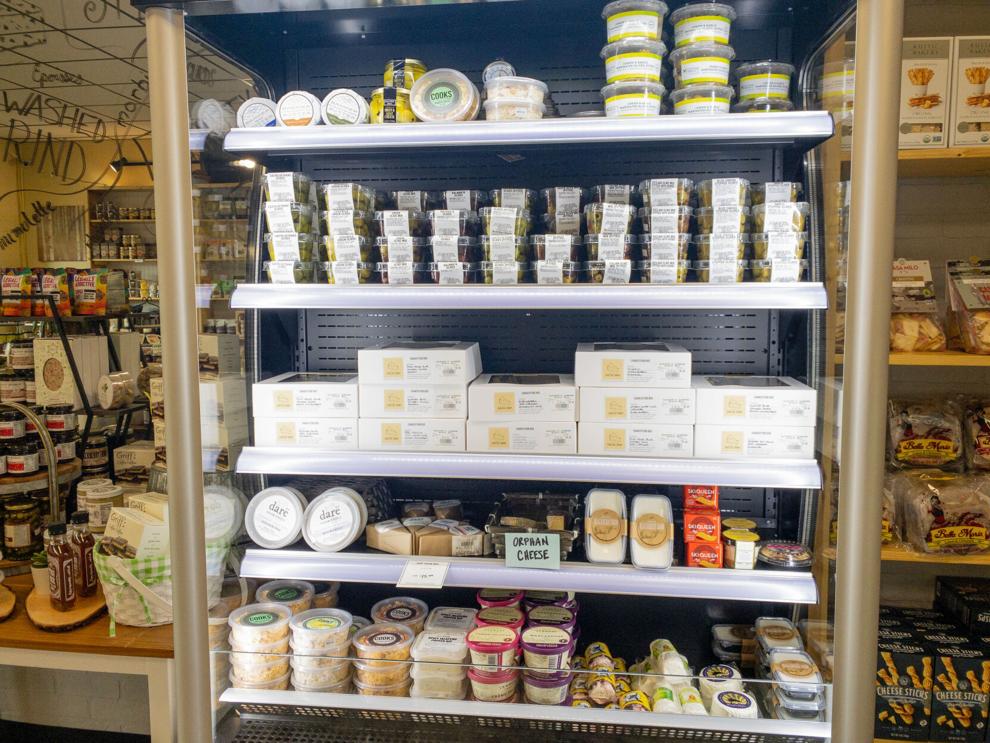 "I've had a line out the door on a Saturday. And it doesn't matter what day it is. On Tuesday, they said they were slammed, it was unbelievable," White said.
With a choice of around 75 to 100 cheeses rotating weekly, there's plenty to choose from with local providers such as Blackberry Farm in Walland, TN, and Sequatchie Cove Creamery in Chattanooga, TN. Aside from their charcuterie eats, there's coffee from Knoxville Coffee Company and chocolate from Paula and Sinclair in Nashville, along with many other local brands shown throughout the store.
There are multiple shelves and tables filled with local goods displayed in an array for customers to enjoy. Some tables have pickled vegetables, tiny jams, boards, utensils, olive oil selections, cookbooks and more.
"We try to give you all the accompaniments that you need to build your tray, if you're gonna build it yourself," White said.
Some best sellers for the boards are the Red Dragon cheddar cheese and the Tennessee Whiskey cheddar, and they're always happy to serve and be personable with their clientele.
"Customer service is number one, absolutely," White said. "Nobody walks in through that door that we don't speak to them within the first 15 seconds that they're here. And if we fail to do that, then it's because we have 30 people standing in line waiting for some cheese."
White explained that there are not many opportunities to find more quality, savory foods in East Tennessee, and Euphoric Cheese brings possibilities to local residents that may not have realized were possible.
"A lot of people don't know anything more than their grocery store cheeses. So we are the avenue that can open up that Fromage world for people," White said. "Whole Foods doesn't have everything, and we're here to fill a gap that was much needed."
It was a process to open the shop, at first. Burritt had just finished her double mastectomy and her treatment for breast cancer while her parents opened South Slope. Through her parents, she was able to understand the ins and outs of cheese, taste tests, study the "The Book of Cheese" by Liz Thorpe, also known as the "cheese Bible" and worked hard to have the knowledge she has today.
"The tenacity of these two women, and I'm not just talking about outside strength, I mean the inside strength that you can't see but you know is there, it's unbelievable. They are such an inspiration. I have nothing to complain about. Nothing," White said.
Euphoric Cheese is also known for its extremely supportive community. Burritt is a survivor of breast cancer and Inveld has been fighting stage three breast cancer since roughly six weeks after the shop opened for business.
"It's more about the people that come in," White said. "Especially with the foundation that (Burritt and Inveld) built here, and the attention they've attracted because of the things they have endured. You get a lot of women that come in here to say 'Thank you for being here and talking about your disease and raising awareness.'"
The cheese shop has also been involved in numerous activities, from catering to DIY classes, as well as a fundraiser to raise money for breast cancer awareness, in which they donated $3,000 to Breast Connect, a community dedicated to breast cancer survivors.
Photo Gallery - Euphoric Cheese shop in Farragut
Euphoric Cheese Shop is located at 139 W. End Ave and is open from 10 a.m. to 6 p.m. Tuesday through Saturday.