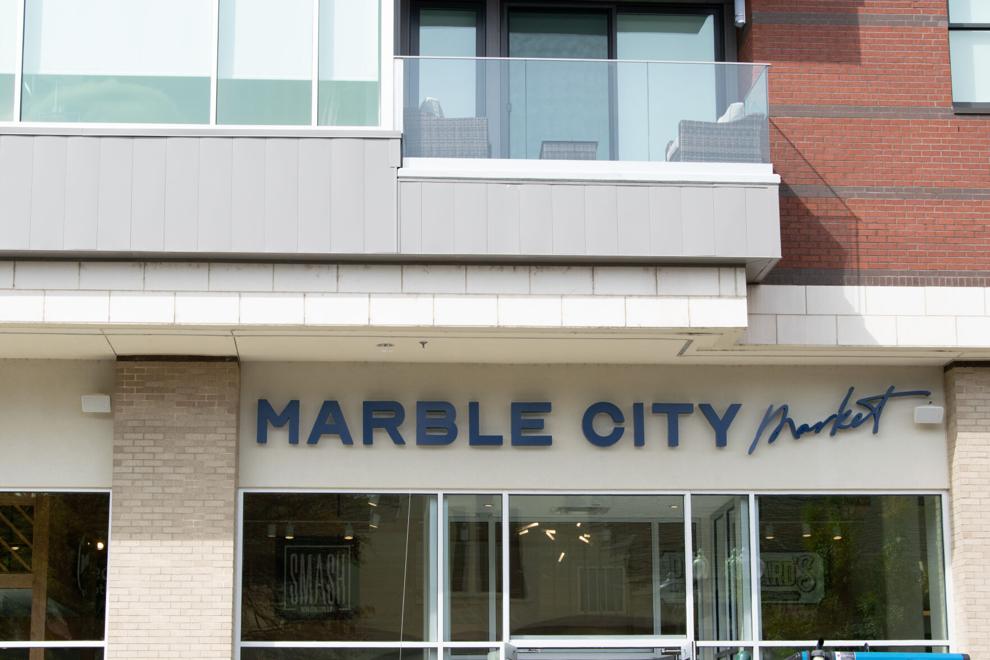 Featuring 11 local restaurants and a full bar, Knoxville's first food hall, Marble City Market, opened today.
After months of renovations to the historic Regas Square building located in the Old City, people finally gathered for the opening of the food hall. A large crowd of excited Knoxville residents entered Marble City Market to see a wide array of food options. Looking at the inside of the building, not only did patrons see a new culinary experience but also a unique gathering of community that offers a sense of unity in the city.
General manager of Marble City Market, Keith Wilson, spoke about his excitement for the sense of community that the food hall will offer to Knoxville, especially in the wake of the COVID-19 pandemic.
"It's like a giant menu and just seeing the people walking down from places to places trying to choose … It's a beautiful thing to see," Wilson said. "This is COVID time and people are just dying to come out and just experience what we've got here and I hope they come back."
Although the concept may not seem all that different from food courts in shopping malls across the country, it sets itself apart by offering a place where friends can gather while trying new restaurants.
"This is new and exciting," Wilson said. "It's not like the mall … It has quality service, it is where people can actually meet and greet."
Cynthia Jones, a massage therapist at The Glowing Body, attended the opening of the food hall and was impressed with this focus on local cuisine and community.
"It's nice to have something like this. It's not like the food court at the mall, it's all local businesses, small businesses," Jones said.
Jordan Baker, a philosophy lecturer at the University of Tennessee, found that the new location offers a sense of convenience that was not as evident in downtown Knoxville beforehand.
"I think it could be really good both for folks who are visiting stuff and just want a quick bite but also business people in between if they have a break for lunch in the day and they just want something quick to bring back to the office, all that kind of stuff," Baker said.
Not only does Marble City Market offer a new experience to locals but it also offers an opportunity for local businesses to have a permanent location in the heart of Knoxville. Many of the cuisine options featured in the food hall started out as food trucks and the market gives them a chance to have a sort of brick and mortar location.
Owner of Knoxville's popular Penne For Your Thoughts food truck, Samantha Wallenstein, is excited about the reliability that comes with their new location in the food hall. She says that just having a food truck can be unpredictable with seasonal changes as customers prefer to come in the summer and spring.
"We've been travelling on the food truck for the past four years all around town, and we are just setting roots at a permanent location," Wallenstein said. "Now we have something that's open seven days a week, all year."
Like the new customers at the market, Wallenstein also appreciates the way in which community and small businesses are the focal points of the new space.
"It adds everything down from jobs for the community to a whole culinary experience that Knoxville's not used to," Wallenstein said. "All of these vendors in here are local, small businesses, so coming here for your meals is just supporting a family."
Along with lunch, breakfast, dessert and drinks, Marble City Market has two Top Golf Swing Suite Simulators and seating that allows people to gather and experience the Scruffy City.
"This is a brand new experience for me," Wilson said. "... But I look at it as a challenge, and it's a great opportunity for Knoxville. It's great for the local people … We have a place for everybody."
All vendors are open from 11 a.m. to 10 p.m. Sunday through Thursday and 11 a.m. to 11 p.m. Friday through Saturday. The Donut Theory will open earlier at 9 a.m. to serve breakfast and Frank and George's Bar will stay open until 11 p.m. on weeknights and midnight on weekends.
Here is a full list of the vendors at Marble City Market: Paysan Sandwich Shop, The Corners Pizza, Myrtle's Bakehouse, Po'Richard's, Frank & George's Bar, The Donut Theory, Smash Knoxville, Penne for Your Thoughts, Lake and Oak BBQ, Seoul Brothers, Fantail Fish and Frites, and Gekko Poke & Ramen.