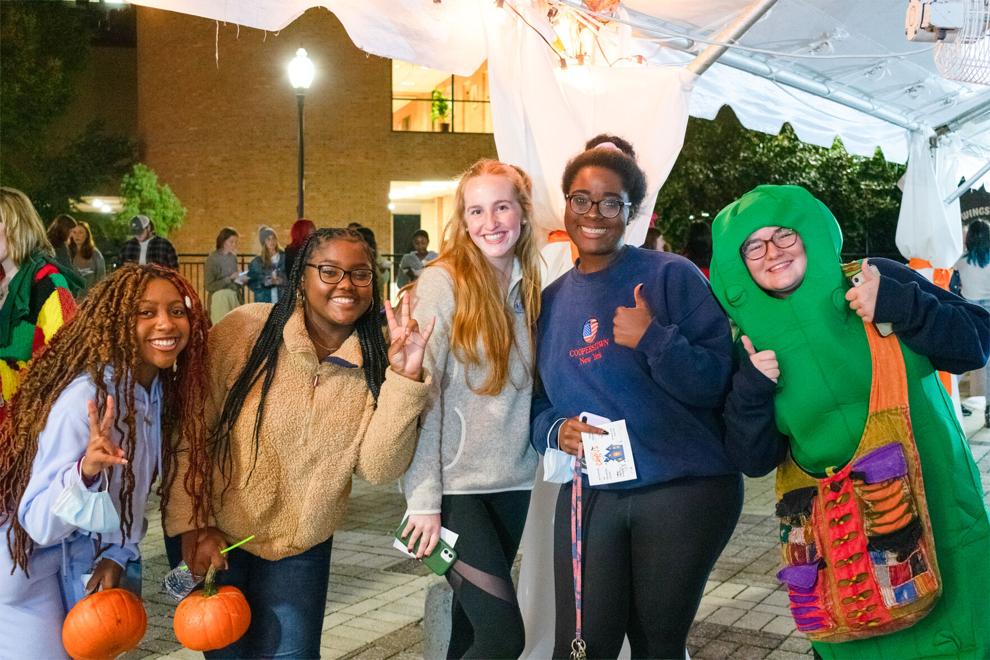 Kim Kardashian West at the 2021 Met Gala
Replicating Kim's now infamous, literally head-to-toe Met Gala look requires that you have a lot of black items in your closet. The one thing you may have to ask around for or go buy is something black that you can put over your head and still see through.
A Spice Girl
With the Spice Girls, you have five costume options: Scary, Sporty, Baby, Ginger and Posh. Whichever look you go for, just make sure that it's unmistakably '90s.
A Typical Liberal or Conservative
It is undeniably fun to lampoon the other political side by dressing up as the stereotype of its typical adherent. But, it can also be fun to make fun of your own camp. Get out your turtlenecks and combat boots or your camouflage and cowboy boots.
Jake from State Farm
All that this costume requires is a red sweater, khakis and some dress shoes. And maybe some one liners about insurance policies.
A Starbucks drink
Most Starbucks drinks can be replicated by wearing some kind of brown or beige on the bottom with a white shirt and maybe a brown hat to represent a chocolate or caramel drizzle. But if you like bright teas or lemonades, find your yellow or pink or purple.
Harry and Meghan
Now that the Duke and Duchess of Sussex have departed from the royal family, they spend most of their time looking glamorous on the California coast, walking the dreamy grounds of their vast Montecito estate. You and a friend or romantic partner can find your best sunglasses and your slimmest dress or a button down that will make you look rich and airy.
Pantone 2021 Color(s) of the Year
Every year, the Pantone color company chooses a color of the year. This year, the company chose two colors which are meant to highlight each other: the soft yellow "Illuminating" and the duller "Ultimate Gray." For those who have a lot of yellow or gray in their closets, this can be a clever couples costume.
A 'Bachelor' or 'Bachelorette' Contestant
"The Bachelor" and "The Bachelorette" have become well known not just for their silly entertainment value, but for the predictability of their contestants. There is Hannah, the sweet and pretty 32-year-old nurse from St. Louis and Jake, the generically handsome business consultant from Chicago. The point is, it's probably easy to look in your closet and find something that you might see on the show.
Tech CEO
Though they are the richest people in the world, tech giants like Elon Musk and Mark Zuckerberg have a tendency to dress like a college-aged computer science major. So if you are a college-aged computer science major — or if you own a zip-up sweatshirt and khakis — you can easily dress as one of them.
Any Saturday Night Live Character
For almost 50 years, Saturday Night Live has provided us with a pantheon of characters that have lodged themselves into the cultural imagination with their ridiculousness: Stefon, Church Lady, Debbie Downer, Mary Catherine Gallagher, Roseanne Roseannadanna and Linda Richman, to name a few. Find the one that dresses most like you and dress like them.