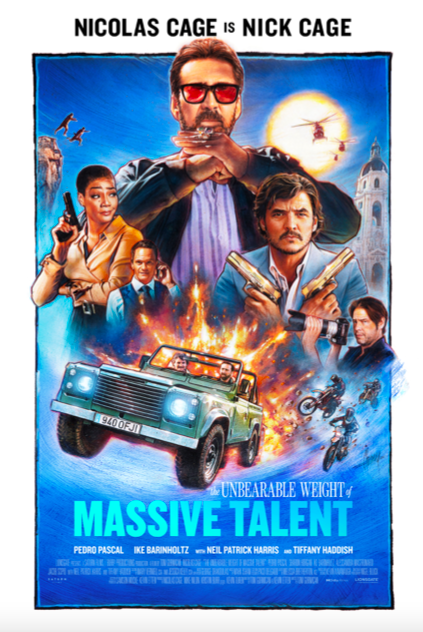 With a legacy of acting, the concept of Nicolas Cage playing Nicolas Cage in a movie seems absurd. It could potentially be a career-ender if everything goes wrong. But that's not the case here, as Nicolas Cage continues to prove that he's still one of the most versatile actors in the game.
This is all about "The Unbearable Weight of Massive Talent." It was written and directed by Tom Gormican, who also worked on the show "Ghosted" and the movie "That Awkward Moment." Kevin Etten is also credited as a screenwriter.
In a rough spot in his career, Nick Cage struggles to find work and connect to his family. He reluctantly accepts a paid invitation to attend a birthday party for Javi, a billionaire and biggest fan of Cage. But after he arrives, Cage is contacted by the CIA to infiltrate Javi's compound and look for the kidnapped daughter of an anti-crime politician, as they believe that Javi is behind it.
"The Unbearable Weight of Massive Talent" is an entertaining, self-aware film that uses its premise to elevate an otherwise competent film. Along with a phenomenal lead performance, the chemistry between the two main actors is electric.
Obviously, the film stars Nicolas Cage as Nick Cage, along with an additional credit for Nicolas Kim Coppola as Nicky. Cage is absolutely incredible within both of these roles, filling it with youth, intensity and charisma that only Nicolas Cage can do. It's enjoyable to watch him act as a heightened version of himself, along with a younger form of himself from "Wild at Heart" that creates some of the funnier moments of the film.
Opposite him, Pedro Pascal plays Javi, matching a lot of the life and energy that Cage exudes. Together, they create one of the best and most believable bromances put to film. They play off of each other so well that if the entire movie was just them hanging out for two hours, it might have been an even better film. This is shown best in a montage of scenes where they cliff jump, talk about their favorite movies and have a bonding moment over the incredible "Paddington 2."
This is truly the heart of the film, is these two characters and actors performing their hearts out. They appear to be having an incredible time in making this movie, and it shows on screen. It also works to show the importance of having friends who genuinely support and care about you, even when the going gets tough.
It's also a film about Nicolas Cage coming to terms with his career and family life while figuring out how to overcome these hurdles and lead a better life. It's always in Cage's corner throughout the film, with a myriad of references and praise for his career (which is impressive, no doubt). But it's nice to see a larger-than-life actor that's been seen as a meme for so long get some of the recognition that he deserves while recognizing his accomplishments (you've also got to remember that he's won an Oscar before).
Some of the other elements of the film don't match the same level of care and attention that these two themes have, but it comes close. This is specifically in reference to the familial drama portions of the film. It doesn't go as deep as it probably should into it, but it does contain a complete narrative arc that carries a surprising emotional throughline that connects throughout the film. The film brings together Cage and his relationship with his family and his bond with Javi in such a way that is way more heartfelt than you would expect from a movie about Nicolas Cage playing himself.
As to the self-referential nature, the film does a great job at being aware of itself, especially in showing the creative process. It's both a film about Nick Cage and a film about creating this movie, with comments and observations made about the film in service of discussions about the movie that Cage and Javi actively work on. It's quite funny and it works better than most meta and self-aware films.
However, besides the chemistry, lead performance and self-awareness, this film would just be competent. Most of the other elements of the film are pretty basic, though they are well done. The lighting and shot composition are great, and the editing is well done. However, the score is mediocre, mostly just reacting to the tone of a scene (it's plucky during a funny scene and sad during a sad scene) instead of fully fitting the film. Along with that, the de-aging special effect for Nicky is not the best, but if you don't look at it too closely you probably won't care.
"The Unbearable Weight of Massive Talent" is a good movie brought to a higher level because of its premise, impeccable chemistry between the two lead actors and its celebration of a fairly beloved actor.
This isn't to say that the film is bad by any means. It uses pretty much everything well. However, it's elevated because of the fact that it's a film about Nicolas Cage playing Nicolas Cage, and it's ridiculous. And that's why it's good. Audiences are sure to love this film and come out of it with a newfound appreciation for Nicolas Cage.
This is also a continued hot streak for Nicolas Cage, proving that he can not only act well but can get audiences to love his performances in great films. Examples of these films are "Mandy," "Prisoners of the Ghostland" and "Pig," along with some of his animated voice roles in "The Croods" films and "Spider-Man: Enter the Spider-Verse."
If you've seen this film and want some other excellent Nick Cage performances, pretty much every movie mentioned in this film would be great starters. Some include "Leaving Las Vegas" (which he won an Oscar for), "Wild at Heart," "Moonstruck" and "Adaptation," most of which are directly referenced or contain an homage to in this film.
Hopefully, Nicolas Cage can continue his Cage-aissance. He's a truly entertaining performer, and that shows in this film, especially with a great foil in Pedro Pascal. I only wish this film was longer to watch both of them perform.
Rating: 3.5 of 5 torches