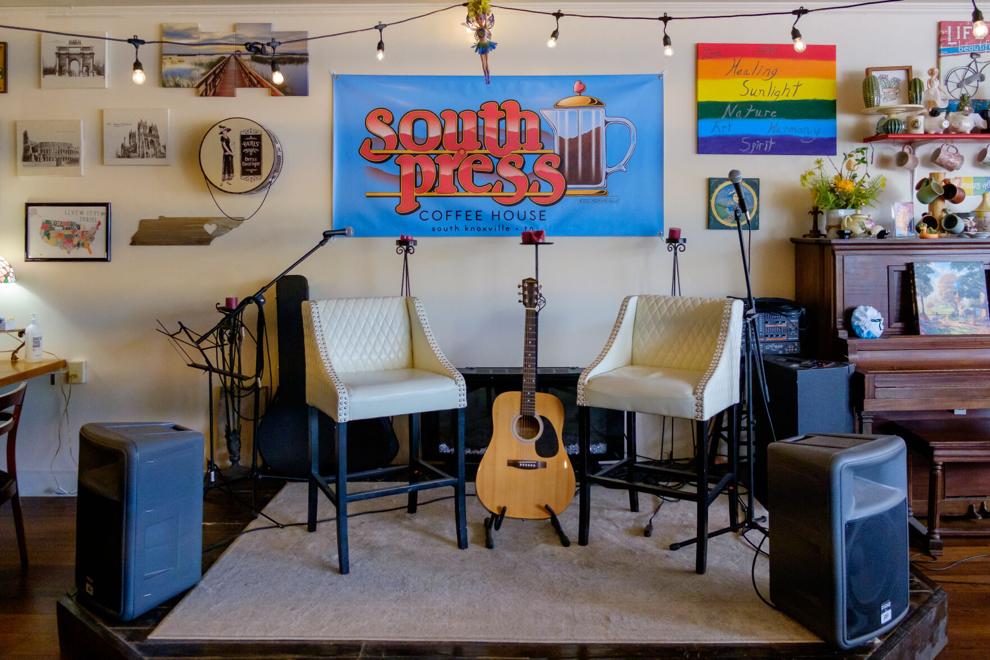 After one year, South Press Coffee has become a staple coffee shop and sober gathering place for the LGBTQ community in Knoxville and in the country.
Born in Newport, Tennessee, owner Joslynn Fish worked in the service industry for over 20 years. She opened South Press Coffee after becoming unemployed, using her savings from Cracker Barrel to open the shop. She's upgraded twice, recently moving into a larger location at 3615 Chapman Highway in South Knoxville.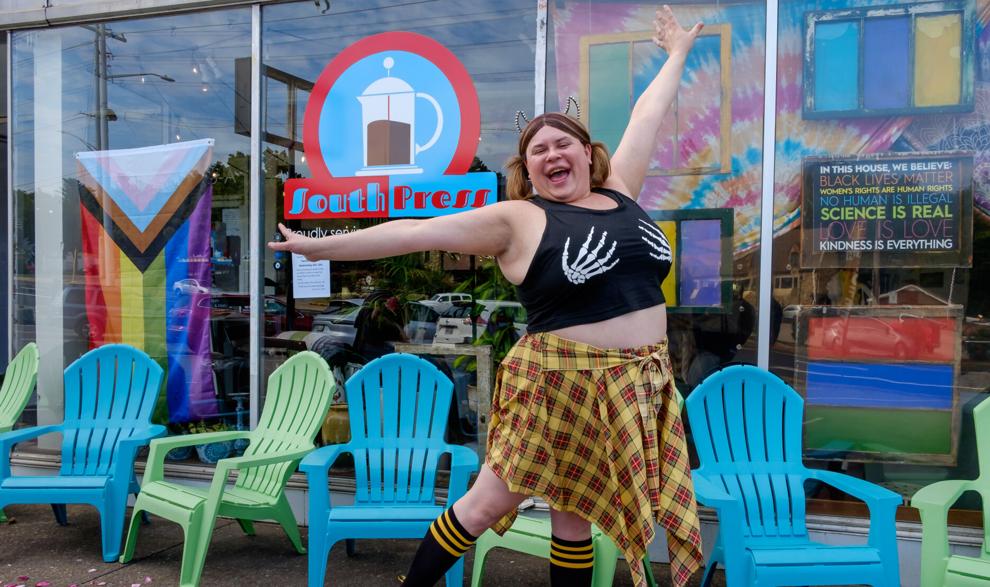 When she started South Press, Fish wanted to provide a place for people to gather. She wanted to open up in an area near her home, which has seen a rise in alcoholic spaces.
"There is a lot of alcohol-centered commerce that's springing up in South Knoxville, and I'm not a stupid woman; I know that that's good for our property value, that's good for our city," Fish said. "But as someone who doesn't drink alcohol, there was a desert in terms of social space where we could get together with friends where alcohol wasn't the center of the room."
She stressed the importance of having a place for all people, young and old, in the LGBTQ community to gather.
"Queer people, generally, only get alcohol-centered spaces," Fish said. "It is much more common to see a gay bar than it is to see a queer coffee shop. But there are people who needed this. What about the people who are in recovery?"
"What about the young people, who know that they're different, but they can't get into those spaces? They need to see adult queer people who are happy and healthy and well-adjusted, properly loved and thriving. So where can they go to see that? Well, they can, they have a place now," Fish said.
This was a pressing factor for barista Riley Paquette, with South Press building her faith in the community within Knoxville.
"(As) someone who is sober, this is important to me, because I've never had a space where I can go and there's not the expectation of drinking," Paquette said. "We don't have many spaces anymore, after The Edge closed down. Then it just left Club XYZ and then it was South Press, and that is highly important for me."
Fish has crafted a business that draws people in. As a result, South Press has reached people from across the United States, bringing people in from all over. South Press also received recognition from the blog Queerency on their Instagram page among other prominent LGBTQ coffee shops in the United States.
Fish said that the people are what makes her business special, as she allows everyone to be themselves, to be comfortable and to be able to share their stories.
"I always say that if you find 'out there' to be a very scary place, then this should be a place where you can come and just feel safe for a time," Fish said. "And I've met people from 13 states who have driven in just to see us and meet us and spend time in the space. I've had people come out in the space. I've had people deal with loss in the space."
Barista James Owens gravitated to South Press for this sense of community. They started as a customer before getting promoted to barista. Owens talked about feeling comfortable to be themselves while working in an accepting environment.
"It's pretty amazing," Owens said. "I've never really been a very closeted person myself, so I bring the gay everywhere I go. But here, it's nice to fit in and be able to be myself and wear what I want to wear to work, and just have fun with everything."
They serve a variety of drinks at South Press outside of regular black coffee. Two favorites from Owens and Paquette are the Bi-Curious George cold brew and Dolly Breakfast Blend Tea. The shop also serves pastries and other baked goods from local bakeries, like bread from SoKno Sourdough.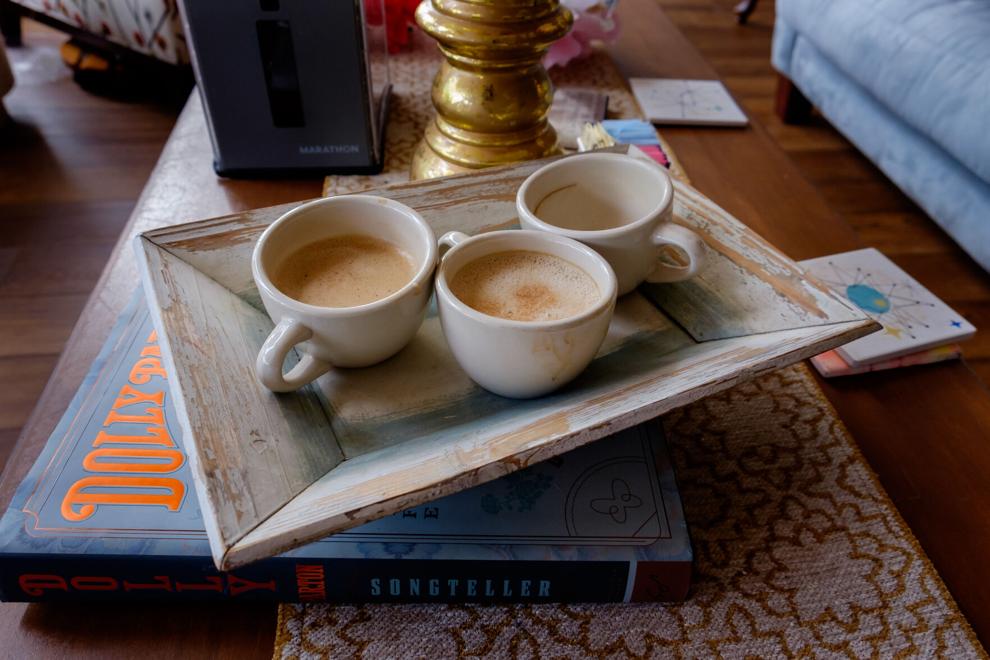 Along with the drinks, Fish designed the shop around comfortability. She wants people to stay as long as they need to whenever they come into the business. She provides music, games and books for people, along with a friendly environment. She invites people from rural areas, like she grew up in, to come into town and feel welcomed.
Along with the LGBTQ community, Fish helps Knoxville as a whole. She has partnered with the Pride Center at UTK, feeds the homeless with their leftovers and works with small businesses in the area.
"In the little shop, we had eight single, family owned businesses that we supported in our day-to-day operations," Fish said. "Now, we are up to 13."
She said that nearly everything that is bought in the store is locally sourced, like the coffee beans that they get from Knoxville Coffee Company. Whenever someone spends money in the shop, it is being fed back into the local economy by supporting the businesses that South Press partners with.
"About 80% of our revenue that we create in the shop stays right here in the region," Fish said.
Fish added that they don't take a commission for the art or other items that they sell, as she wants to see everyone succeed with local pop-up shops that consistently sell out in her store.
But it hasn't always been a smooth ride, as Fish has faced hardships along the way. Alongside growing as a business owner, Fish had to deal with bureaucracy when she grew her business location.
"There has never been a trans-woman serve so publicly and being unapologetically trans at the front of a business before. So bureaucrats have never even perhaps encountered a trans person. And it's very easy when you're in a position of power, and you also have prejudice, to flex that power over people that you deem lesser."
However, this opportunity allowed the community to rise together, funding a successful GoFundMe campaign to meet the necessary requirements to get the store open.
Even with the community rallying behind the business, Fish and South Press have garnered some negative attention online, which Fish acquitted to having a large social media presence. However, Fish said that she's gotten used to it as she keeps looking forward.
"You have to have thick skin," Fish said. "When you have a net that casts out to 70,000 people, which is how many followers we have on social media right now, yes, you get a lot of positive affirmation coming back, but I also get death threats three times a week."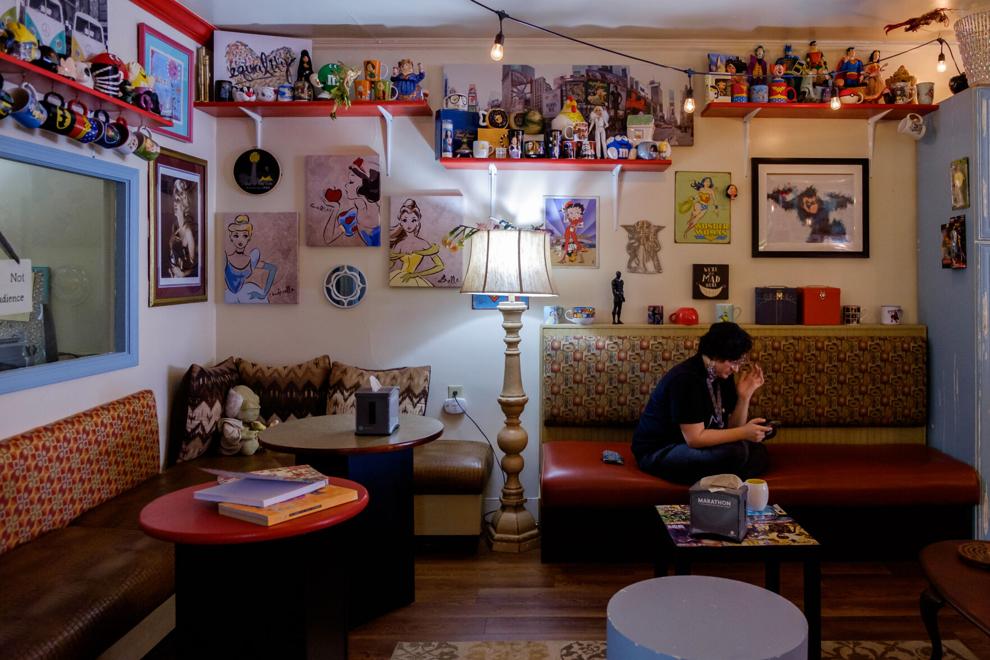 Despite every difficult situation, Fish works hard — harder than most — to keep her business open and safe for anyone to come in.
"The reason why I'm so grateful to be in service the way I do is because we serve grateful guests," Fish said. "People will show up here on a Saturday morning, they will wait 40 minutes in line, and when they have gotten to the front of the line, they are just grateful to be served."
South Press has grown tremendously since it first opened one year ago. Fish hopes that her shop doesn't just become the exception, but the guideline by which other businesses will follow. It has served as a welcoming beacon to everyone, especially the LGBTQ community in and around Knoxville, as well as the nation.