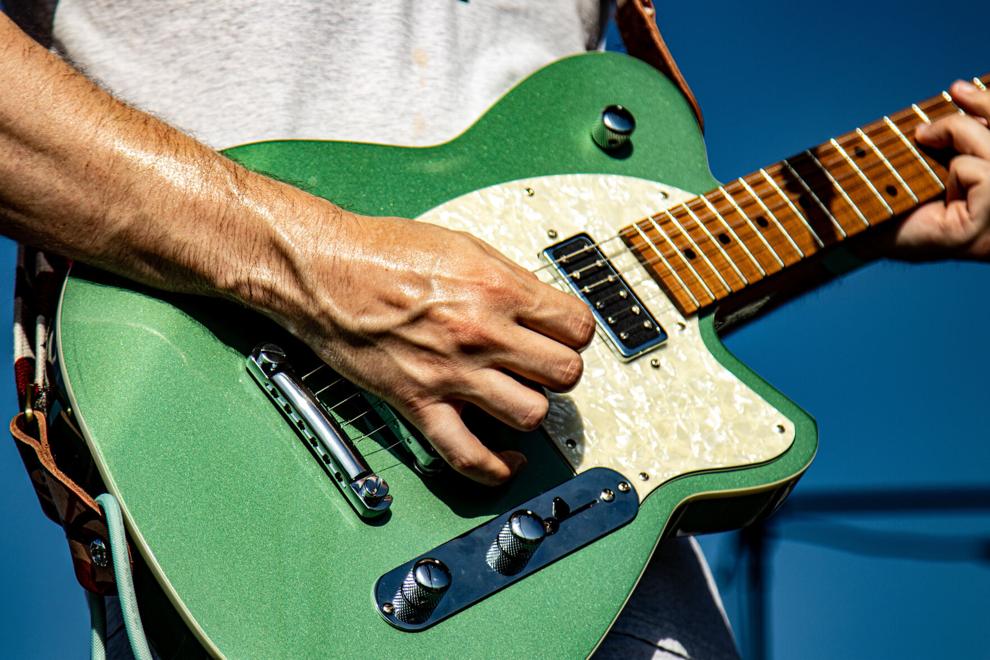 This weekend's nightlife destination is South Knoxville's Suttree Landing Park, which has been taken over by Second Bell Festival to host the organization's annual music festival.
With its picturesque view of downtown Knoxville and proximity to the Tennessee River, Suttree Landing Park helps create an easygoing atmosphere for local musicians, comedians, restaurants and vendors to showcase their work.
The main attractions are the two stages, which face each other but stand 500 ft apart. On these stages, festival goers sit, stand and dance in the grassy area between the stages as local bands perform.
Music from the stage can be heard pumping throughout the park, but the festival has taken care to avoid sound from leaking into South Knoxville's residential areas.
Some people purchased VIP tickets to the festival, which grants them access to covered sections with tables and chairs on either side of the grassy area. Further down from the stages, festival goers can find port-a-potties (for when nature calls) and a variety of local food trucks (for when nature calls again).
The local restaurant scene is represented by Oakwood Craft BBQ, Burgerrito and CJ's Tacos. This final vendor appears to be a fan favorite, as several festival goers raved about its food options.
Retail, Hospitality and Tourism PhD student Shelby Smith spoke about her enthusiasm for CJ's Tacos.
"[CJ's] is one of my favorite food trucks I've ever had," Smith said
Adjacent to the food trucks is a line of other local organizations, including UT's own radio station, 90.3 The Rock. Knoxville City Councilman Tommy Smith has also reserved a booth to canvas for his re-election campaign.
Finally, the festival wouldn't be complete without the construction of several pop-up bars, which sell beer and margaritas from the local Sugarlands Distilling Company.
While the festival seems to attract a crowd of largely middle aged to older adults, the proportion of younger adults seems to progressively increase as the sun sets.
Regardless, people have come near and far to attend this festival, including UT alumni David Thompson and his wife Crystal Jordan, who made the trek from Maryville, TN.
"The festival atmosphere is really cool, and we've seen vendors that we love, especially CJ's [Tacos] and Sugarlands [Distilling Company]," Jordan said.
The scene at Second Bell is one of summertime ease and relaxation. Janet Barden, UT Alumni and current elementary school teacher, feels like the festival provides an important oasis from the heaviness of the last year and half.
"It's fun to see people you don't normally get to see, especially after a pandemic," Barden said.
Sarah Daughtery, UT alumni and current third grade teacher, echoed Barden's sentiment and expressed her desire for more events like Second Bell.
"I think it's great that we can have something like this, and I just wish there were more! Knoxville is a really artsy town," Daughtery said.