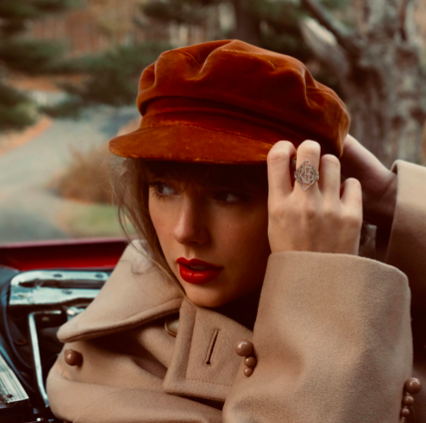 Like most girls born between 1990 and 2005, I grew up falling asleep to the sounds of Taylor Swift's "Fearless" and "Speak Now" albums playing on my boombox. I was a Swiftie through and through until she released the single "We Are Never Ever Getting Back Together" in 2012, and began her transition from country to pop.
I struggled to accept that Swift could have so much independence and agency that she could just change genres in a snap. What I didn't realize until I was 15, however, is that her effortless transition was indicative of her pure songwriting talent and ability to sense the needs and wants of her fans.
My internalized misogyny that did not allow me to let Swift make her own musical decisions and be a powerful pop star kept me from listening to her for more than five years.
So, when I finally rediscovered her talent and accepted that it's okay to like pop music, she quickly became my favorite artist once again, and I've been rooting for her to push for her independence from Scooter Braun and Scott Borchetta who sold her discography without her permission.
Thus, I have been anxiously awaiting the rerecording of "Red" since I struggled to accept its initial release in 2012.
If you don't understand why "Red" is coming out again, you're not alone. Keeping up with Swift's life and the drama in the music industry is an extremely difficult task.
Basically, Swift signed with Big Machine Records in 2005 at just 16 years old. She left Big Machine in 2018 and the founder, Scott Borchetta, sold the label and therefore the masters to all of Swift's music to Scooter Braun in 2019.
Braun managed clients like Justin Bieber and Kanye West before his acquisition of Swift's music. Swift claimed that Braun manipulated and bullied her through these clients, among others, so she was upset about the sale because of how Braun had treated her personally and because it kept her from owning her music.
Later on, Braun ended up selling the masters to Shamrock Investment Group without notifying Swift. Borchetta and Braun also denied her the opportunity to buy her own music and barred her from performing it and using it in a Netflix documentary. She announced that she would re-record her first six albums so she could finally get the profits from them.
"Red" has been a particularly special rerelease to her, as it features "All Too Well," which is widely regarded as her best song of all time. Taylor's Version features the original 10-minute version of the song that fans have been begging for, and it came with her first-ever short film.
The album begins with the original 16 tracks, along with four other songs from the original deluxe version and nine songs "from the vault" that she wrote for the album but never got released. It ends with the long-awaited 10-minute version of "All Too Well."
The first 20 songs which were available for the past almost 10 years sound almost identical to the original versions, but showcase a matured version of her voice and higher quality production.
The emotional ballads like "Treacherous," "I Almost Do," "Sad, Beautiful, Tragic" and "Begin Again" stay true to the original versions. Swift wrote and recorded this album in the midst of a breakup — most likely with Jake Gyllenhall — so, many fans were concerned that she might not sing them with the same intensity and sadness as she initially did when she was actually going through heartbreak. Of course, she rarely disappoints, and these songs are just as tear-jerking as they originally were.
Her "From the Vault" tracks are just as strong as the originals, and some are even stronger in my opinion. The songs "Ronan," "Better Man" and "Babe" have been released for years. "Ronan" was a charity single that finally found its place on the album in the re-release. "Babe" was a song she wrote and gave to the band Sugarland, rather than putting it on her own album.
"Better Man" is a song she gave to Little Big Town, but since her performance at the Bluebird Cafe years ago, fans have wished she had put it on "Red" in the first place. Perhaps one of her best songs of all time, "Better Man" suits her much better than it suits Little Big Town and its placement on the album increases the overall strength of "Red."
The "From the Vault" tracks also included some never-before-heard songs including "Message in a Bottle," her first song she recorded with Max Martin and Shellback, who are mostly to credit for the new pop sound on the album. It's fairly different from the rest of the album and makes you feel like you're in a Lizzie McGuire movie, which is obviously a compliment.
Other notable "From the Vault" songs include "Nothing New" which features Phoebe Bridgers, who apparently cried when recording her verse, and "Forever Winter" which details Swift's heartbreak when she realizes a friend is struggling with mental health and she doesn't know how to help.
The popular hits like "I Knew You Were Trouble," "22" and "We Are Never Ever Getting Back Together" retain their upbeat energy that Swift was excited to finally provide because they were so outside of her normal releases.
Although many people regard "Red" as her best album, it came under harsh criticism when it was released because of its inconsistency and the way it jumps from music-to-dance-to and music-to-cry-to so quickly. Swift organized the album this way, though, to portray what the ups and downs of heartbreak felt like for her.
Perhaps her shift to this kind of music also had to do with her ex-boyfriend's — again, rumored to be Jake Gyllenhall — pretentious opinions that become even more evident in some of the new songs on "Red."
We got a hint of her bitterness toward his elitism in 2012 with her famous "indie record that's much cooler than mine" lyric, but she takes it quite a few steps farther in the 10-minute version of "All Too Well" and "I Bet You Think About Me (feat. Chris Stapleton) (Taylor's Version) (From the Vault)."
"I Bet You Think About Me" is a fierce, haunting song where Swift says she knows that her ex-boyfriend regrets letting her go because he is too obsessed with his status and highbrow opinions to be in a relationship with her.
His elitism is extremely evident through Swift's bitterness in lines about his "organic shoes" and "million-dollar couch."
Swift sings about how she couldn't keep up with his friends who were so much older than her, saying, "Well, I tried to fit in with your upper-crust circles/Yeah, they let me sit in back when we were in love/Oh, they sit around talkin' about the meaning of life/And the book that just saved 'em that I hadn't heard of." She quickly turns the tables on him, though when she says he's "Scared not to be hip, scared to get old/Chasing make-believe status/last time you felt free/Was when none of that sh*t mattered 'cause you were with me."
Before the release of "Red," Swift was desperately trying to be taken seriously by musicians and songwriters, obsessing over having meaningful lyrics and being independent.
It took until "Red" for her to release the fun, pop songs she truly loved. Perhaps her breakup with Gyllenhall, who constantly acted pompous during their relationship, prompted her to make the music she wanted to without caring about how pretentious people would view it.
Her career skyrocketed and she proved the importance of embracing yourself and having fun. And I, personally, think she hopes Gyllenhall hates her wildly successful pop hits on "Red" just because he can't let himself enjoy things.
We get even more information on the couple's relationship in the 10-minute version of "All Too Well." The original version of this song is, frankly, perfect, so, many fans were scared about how a longer version could potentially taint its beauty. Swift, however, does not disappoint, and offers an even more heartbreaking, visceral, fiery story in the 10-minute version.
The production and musicality are immediately different with a dreamy, instrumental opening complete with the distant sound of chimes. As the song gets angrier, the instrumentation becomes bolder and matches the mood of the lyrics that ignite a fire in Swift throughout her vocal performance.
The lyrics reveal even more about the disrespect she received in the relationship as she gave her all to him. It's obvious how much more visceral this version is when she goes from pleasantly reminiscing on learning about his past to learning that his politically correct, feminist front, complete with a "f*ck the patriarchy" keychain is just that: a front. The rest of the song, along with the short film she released, details his tendencies of gaslighting and disrespecting women.
We listen to memories of her dad comforting her when her boyfriend misses her 21st birthday party. We listen to her "joke" about him consistently dating younger women. We listen to her hint at her patterns of disordered eating that took her years to open up about.
In the 10-minute version, Swift takes listeners down a painful memory lane that makes you feel like you have personally had your heart broken.
Just when I was convinced this album couldn't get much better, Swift poured her entire heart and soul into these songs, mastering the originals and releasing heart-wrenching new stories.
I'm thankful that years ago I learned that it's okay to like fun things like the pop songs on "Red" because although they're the hits on the album, they lead you into a world where you get to see a person lay her heart out and pull you into a journey through love and heartbreak.