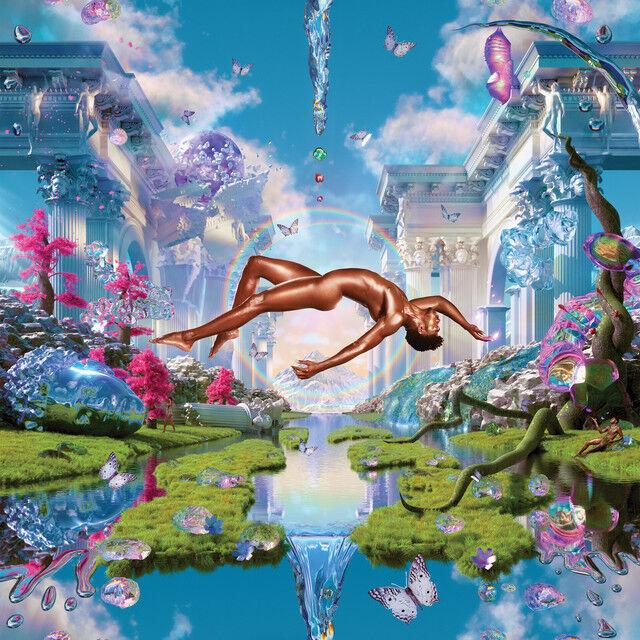 The word that perfectly encapsulates "MONTERO" is authenticity. Titled after his birth name, "MONTERO" is a direct view of Lil Nas X's world.
This album is a deep dive into his psyche, ego and creativity. With help from frequent production collaborators, Take a Daytrip, Lil Nas X stays true to his claim to fame, effortlessly blending elements of pop, rap and rock.
When talking about Lil Nas X's debut album "MONTERO," it's important to acknowledge its rollout period. In late March 2021, Lil Nas X released his lead single, "MONTERO (Call Me By Your Name)," with an accompanying music video.
This song came with high anticipation, seeing as it would introduce the first project since his critically acclaimed EP, "7," so it's no surprise that the single was met with large commercial success.
Beyond this praise, however, the song's music video specifically drew plenty of controversy. The Christian community lashed back at Nas X, as the video includes plenty of religious tropes and concludes with Lil Nas X giving Satan a lap dance.
To top it all off, Nas X released his Satan Shoes, merchandise for his new single containing a drop of human blood. This release was also met with backlash and a lawsuit from Nike. In spite of all of this, Lil Nas X refused to back down.
Remaining true to himself through and through, Nas X continued mercilessly with his rollout strategies, finally releasing his authentic self-titled debut on Sept. 17, 2021.
The second track on the album, "DEAD RIGHT NOW," captures both of these themes perfectly. Lil Nas X laments about the two-sided nature of fame over a horn-centered 808 beat: "You know I never did you wrong / Even though I'm right here by the phone, dawg / You know, you never used to call / Keep it that way now."
Nas X continues to divulge into his personal relationships, touching on his mother, singing, "My momma told me that she love me, don't believe her / When she get drunk, she hit me up, man, with a fever, like, woah." While unveiling all of these personal details, Lil Nas X balances rap and pop effortlessly, singing earworm melodies with a trap-inspired flow.
This is where Lil Nas X strides on the majority of "MONTERO." Songs like "INDUSTRY BABY (feat. Jack Harlow)" follow this same formula as Lil Nas and Jack Harlow confront their haters over trumpet-heavy production. The beat is infectious, vibrant and incredibly trendy: the recipe for a hit.
Nas continues providing braggadocious bangers with songs like "SCOOP (feat. Doja Cat)" and "DOLLA SIGN SLIME (feat. Megan Thee Stallion)." The chorus of "SCOOP" is sure to be stuck in listeners' heads for days, while on "DOLLA SIGN SLIME," Lil Nas and Megan fluently flow through their verses. If one thing is for certain about "MONTERO," it's full of viral moments.
However, Lil Nas X still delivers plenty of emotionally-driven cuts on this project. "All of my feelings are gone / I left them all on the floor," Nas X begins his first verse on "LIFE AFTER SALEM.'' "Man, who's to blame if you don't love me no more? / No, I don't mind, just take whatever you want," sings Nas X.
The grunge-style instrumental embodies Nas' heart-wrenching lyrics, something that Nas implements several times on "MONTERO." "TALES OF DOMINICA'' and "VOID" peer into the dark corners of Lil Nas' anxiety and relational doubts.
The finale, "AM I DREAMING (feat. Miley Cyrus)," is an acoustic duet between the two, a song that perfectly illustrates the emotional crux of "MONTERO."
As both the song and album come to a close, Nas and Miley sing, "I'm fadin', replayin' / These thoughts I thought while sinking down / Oh-oh-oh, never forget me / And everything I've done." Addressing the album's themes of fame, self-doubt and a conclusion of hope, this closing track is exceptional.
At its core, "MONTERO" is an album about Lil Nas X, both good and bad. Over the course of the album, the audience is taken on a ride through the complexities of Lil Nas' mind. On songs like "MONTERO (Call Me By Your Name)," Nas X is confident and playful, while "VOID" sees him at his lowest.
It's this very dichotomy in both sound and theme that "MONTERO" flourishes in. Aside from a few run-of-the-mill, pop tracks like "THATS WHAT I WANT," "MONTERO" is totally unique, and appropriately so. After all, this seems to be Lil Nas X's goal: delivering an album that lives up to the weight of its name.