A new month means a whole new list of free games. Whether you're a Prime Gaming subscriber, Xbox Live Gold or PlayStation Plus member, we have you covered with the latest selection of free games.
Free Games with Prime
From ghoulish dating sims to oddball side-scrolling fun, this is the rundown on Free Games with Prime.
Table Manners – Describing itself as a "Physics-Based Dating Game," this whacky game tasks you with making a good impression with your date, all the while trying to avoid setting the table on fire.
Stealth Bastard Deluxe – A cross between Splinter Cell and Super Meat Boy, this stealth platformer tasks you with breaking into a deadly facility armed with your stealth goggles and your wits.
Spinch – Things get a little weird in this psychedelic side-scroller. Run, jump, dodge, and shoot your babies to conquer six strange and vibrant worlds.
Monster Prom: Hotseat Edition – In this dating sim, you have three weeks to get a date for the Monster Prom! Make friends, get into crazy situations, and take your shot at wooing a date for the prom.
Swimsanity! – Grab some friends and take part in underwater shooting action! Take part in a variety of co-op and versus modes in this side-scrolling shooter.
PlayStation Plus Games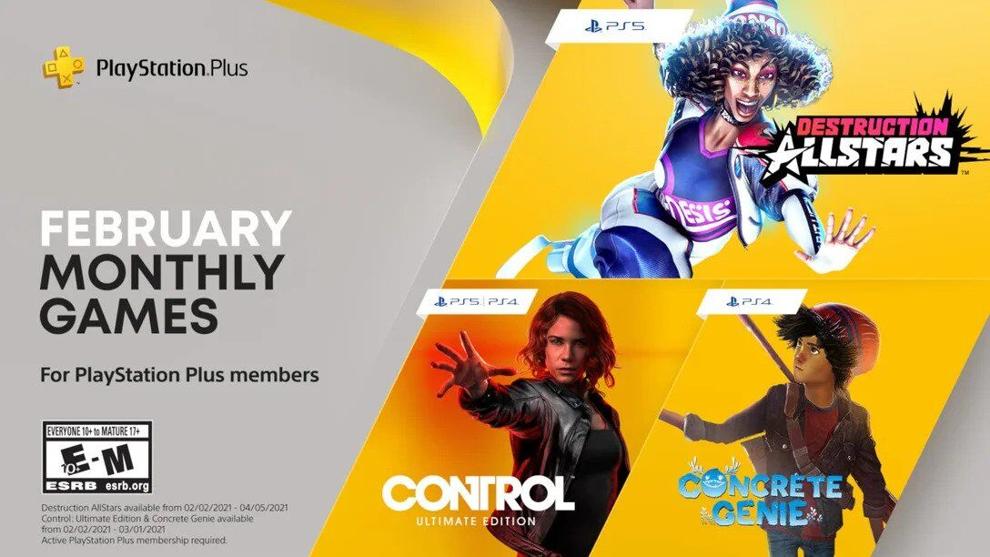 PlayStation Plus subscribers have a lot to look forward this month as it includes two award-winning titles and even a premier PlayStation exclusive title.
Destruction AllStars – For PS5 owners, this next-gen exclusive title put players behind the wheel in an all-out demolition derby. This vehicular combat game features 16 superstars for players to select from, with each one bringing their own unique abilities and vehicles.
Control: Ultimate Edition – This paranormal action game became a critical darling back in 2019, and now it has made its way to the PS5. You play as Jesse Faden as she combats supernatural threats with the use of her reality-shifting gun and telekinetic powers.
This edition updates the game with next-gen enhancements like higher framerates and ray-tracing capabilities. This version of Control also includes both DLC expansions, offering up a hefty package.
Concrete Genie – This award-winning game offers PlayStation players a touching story as they use a magic paintbrush to bring color and magic to the polluted city of Denska. Players will also use their magic paint to interact with Genies and use their help in solving puzzles.
Xbox Games with Gold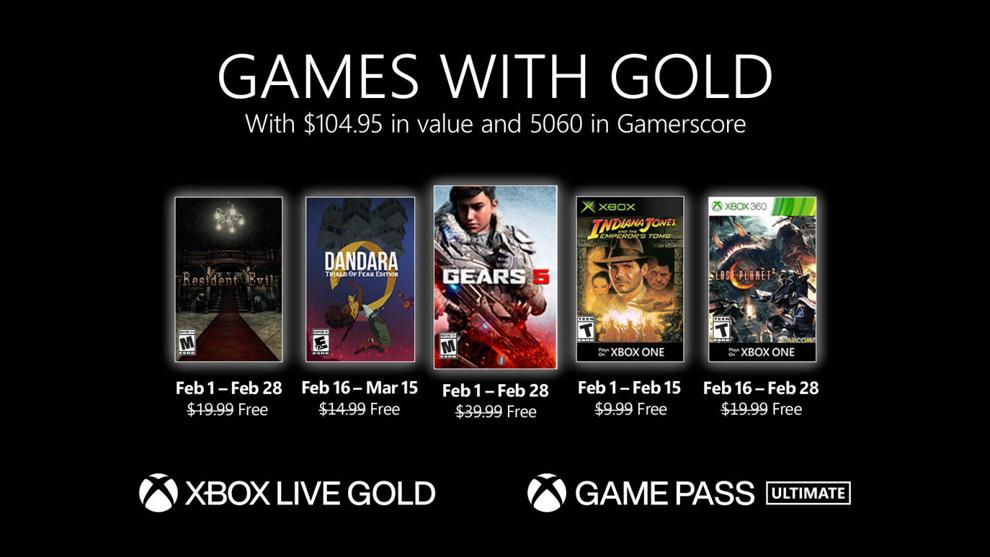 Xbox Gold members have a large lineup of games that spans generations of Xbox consoles. From a Series S/X optimized title all the way back to the OG Xbox, this selection will give players a taste of nostalgia as well as a next-gen experience.
Gears 5 – The killer app triple-A shooter, Gears 5 offers up a fun campaign as players join Kate Diaz while she uncovers her connection to the Swarm, and her quest takes her and her squad all across Seras. Gears 5 is excellent for playing with friends as not only is there a nice selection of PvE and PvP modes, but the campaign can also be played with up to two other friends.
On top of this, Gears 5 has received a Series S/X patch to bring it up to next-gen visuals.
Resident Evil – This remaster of the original survival-horror classic brings players back to Spencer Mansion. Players will need to manage their supplies and take the fight to the living dead in order to survive.
Dandara: Trials of Fear Edition – For those looking to scratch that Metroidvania itch, look no further than Dandara. With gorgeous visuals and snappy platforming gameplay, Dandara is sure to charm players with its art.
Lost Planet 2 – Players return to the ravaged planet of E.D.E.N. III in a fight for survival. Players can team up with their friends as they battle a wide variety of enemies like mech-piloting snow pirates and monstrous Akrids.
Indiana Jones and the Emperor's Tomb – For globe trotting explorers, join Indy as he takes on Nazis and the Asian underworld in a race to claim the Heart of the Dragon. Players will need to use brawn, wits and Indy's trusty whip to find this fabled artifact.