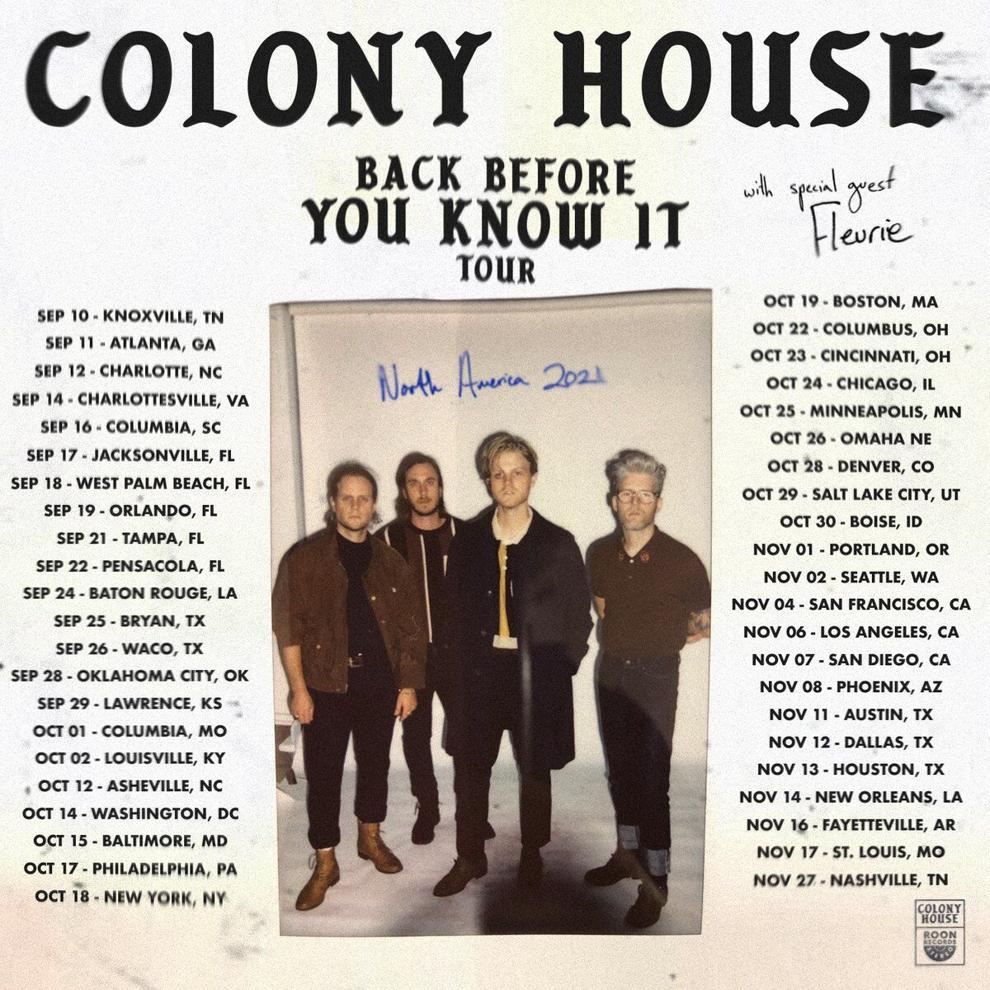 This past Friday, popular concert venue The Mill and Mine hosted Colony House, an indie rock quartet from Franklin, TN. It was the band's first time back to Knoxville since the start of the COVID-19 pandemic, and their debut show of the "Back Before You Know It" tour.
For fans at the concert, the band's performance couldn't have felt stronger, despite the fact that it was the band's first public show since 2020.
Rebecca Watson, a Knoxville resident who works in human relations at H&R Block, spoke about her experience at the show.
"Colony House puts on an amazing show, every single time … Whether it's a big show or a small show, it's always worth it," Watson said.
Colony House was formed in 2009 in Franklin, TN. Its founding members are Caleb and Will Chapman, the sons of contemporary Christian musician, Steven Curtis Chapman.
Watson grew up listening to Steven Chapman's music, so it was a natural transition for her to begin following Colony House's music after the debut of their first album in 2013.
The band seems to have garnered quite a following over the years, as evidenced by New Jersey native, Carl Burrows, who drove 10 hours with his father to attend the show in Knoxville.
After being introduced to the band by a friend in high school, Burrows has been following Colony House and attending shows ever since. He's thrilled to see the band back on tour, after their previous tour was cut short by the COVID-19 pandemic.
"I think we drove 10 hours for something special," Burrows said.
The show's opener was an alternative pop singer named Fleurie, who collaborated with Colony House on their 2021 single, "Automatic."
Once Colony House took to the stage, cheers from the audience thundered and echoed throughout the Mill and Mine's cavernous space. The performance mainly featured songs from the band's most recent album, "Leave What's Lost Behind," but also included fan favorites from past albums, such as "You Know It" and "Silhouettes."
The performance ended with an encore of "You Know It" that left the audience with damaged eardrums and high spirits.
Not everyone at the concert had been a long-time Colony House devotee, but many left with newfound interest in the band.
Deborah Bethel, the social impact coordinator for UT's Office of Sustainability and her friend, UT alumni Yael Uziel, spoke about their interest in Colony House.
"This was great. I think I'm going to start listening to them more," Bethel said.
Both Bethel and Uziel were pleasantly surprised by the event. Neither had attended a concert since the start of the COVID-19 pandemic, but because The Mill and Mine requires proof of vaccination or a negative COVID-19 test to enter the venue, Bethel and Uziel felt safe getting back to the concert scene. They're particularly concerned about young people's contribution to the current surge of the Delta variant.
"We don't want to further contribute to the problem," Uziel said.
Both Bethel and Uziel hope to see more business following The Mill and Mine's model of requiring "vaccine passports," which they believe will help slow the spread of COVID-19 and make the re-emergence of public events much safer.