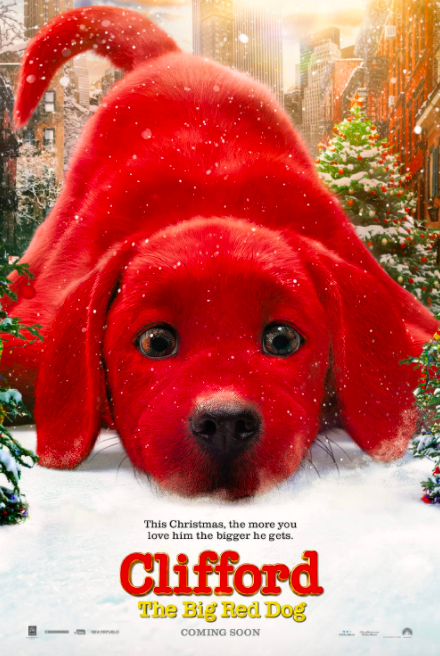 Sometimes, a gigantic, monstrously sized red dog is all you need to make waves in New York.
Based on the children's book and cartoons, "Clifford the Big Red Dog" bounds into theaters and on Paramount+. It was directed by Walt Becker, known for 2015's "Alvin and the Chipmunks: The Road Chip," which blessed us with one of the best screenshots of all time, and written by Jay Scherick, David Ronn and Blaise Hemingway.
The film follows Emily Elizabeth Howard, the new kid at school who doesn't have many friends. While her mom is away on a business trip, her immature uncle Casey steps in to watch over her. In the process, they accidentally take a small red puppy that they name Clifford home after visiting a magical animal rescue tent. However, he grows 10 feet overnight, causing problems and drawing attention from everyone in New York.
"Clifford the Big Red Dog" is a surprisingly competent kid's film. Not all of it is great, but it works pretty well at being entertaining, especially for children.
The film stars Darby Camp as Emily, along with Jack Whitehall as Casey. They do alright given the writing and the movie. They deliver their lines and make goofy expressions, matching some of the aloof tone of the film. They do sometimes carry jokes along for too long and have a weird self-awareness in terms of those jokes, but it could be worse.
Some of the other actors in the film include Tony Hale, Sienna Guillory, Izaac Wang and Kenan Thompson. There's a lot of over-the-top delivery in this film, some of it a little cringeworthy, but it's not necessarily bad or out of place given the nature of the film. For the most part, everyone does exactly what they need to do for the movie, and that somewhat works.
As for the story, it's pretty basic with a consistent cast of characters and a plot that only gets a little outrageous by the end of it. It spirals a little out of control with the corporate villain trying to capture Clifford to make his bio-growth company succeed, but it mostly builds up to it alright. It definitely doesn't take itself too seriously, especially with some of the magical plot elements.
However, there is a consistent and important theme in the film. It showcases the troubling and overabundant enemies that are corporations. It makes capitalism the villain of the movie, as the billionaire "philanthropist" tries to take away the individual property from the working-class citizens for his own capital gain. It dismantles the prevalent and evil nature of capitalism well. Oh, there's also a theme about how being different is good, but it's overshadowed by the destruction of capitalism.
On a less serious note, the movie has a lot of humor and whimsy strewn throughout it. Some of the humor is a little dark, which was surprising, but there were a few laughs that stuck out. Even some of the jokes have great set up early on in the film, resulting in decently funny callbacks near the end of the film. But there are some strangely dark jokes. Fortunately, there's not a lot of potty humor, so most of the jokes didn't feel insulting to anyone's intelligence.
As for some of the technical elements, it's rough but not completely terrible. The cinematography is a little boring, with most scenes being plainly shot with some boring composition. The editing is choppy, most of the time cutting very quickly and feeling disorienting. Finally, the score is really basic, filling in the time with "whimsical" music.
Now for the big issue: the special effects. Early on in the film, when Clifford is a puppy, the CGI is really bad. It looks out of place and unnatural, resulting in a weird visual experience. However, the CGI became less noticeable when Clifford got bigger, which was a little surprising. Outside of a few instances where it looks awful, especially near the end, it blended pretty well with some of the sequences. There's also good awareness of space that the movie accomplishes well.
In a way, it was almost disappointing that the CGI wasn't horrendous. But, it's at least mostly good.
"Clifford the Big Red Dog" is a decent film that should entertain kids. It's fun and a little whimsical, but it's not game changing. At the very least, it doesn't insult the viewer's intelligence, which is important for a good kid's movie.
In a way, this film reminds me of "Dora and the Lost City of Gold." Both films are 100% designed for kids, obviously, but they are somewhat well made. Now, the Dora movie is actually pretty good, especially in comparison to this film. But both accomplish one goal, which is being good children's films.
There are definitely better films for children out there, especially Disney's output this year. But this film could have been a lot worse. At least, it's not this year's "Tom & Jerry." This film is watchable.
2.5 of 5 Torches