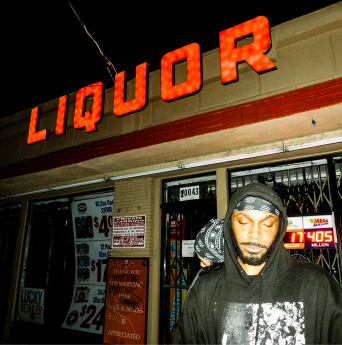 "LP!" is the latest album from rapper JPEGMAFIA. It follows his 2019 album "All My Heroes Are Cornballs" and is his fourth album overall. Interestingly, there are two versions of the album.
The "online version" is the album on music streaming platforms, whereas the "offline version" can be found on YouTube, SoundCloud and Bandcamp.
The reason for the two versions is because some samples didn't get cleared for the album. In response, he cut five songs and placed three songs from last year's "EP!" The track list is also altered, with some songs placed in different areas. For this review, we will focus on the "offline" "LP!"
"LP!" is an immaculate album. It combines all of JPEGMAFIA's talents into one album while he continues to show that he is one of the most interesting voices in hip hop today.
JPEGMAFIA pours everything into this album, from the production to the verses. He shows his talents at taking samples and spinning them into something new to fit the specific vibes that he is going for. Along with that, the beats and accompanying bars fit perfectly into each other, creating an experience that only JPEGMAFIA could produce.
One of his best talents that he continues here is his singing and rapping style. He can go from beautiful serenades to some of the fastest and hard-hitting bars from any album this year. For example, he does this on the song "TIRED, NERVOUS & BROKE!" as he goes from a dejected and slower verse to the insanely fast paced chorus, all before ending the song with a beautifully sung verse with Kimbra.
This song also contains a central theme that runs throughout the album, which is a combination of his relation to fans and him as an artist. He rips into the people that write him off, the people who try to ride his coattails and the people that get offended by his work. This can be found on the song "GOD DON'T LIKE UGLY!" which also gets into some of his nature as an artist that has cultivated his own style.
This is primarily within the song "ARE U HAPPY?" which dives into some of his influences and how people react to his work, questioning if it even brings him joy. Ultimately, it's a song about how he has come out on top, creating the work that he wants to make regardless of what people think.
These songs are some of the best on an album filled with wall-to-wall bangers. "HAZARD DUTY PAY!" is an incredible song with an equally incredible usage of a sample as the backbone to his verses. "WHAT KINDA RAPPING IS THIS?" is another excellent song that details his eccentric style of rapping. "BMT!" flips some strange sounds into an absolute, something that only he could make.
Finally, the last leg of the album from "THE GHOST OF RANKING DREAD!" through "DAM! DAM! DAM!" all the way to "UNTITLED" is an incredible experience. The whole album, the entire experience, is incredible.
Honestly, there's too much to unpack within this album. It is filled to the brim with detail, references and personal quandaries that listeners are bound to pick up on something new after each listen.
That's one of the best qualities of JPEGMAFIA and his music. Everything is so textured and rich that it brings listeners back over and over and over again. He carries such an innate ability to stick within minds and create an urge, an urge that can only be satiated by listening to his albums again. To listen to JPEGMAFIA is to experience JPEGMAFIA.
This album is also special, as it marks JPEGMAFIA's transition as an independent artist. With this album, he breaks from the confines of contracts to now make something that is truly 100% his. That's why the real version of "LP!" is the "offline version," as that is JPEGMAFIA uncompromised.
The album on streaming is fine — it's listenable and enjoyable, but incomplete.
But the offline "LP!" is one of the best albums of this year. It's beautiful, harsh, full and complete. It feels like I'm getting punched in the face while he's serenading me in the best way possible.
It is something that only JPEGMAFIA could create and sets a bright look towards the future of one of the most unique voices of the generation.
JPEGMAFIA's conclusion of his verse on "OG!" speaks volumes to what this album represents as he says, "And when this album is over, work for nobody for free / And when this album over, work for nobody but me."
Maybe you remain unconvinced. Maybe you want to drop everything to listen to it right now. Either way, go buy the album on Bandcamp and give it a listen. You won't regret it. And if you don't vibe with it initially, give it another listen.
The power of JPEGMAFIA is time. It took me two months to get into "All My Heroes Are Cornballs," and it's now one of my favorite albums of all time. I believe that this album will be the same.