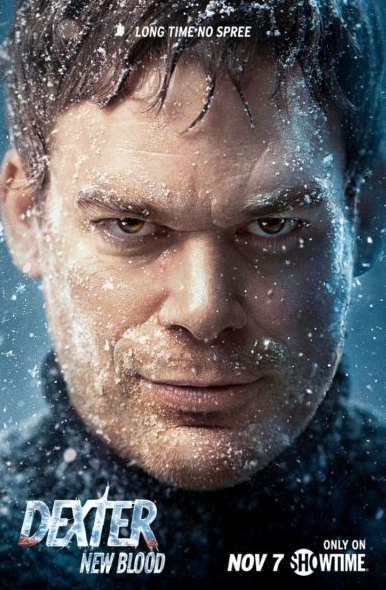 Everyone's favorite serial killer, Dexter Morgan (Michael C. Hall), returns to kill again in Showtime's new 10-episode miniseries, "Dexter: New Blood." The revival is set nearly 10 years after the finale of the original series, "Dexter," and its first episode did not disappoint.
Warning, this review contains spoilers.
Despite the show's popularity, fans were extremely disappointed with the way it ended in 2013. The show had a procedural formula that allowed Dexter to barely escape consequences for his actions each week, which quickly faltered when it was time for the show to end.
The infamous finale gave way to many loose ends as Dexter sailed away in a hurricane, faking his own death in order to start a new, killing-free life. With this being said, fans were excited when the new season was announced in Oct. 2020, hoping for a recovery of "Dexter" and further explanation of its ending.
In the new miniseries, Dexter, who is now known by the pseudonym Jim Lindsay, has given up his career as a blood spatter analyst at the Miami P.D. after nearly being incarcerated for his murders.
He is now leading a much more simple life in the small town of Iron Lake, New York, where everyone knows everything about each other — or so they think. He lives in an isolated cabin in the snowy woods, works at a local fish and game store called Fred's and often "converses" with his sister, Deb, who died in the season finale of the original series.
Oh, and we can't forget the tiny detail that he is dating the chief of police despite being a mass murderer.
It seems that Deb has now taken over the role of Dexter's inner conscience. This is a transition from his late adopted father, Harry, who Dexter often had hallucinations about and talked to throughout the original series, despite his death occurring long before the time of the show.
Even though he manages to suppress his Dark Passenger — his self-proclaimed desire to kill — for a decade, Dexter is not getting over his undying urge to kill anytime soon. He quickly loses his composure when Matthew Caldwell, the son of a wealthy local, returns to Iron Lake for the winter along with several other reckless tourists.
During his first interaction with Dexter, Caldwell attempts to purchase a gun from Fred's and is denied because of a hold on his FBI background check. He immediately starts to become hostile towards Dexter, which creates a growing curiosity concerning whether or not the Dark Passenger will finally take over.
This sets the scene for the rest of the episode, and when Dexter goes to Caldwell's house to drop off the gun after his background check is cleared, he is told that Caldwell has recently killed five people in a boating crash.
At this point, Dexter finally has the ammunition to drive him to kill once again. Caldwell is the number one target of this episode, and target he is indeed. After nearly being shot by Caldwell, Dexter gives in and brutally murders him after a decade without bloodshed.
This return to killing is most likely driven by the return of Dexter's abandoned son, Harrison. When Harrison confronts him, Dexter denies that he has a son and insists that he does not know Harrison in order to conceal his identity. Harrison leaves after their interaction, but the two are seen together at the end of the episode after Dexter's Dark Passenger returns and he decides to reveal his true identity.
Do I think that Dexter should have been killed in the finale of the original series? Definitely, but I am still hopeful that Clyde Phillips' — the executive producer of the first four seasons of "Dexter"— return will help to revive aspects of Dexter's past and provide a long awaited proper ending for Dexter.
Of course, I still cringe at the thought of wasting hours of my time watching eight full seasons of "Dexter" just to be disappointed by one of the worst series finales in television history.
However, I am intrigued by the premiere of "Dexter: New Blood," and I am excited to see what the second episode has in store for viewers.