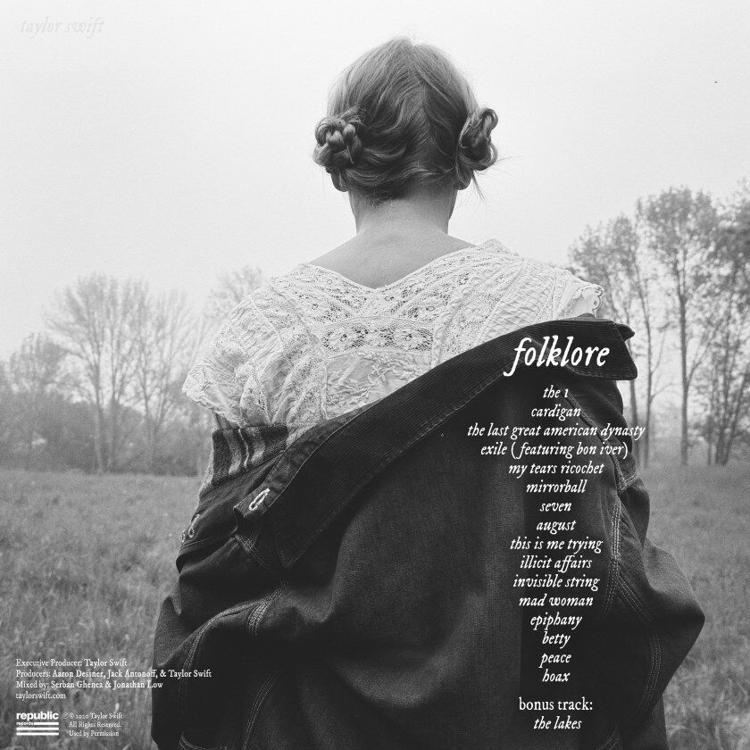 Just a year after her last album was released, Taylor Swift spent her time in quarantine writing her eighth studio album, "folklore," released on Friday. Swift didn't announce the album until the day of its release, just hours before its midnight debut.
The 16-song album is a departure from 2019's "Lover," an album which was characteristically pop, though it blended together alternative and indie sounds at times.
"folklore" is an album that melds electronic beats with indie folk influence to produce a sound we've never heard from Swift before. She's dabbled in nearly every genre of music during her career, now venturing slightly into the slow, nostalgic style of folk.
The album begins with "the 1," a song that has already received praise from fans. Detailing a tale of past love, "the 1" relies heavily on piano and strings combined with slow electronic beats, creating a song that feels wistful toward an old relationship, but more romantic than regretful.
Bon Iver is the only other artist to be featured on the album in "exile," a song which describes a difficult breakup and the feelings of replacement, impermanency and predictability. Bon Iver and Swift come together in a powerful collaboration, one which amplifies both of their strengths.
"folklore" focuses on the past. The album seems to look back on past loves and anecdotes of America in its past. "the last great American dynasty" tells a story of a wealthy family and a woman who changes the course of their fortune, while wondering if a different outcome was possible or inevitable.
One of the most powerful songs on the album is "my tears ricochet," a lyrically intense song that best illustrates Swift's songwriting mastery. Reflecting on a past relationship, Swift thinks about toxicity and the power in walking away from a relationship that is no longer healthy. It's an authenticity from Swift and her experiences that brings listeners close while also highlighting the impressive lyrics.
Swift's "folklore" ends with "hoax," a song that accurately depicts the general sound of the album, a song we can objectively define as sad. The piano-heavy track is about sadness itself, as a result of love lost. It's different for Swift, and it's clear that her feelings expressed in this song and the others on "folklore" are true and real.
"folklore" is an album that comes with surprise. Though Swift has dabbled in different genres, in recent years her music has leaned more toward pop, especially in last year's "Lover," where Swift seemed to return to a light, overwhelmingly pop sound in both the compositions as well as the lyrics of its songs.
Now, we see Swift in an honest way. Songs about love, loss, regret, grief and nostalgia make up the album in a genuine depth that we haven't yet seen at this level from Swift. She bares her heart for listeners to judge and does so with grace and bravery.
Overall, "folklore" is an album that showcases Swift's songwriting abilities. Throughout all of her ventures into different genres, the songwriting side of her music has always been a crucial aspect of her career, and it seems "folklore" is the culmination of years of perfecting her talents, a breath of fresh air and a confirmation of Swift's mastered craft.