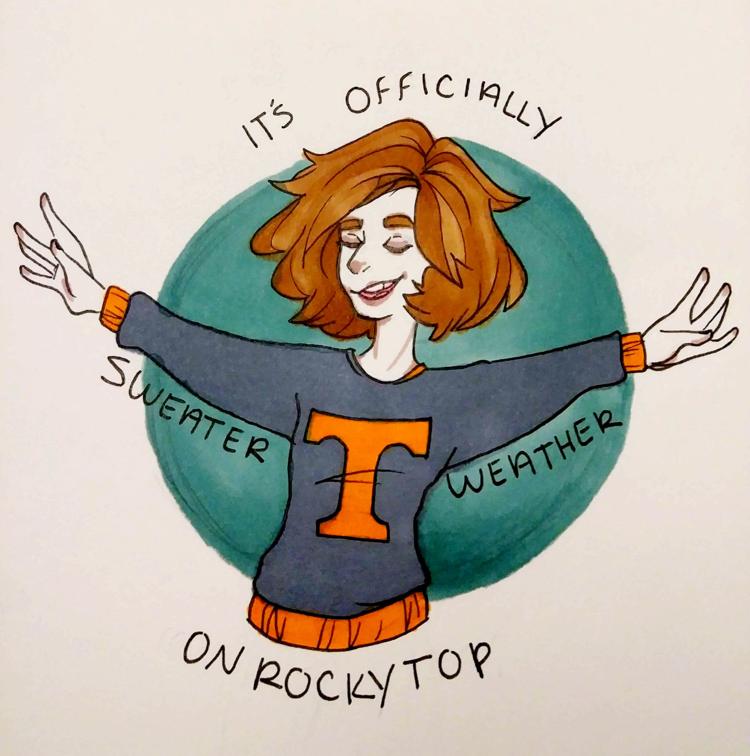 As the chilly weather sets in, it's time to bring out sweaters and boots that have been tucked away since the winter (if you haven't already). Fall is not only an exciting season for new fashion trends because of the change in temperatures, layers, color palettes and more aspects of cool weather styles make fall fashion unique and a favorite among designers. Whether you're picking out new pieces for your fall wardrobe or going through fall staples, here are some of this season's most popular trends that you can expect to see on campus.
Fabulous flares
We've already seen flared styles coming back on Instagram and across campus. From jeans to sleeves, this look has proven to be timeless and just keeps coming back. Maybe it's because flared denim is flattering on every body type or that flared sleeves add a bit of interesting detail to any outfit, regardless, flare is not going anywhere. Flared bottoms can be dressed up for upcoming chilly game days or dressed down for a casual coffee date. Adding a vintage t-shirt with fun shoes is a great everyday combination for a flared look. Or pair flared pantsuit bottoms with heels and a blazer for a bold business outfit.
More mohair
Mohair is traditionally a silk-like fabric or yarn made from the hair of the Angora goat, however, companies have developed cruelty-free versions of mohair that are just as soft without the animal suffering. Faux mohair sweaters, scarves and cardigans are popular uses for the fabric and have already graced the runway in the year's fall/winter lines. Mohair usually appears fuzzy and is the perfect material to wrap up in during long, cold walks to class; it's practically a blanket. But be careful when caring for mohair pieces since the fabric is sensitive to aggressive wash cycles and heat.
Adventurous animal prints
Venture to the wild side this fall by exploring exotic animal prints. Leopard print and snakeskin are among the most popular trends right now and can add an edge to any outfit. From work to play, animal prints can be worn in a variety of ways. Dress up with an oversized faux fur coat or tame down a look by adding a few printed pieces like a clutch, jewelry or boots. You can't go wrong with these classic patterns no matter the time of year.
Power puff shoulders
The '80s are making a return. Sweatbands and spandex may be out, but strong shoulders are in. From puffed sleeves to shoulder pads, this trend adds a bit of fun to any business professional outfit. A well-structured inverted triangle silhouette conveys confidence and authority -- perfect for getting that job! The versatile style has inspired trendy tops, mini dresses and classic blazers. Pair this trend with a statement shoe for a bold look, or let the shoulders steal the spotlight by adding subtle accessories.
Go big (with) Orange
Thankfully, one of the season's biggest trends is probably already in your closet. Orange and other striking fall tones made up the fall/winter palette of fashion week collections. From sweaters to pantsuits, orange is a staple color to ensure that you stand out this season. No matter if it's Big Orange Friday or not, orange is the perfect color to inspire your fall wardrobe this year.