SGA election season ended on Wednesday with the Vision campaign winning president, vice president, student services director and a majority of the undergraduate senate seats.
With 7,455 total votes, this election received the highest level of student participation since 2016.
Junior studying disability studies through the College Scholars Program Natalie Campbell became UT's president-elect with 2,875 votes (38.56% of overall votes). Vice president-elect Isaac Holt, a junior studying marketing, received 2,675 votes and student services director-elect Emerson Burd, a junior studying business analytics, received 2,530 votes.
Due to the rulings of several SGA Senate judicial hearings, both the Vision and Impact campaigns received a 2% decrease to their vote totals. The Thrive campaign received a 1-vote increase to its vote totals.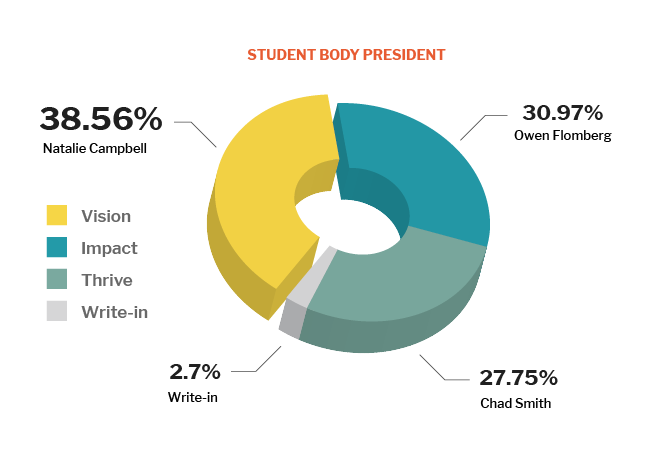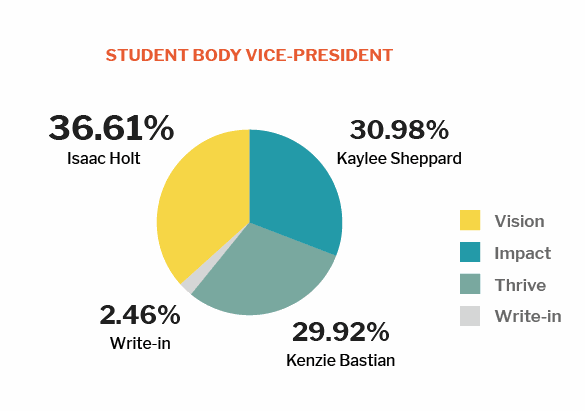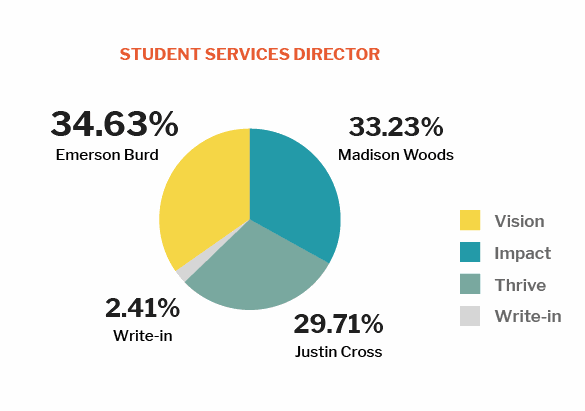 Those amended totals for the presidential elections are as follows: Natalie Campbell, Vision: 2,875 votes; 38.56% of overall votes; Owen Flomberg, Impact UT: 2,309 votes; 30.97% of overall votes; Chad Smith, Thrive: 2,069 votes; 27.75% of overall votes; Write-In Candidates: 202 votes; 2.7% of overall votes.
Campbell announced her campaign's win by holding up the papers and screaming "we won!" as she walked into her campaign party.
"I am so proud of each and every one of you," Campbell said to her campaign. "You all worked so hard. Thank you for believing in us and for taking a bet on us. And it paid off; that's how great it was."
While winning all their executive positions, Vision did not win as many Senate seats as it would have liked.
"We did not sweep senate and that's okay," Campbell said. "There are other ways to make your voice heard and get involved."
However, Vision managed to sweep the senate positions for the Haslam College of Business, a total of seven seats.
"It's exciting considering the fact that a lot of our senators, not just Haslam, won ... this is their first go-round with SGA and I think that's exciting, to bring a new perspective to SGA," Holt said.
Now that the campaign has officially won, Vision will look to implement the policies they promised to carry out, including creating an environment welcoming for all students, increasing disability services, expansion of dining hours, increase and better the campus resources, reducing Uber fares, creating a platform for SGA news, making an SGA events calendar, promoting further discussion on the campus alcohol policy and increasing access to SGA to all students.
Campbell, Holt and Burd said that after the celebration parties and some sleep, they will be ready to officially take on their SGA roles.
"We put this campaign together, step by step, with the intention of pursuing students," Campbell said. "It's amazing to see that students felt that and they elected us. And now, we are ready to work for (students)."
Owen Flomberg, junior studying political economy and presidential candidate, Kaylee Sheppard, junior majoring in American studies and political science and vice presidential candidate, and Madison Woods, sophomore studying chemistry with a minor in child and family studies and student services director candidate, all finished in second place in the election.
And it came as a shock to the campaign.
"We weren't expecting this," Flomberg said. "We expected it to be a very close election, but we just weren't really expecting this at all. And I think a lot of people are on that same boat right now."
The group couldn't attribute any specific factor to its loss of the executive seats.
"I can't really say what led to the loss because we did everything we could," Sheppard said.
Despite failing to claim the executive positions, though, Impact UT did see multiple senators win seats. The campaign had a particularly large effect on the College of Arts and Sciences, with eight of the college's 10 newly elected senators hailing from Impact UT.
The campaign also claimed the East Area seats, as senators Emily Medford and Sascha Richey won the two spots there.
"Kind of how we're feeling is that it's not over," Flomberg said. "We had 17 senators win, so that's a big chunk of Senate. It is kind of from the impact of the team here looking to promote those policies. We talked again and again and again ... that we're not a campaign, we're a party. And we're here to promote these policies whether the three of us win or only one Senator wins.
"So we're really excited to kind of promote and really sort to delegate and point to the people that won and say, 'Hey, start working on this, start working on this.'"
Sheppard echoed that sentiment, consistently praising the senators present at the campaign's results party.
"We made such an impact and they're going to make such an impact next year," Sheppard said.
Sheppard said that she is very passionate about women running for office and that she wants to work next year to encourage women in college to study political science and run for political positions.
Meanwhile, Flomberg hopes to continue to advocate for student programming, one of Impact UT's major campaign points, next year, despite what role he holds on campus.
"A personal priority of mine is to make sure that both large and small organizations have access to adequate funding to put on educational programs for their students," Flomberg said. "So I definitely want to be out and about advocating for that next year, whether that's in a formal or more informal way."
Presidential candidate and junior studying medical anthropology Chad Smith, vice presidential candidate and junior studying agricultural education Kenzie Bastian, and student services director and junior studying finance and food agricultural business Justin Cross came in third place in the SGA election season. 
"I know how much effort I put into it, I know how much effort every single one of our members put into it and so, major disappointment, because ultimately we thought we were gonna pull through, we really did. We were cautiously optimistic to the very, very end of it," Smith said. "We had so many incredible conversations with students, like we met so many people, we heard so many peoples' stories and ultimately when it comes down to what all of this means, that's what it's about."
The executive members walked into The Standard courtyard with their heads held up and pulled their members together to address the results. Though Thrive lost, Smith, Bastian and Cross reiterated how proud they were of their campaign members and supporters.
"I honestly like I just feel proud of everyone a part of it," Bastian said. "Then I just immediately thought of all the people like of our team and supporters, and so I'm just proud of us. They got the opportunity to like step out of their comfort zones and like speak to students and engage those students. I'm proud of our campaign, we were completely clean and just wanting to be like nice and civil with everyone, genuinely wanting to pursue students."
"(We're) immensely proud of what we've done as a team and as a campaign, and from the beginning we've called ourselves a movement and I think that was shown," Cross said.
Although the exec team won't be taking office, Thrive still plans on making the voices of all the students they had conversations with heard.
"I mentioned this from the very beginning, I thought that our campaign and our team had the most comprehensive and far-reaching platform that I've ever seen come from student government in my time here," Cross said. "So there were a lot of things we were advocating for, lot of things that weren't included on the initiatives from the other campaigns and not the winning campaign either, so now I think it's accountability. We're going to continue to fight for those goals that we had as a team."
Bastian pointed that even though a lost can be hard to take, keeping the drive to make change needs to continue so that the students who don't feel like they belong on campus do feel like they have a place.
"When we spoke to our Senators and gave the results from it, it's just like keeping that motivation and drive," Bastian said. "I think sometimes when you face a loss or something doesn't go your way, you immediately want to give up. But I think like through this we get the opportunity to take that drive and that fire, it just makes me want to go out more and make sure these things happen."
And although the Thrive campaign's run has come to an end, Smith reassured that he is still here for everyone.
"I've heard from so many students and I got so many texts that were saying your campaign gives me hope for our campus, your campaign made me feel like there could actually be change on campus where I never thought there could be," Smith said. "We aren't giving up ... try not to lose hope, I know it's hard, but if we lose hope then we stop, we stay stagnate. Don't lose hope and I'm here for every single person who reached out and had those things to say."
Run-off election to follow, referendums pass
Due to a tie, two off-campus senator positions will be decided through a run-off election on Thursday, Apr. 18. The tie is between Mary Grace Hinton (Impact UT), a junior majoring in supply chain management and Catherine Faulk (Thrive), a junior majoring in political science. Each candidate received 1094 votes; 3.23% of overall votes.
Two candidates also sponsored referendum votes for campus policies.
Flomberg introduced a referendum on UT's alcohol policy. The referendum proposed that UT allow the legal consumption of alcohol at pre-approved, registered campus events.
The referendum received 6,274 "Yes" votes; 84.15% of overall votes. 9.28% of students voted "No," and 6.55% of students voted "Prefer not to answer."
Maria Urias, a sophomore studying sociology, introduced a referendum to amend UT's Student Code of Conduct. The referendum asked whether the code's first paragraph should be amended to add: "Moreover, this University seeks to create an environment that is welcome to all and hostile to none. This includes people of any race, color, sex, gender identity, sexual orientation, religion, creed, national origin, age, ancestry, disability, veteran status, military service, or any other legally protected category."
The referendum received 5,731 "Yes" votes; 76.87% of overall votes. 12.82% of students voted "Prefer not to answer," and 10.3% of students voted "No."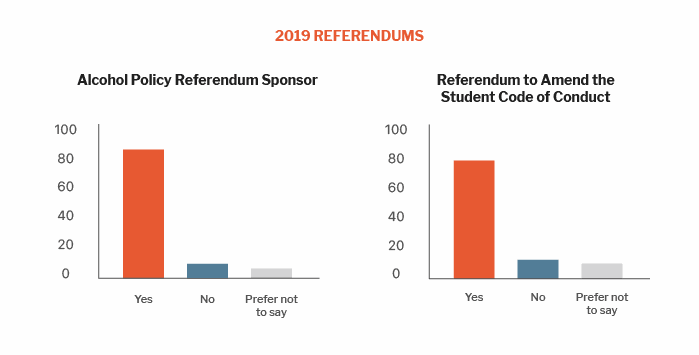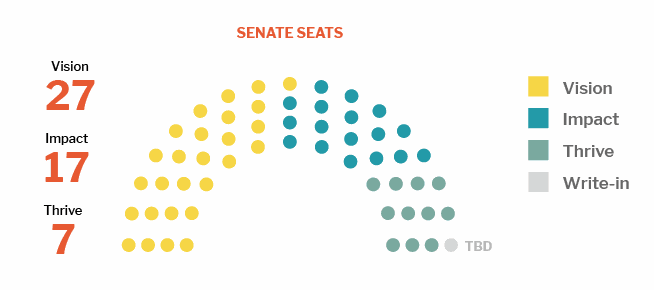 Winning senate candidates are as follows:
Architecture and Design:
Nadine Ghezawi, Impact UT - 65 votes
Arts and Sciences:
Mustafa Salameh, Impact UT - 903 votes
Sophia Rhoades, Impact UT - 776 votes
Elijah Ramsey, Impact UT - 747 votes
Sarah Hodges, Vision - 742 votes
Noah Smith, Impact UT - 727 votes
Andrew Fahim, Impact UT - 717 votes
Simon Jolly, Impact UT - 713 votes
Katie Bardwell, Impact UT - 708 votes
Kassie Looschen, Impact UT - 702 votes
Neil Patel, Vision - 698 votes
Agriculture and Natural Sciences:
Chloe Ford, Thrive - 201 votes
Jerome Linyear, Thrive - 176 votes
Business:
Connor Davis, Vision - 603 votes
Mary Ciochetty, Vision - 602 votes
Michael Banks, Vision - 600 votes
Cailin Bailey, Vision - 565 votes
John Michael Haren, Vision - 536 votes
Drew Hyler, Vision - 536 votes
Liam Robertson, Vision - 514 votes
Communication and Information:
Carson Burns, Vision - 153 votes
Bryson Atkins, Thrive - 134 votes
Engineering:
Molly Mays, Impact UT - 380 votes
Shivang Patel, Impact UT - 361 votes
Raj Patel, Thrive - 333 votes
Scott Malone, Impact UT - 318 votes
Michael Burnside, Vision - 297 votes
Education, Health and Human Services:
Jonathan Thompson, Vision - 351 votes
Devanie Carattini, Vision - 327 votes
Julia Schaefer, Impact UT - 302 votes
Social Work:
Ashlyn Wood, Impact UT - 35 votes
Nursing:
Abigail Haggard, Vision - 80 votes
Off-Campus:
Hannah Blackwell, Thrive - 1,246 votes
Maria Urias, Vision - 1,212 votes
Mallika Vohra, Vision - 1,207 votes
Wesley Smith, Vision - 1,179 votes
Caroline Waters, Vision - 1,154 votes
Emma Boyle, Vision -1,152 votes
Annelise Brueher, Vision - 1,144 votes
Tonio McKinley, Vision - 1,113 votes
Paige Shimer, Thrive - 1,105 votes
Eva Herinkova, Vision - 1,100 votes
Isabelle Baker, Vision - 1,098 votes
Fraternity Park:
Ronald Young, Vision - 31 votes
Sorority Village:
Claire Donelan, Vision - 95 votes
East Area:
Emily Medford, Impact UT - 450 votes
Sascha Richey, Impact UT -395 votes
Central Area:
Cameron Gracey, Vision - 330 votes
Jaden Hodges, Thrive -305
West Area:
Avery Patterson, Vision -740 votes
Eli Pearson, Impact UT -574 votes
Full results of the 2019 election season can be found here.
Kylie Hubbard, Editor-in-Chief; Tyler Wombles, Managing Editor; Gabriela Szymanowska, Campus News Editor; Val Lick, City News Editor; and Cat Trieu, Staff Writer contributed to this story.