The 2020 SGA Election season ended on Friday with the Change campaign winning the executive positions of president, vice president, executive treasurer and student services director and a majority of the undergraduate senate seats.
In this year's election, 5,958 students voted; participation decreased in comparison with last year's 7,455 voters. This decrease in votes may be due to the fact that SGA elections were held entirely online because of campus closure. Campaigns were unable to interact with students face-to-face on Pedestrian Walkway as they have in years past, and instead, were forced to find creative ways to interact with students online.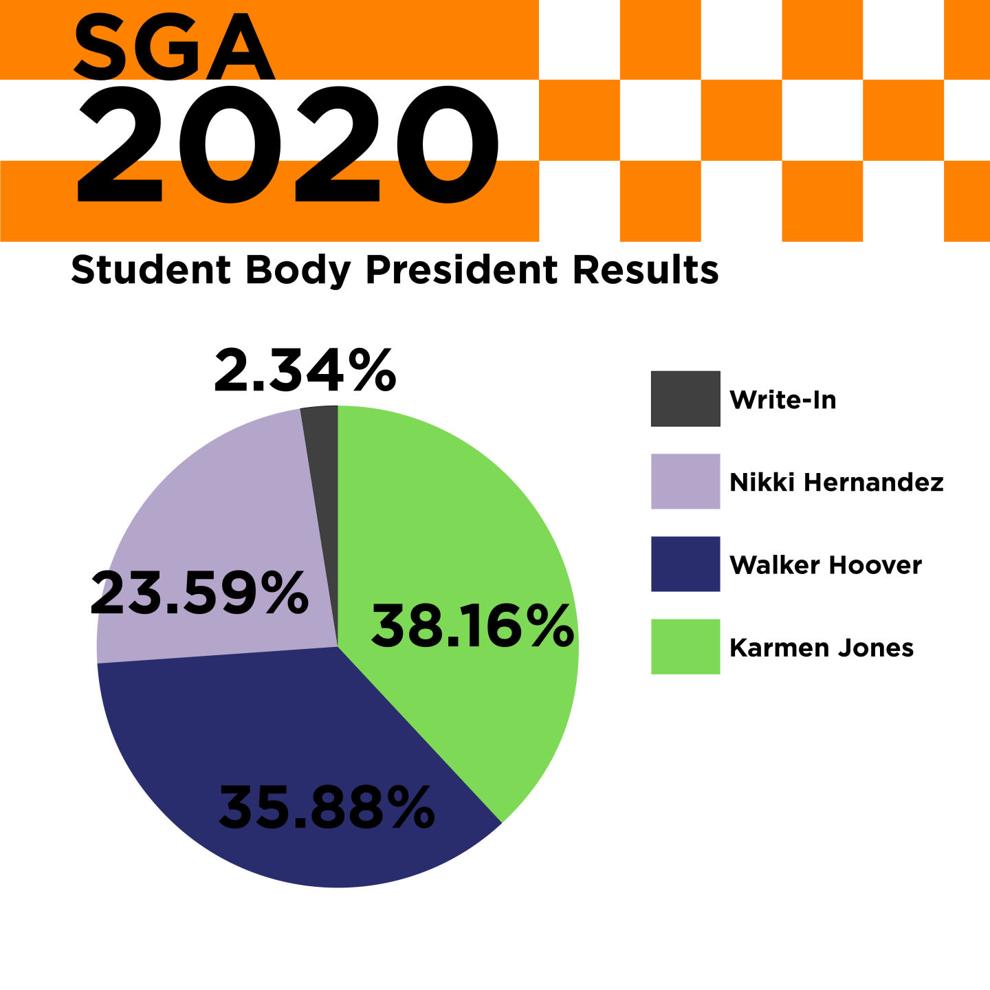 Junior studying English rhetoric and Africana Studies Karmen Jones was elected as student body president, with a total of 2,274 votes in her favor, comprising 38.16% of all votes for president. The win is a historic one, seeing as Jones will be UT's first African American woman to serve as student body president. Additionally, her presidency will mark the second time in UT's history that two women have been elected as student body president back to back. Senior Natalie Campbell is currently serving in the position.
Raj Patel, junior studying aerospace engineering, was selected as vice president with 2321 votes, 38.95% of all votes for the position. Junior studying industrial engineering Cody Ramangkoun became executive treasurer-elect with 2,995 votes and 50.26% of the votes cast. Student Services Director-elect and junior studying political science Emma Kate Hall received 2,280 votes, 38.26% of votes cast.
As for the other presidential candidates, Walker Hoover from Promise received 35.88% of votes, or 2,138. Nikki Hernandez from We Hear You UT received 23.59% of votes, or 1,406.
The presidential election was closer than last year; Jones received only 136 more votes than Hoover, while current president Campbell surpassed her nearest competitor, Owen Flomberg, by 566 votes in last year's election.
Change swept the senate as well, as 29 of the 52 senatorial positions were filled by candidates from the campaign. 18 senators were elected from Promise, and five were elected from We Hear You UT.
2020 Change Results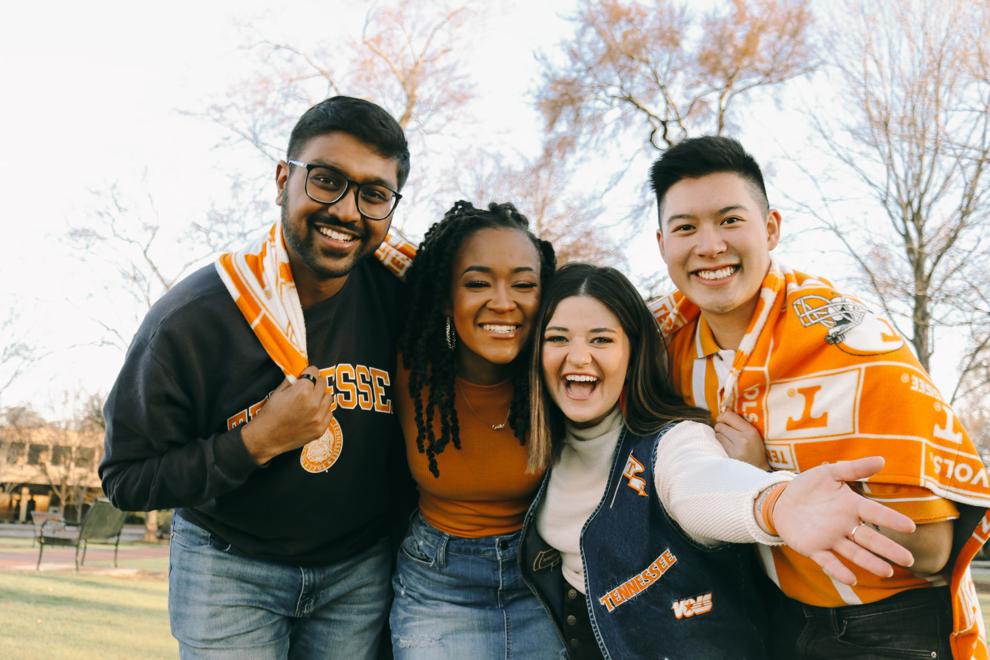 The 2020 election was a successful one for Change, seeing as they won both all four executive positions as well as a senatorial majority.
To the students who voted for the campaign, Jones expressed her gratitude.
"Thank you so much for believing in our platform," Jones said. "We took a chance with running a ticket that was this diverse, and we were like is this gonna win here at UT, but it did and that's because students believed that it was time for change, and we're just so thankful, and we are gonna stick to our purpose and our goal."
Vice President-elect Patel credits the campaign's 130 members, with their flexible adjustment to an online campaign, with Change's success, especially in the senatorial category.
"We call it a campaign, but in reality this was a movement, and every single senator, the top four, all of us were a part of this movement, and we were pushing for this movement to be what we wanted to see in UT in the future, and I think all of that just came together to result in the success that we see today," Patel said.
Hall stated that despite the interruption caused by the cancellation of in-person classes and activities, members of the Change campaign persisted whole heartedly.
"Nobody ever led with complaint. It wasn't like, 'this is the worst, and nothing is gonna work now, and let's like just be really sad and angry that this isn't panning out the way that we thought it would.' Of course, we did mourn that a little, to just be like I really hate that we can't be on Ped Walkway, but let's figure out how we can kind of create this same interaction, intentionally, with students behind that," Hall said.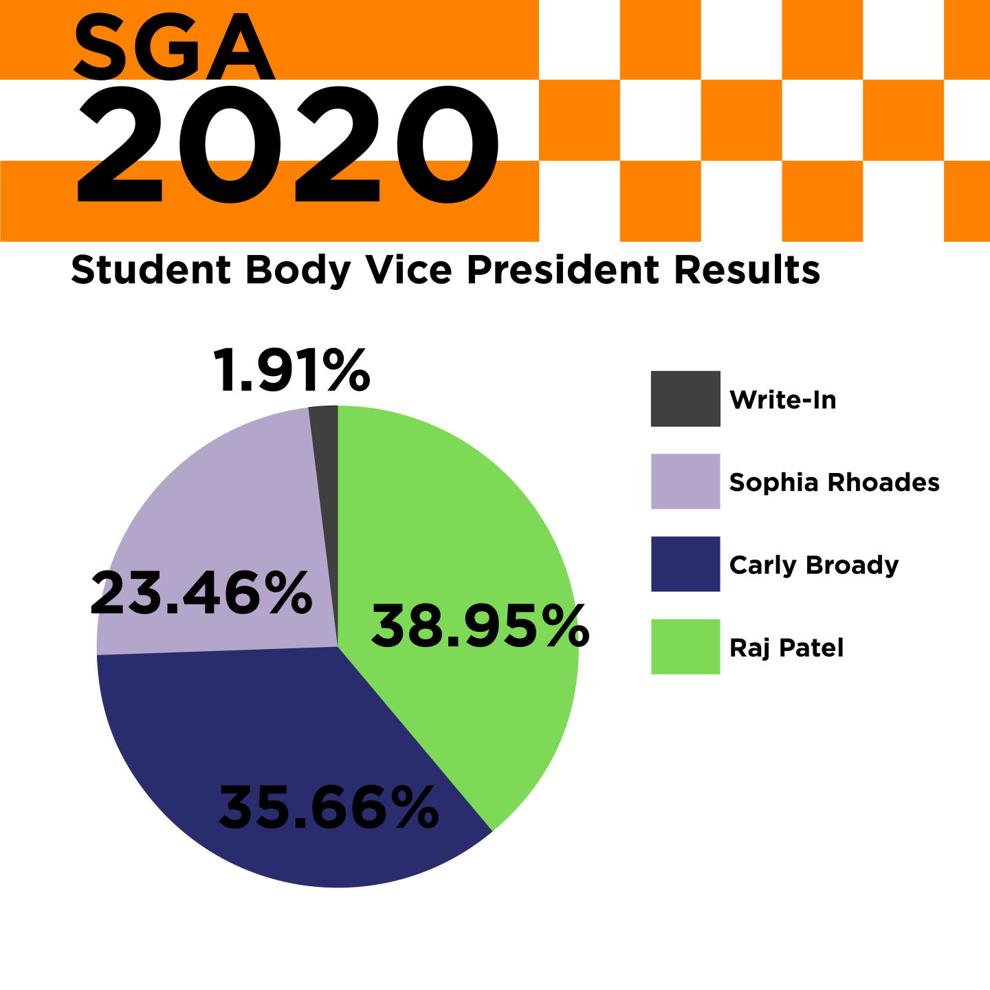 Members of Change's campaign worked to contact as many students as possible during election week and sent out a total of around 4,600 texts about the campaign during the three election days.
Ramangkoun added that the campaign's Social Media Manager Robyn Helms did a fantastic job with engagement. Change's Instagram page was viewed around 98,000 times and interacted with about 28,000 accounts.
Looking toward the future, Hall expressed her gratitude toward the other two campaigns who ran and added that she looks forward to collaborating with students from all three campaigns.
"I'm really excited to continue work with both of those other campaigns and as a collective of all three campaigns that ran," Hall said. "I think there's a lot of ideas that were brought up this season that are important, a lot of voices that haven't been heard before that need to be heard, a lot of students' voice that needs to be amplified that I think was closer to being amplified in this election season than ever before."
Jones seconded her opinion, adding that the team will not approach SGA in a partisan manner and will instead focus solely on supporting students.
"We are not going into this with the intention of continuing a partisan agenda," Jones said. "At this point, we are nonpartisan. We are here to serve students."
As aforementioned, Jones is soon to be the first African American woman to serve as student body president at UT.
Jones was especially inspired to run for the position after reading the book "Minority Leader: How to Lead from the Outside and Make Real Change" by Stacey Abrams. Jones was determined to provide representation for minority students and hopefully encourage other minority students to seek positions of leadership.
"I was like, well, what have I been challenged or called to do right now, and I felt like for the sake of representation and for my people it was time that I stepped up to the plate and took this responsibly to serve students and provide that representation," Jones said.
She expressed her pride and excitement at the historical moment.
"I think all four of us have challenged that notion of what representation looks like. You have three-fourths students of color at the top of a ticket, and you have two women that are unapologetic in what they do and strong minded, and so I'm really proud," Jones said. "This is a big, big moment. I don't think I even understand the magnitude of being the first African American woman."
2020 Promise Results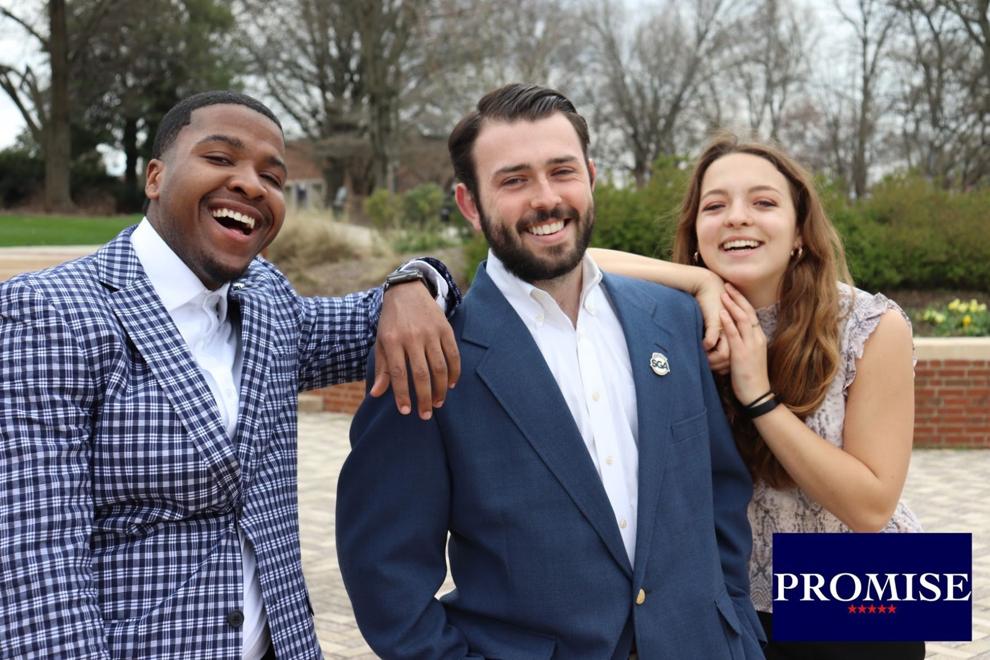 Promise accounted for the second-highest number of senators with 18, behind Change's 28. The numbers for president, vice president and student services director were again, close behind Change excluding the position of executive treasurer for which they did not have a candidate.
Walker Hoover, sophomore majoring in political science; Carly Broady, sophomore in the College Scholars program and Christopher Barnes, junior studying political science and philosophy each placed second in the positions for which they ran.
Shortly after the election results were released, all three candidates spoke with the "Daily Beacon" and expressed their pride for the campaign they ran.
"Obviously, we wish we were on the other side, but we're really excited about what we did and for getting our voice out there and bringing campus together," Hoover said.
After election results were announced, Hoover, Broady and Barnes began to call each member of their campaign to speak with them individually about the campaign or their future position as many new senators are from Promise.
"We just told them how proud we were of them, our campaign had a lot of great new faces, a lot of people who had never been involved in SGA — that's something that we're really excited about. We did a Zoom call right after we got the results and then afterwards we reached out to everyone, talked to them about their position and about their results," Hoover said.
Broady added that beginning now, their executive candidates will begin to train the new senators so they know what to expect in the fall.
After individually calling their campaign members, Broady, Hoover and Barnes will "... try to help transition them and give them a good expectation of what senate is going to look like and the opportunities available to them so they can come into the first senate session with guns blazing, ready to continue the work that they're passionate about," Broady said.
With Broady and Hoover both being sophomores, their future plans for student government are undecided at the moment, but Broady said, "This won't be the last that you see of any of the three of us."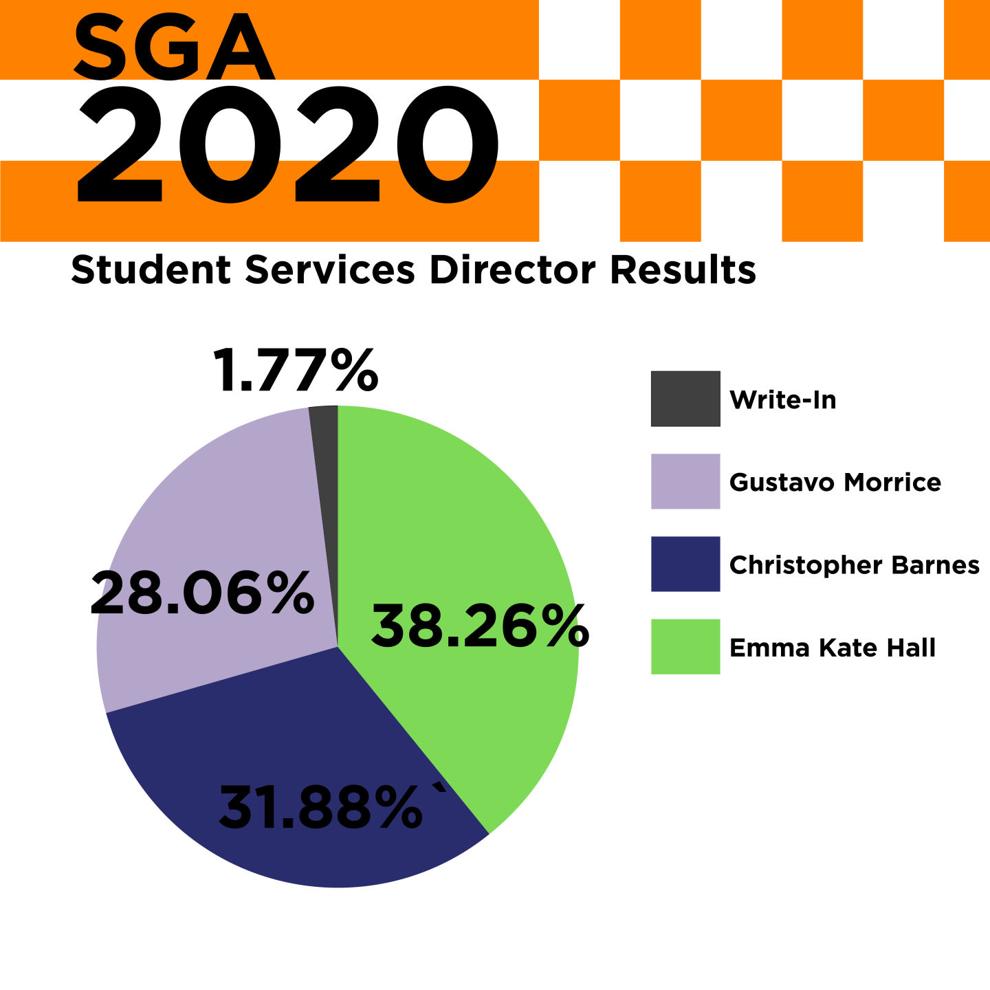 The 2020 SGA election was very close, particularly in the presidential votes. Despite the campaign coming in second place, Promise remained confident in their mission.
"I think that says something even though we didn't end up on the winning side, our message resonated with 2,000 people, and that's a really big thing for us. ... We're definitely going to keep the interest in the students and the ideas we presented in our campaign," Hoover said.
One of Promise's biggest takeaways from campaign season was that the mission of SGA remained at the forefront of their campaign: to serve students.
"... At the end of the day everyone is running to represent students, that's the truth. I think there's a lot of animosity on campus for people who do run for SGA but everyone who runs, for the most part, has good intentions at heart," Broady said.
Both Broady and Hoover spoke on their positive campaign experience in relation to the other two groups. Hoover cited never seeing any negative campaigning or animosity toward one another other and that all campaigns focused on reaching students.
"We're really proud of both Change and We Hear You for their impressive campaigns," Broady added.
2020 We Hear You UT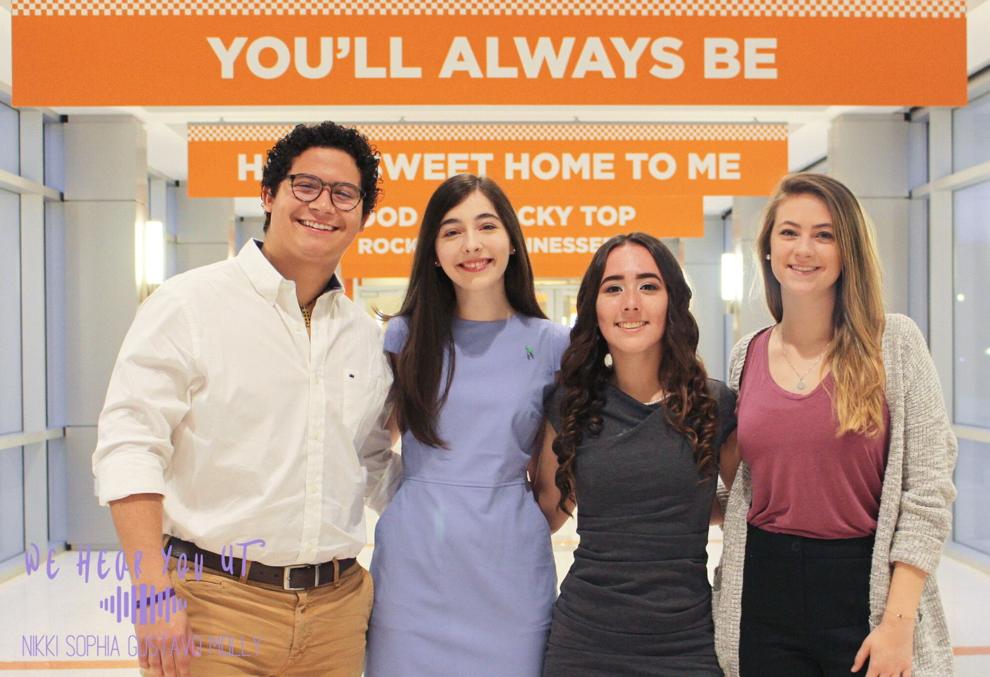 Junior studying anthropology and presidential candidate Nikki Hernandez, junior majoring in American studies and vice-president candidate Sophia Rhoades, junior majoring in Hispanic studies and candidate for student services director Gustavo Morrice, and junior in mechanical engineering and executive treasure candidate Molly Mays all placed third in their respective roles.
Hernandez spoke with "The Daily Beacon" on behalf of her campaign over a Zoom call about the 2020 SGA election results.
"I'm disappointed; I'm upset that we didn't get to serve the student body in the positions that we wanted to. It's just something that we were all really, really passionate about, and I think that things would have been different if we were out there on Ped Walkway and not online," Hernandez said. "We're disappointed, but we're still determined to serve the student body because you do not a fancy title or position to do that — and I am determined to serve first generation, low-income students."
While there is disappointment over the loss, Hernandez said she is proud of all those on her campaign. We Hear You UT did have five senatorial candidates elected to the undergraduate Senate including Senator-elects for the Herbert College of Agriculture, the College of Arts and Sciences, and the College of Education, Health and Human Science.
And to those who weren't able to win a seat, Hernandez encouraged them to continue to listen to students, to join other campus organizations and to even interview for positions which may open up in the fall.
"They don't need to be in Senate to get these things done," Hernandez said. "You can have meetings with administration on your own and get things done on this campus, and they're all so passionate about so many different areas on this campus. ... I want them to continue pushing forward and do not be discouraged based on the results of these elections and try again."
While she and Rhoades may not be returning to SGA Senate next year, Hernandez said she would continue to work with marginalized student groups on campus so that they are heard.
As far as supporters, Hernandez couldn't express enough how much she appreciated their support and how students do want to be heard.
"I am so appreciative of all the students who voted for us, even in this unprecedented time and I know so many people who are going through so many hard times right know, and we cannot say thank you enough and that comes from everyone on the team," Hernandez said. "We just say thank you so much to everyone that voted."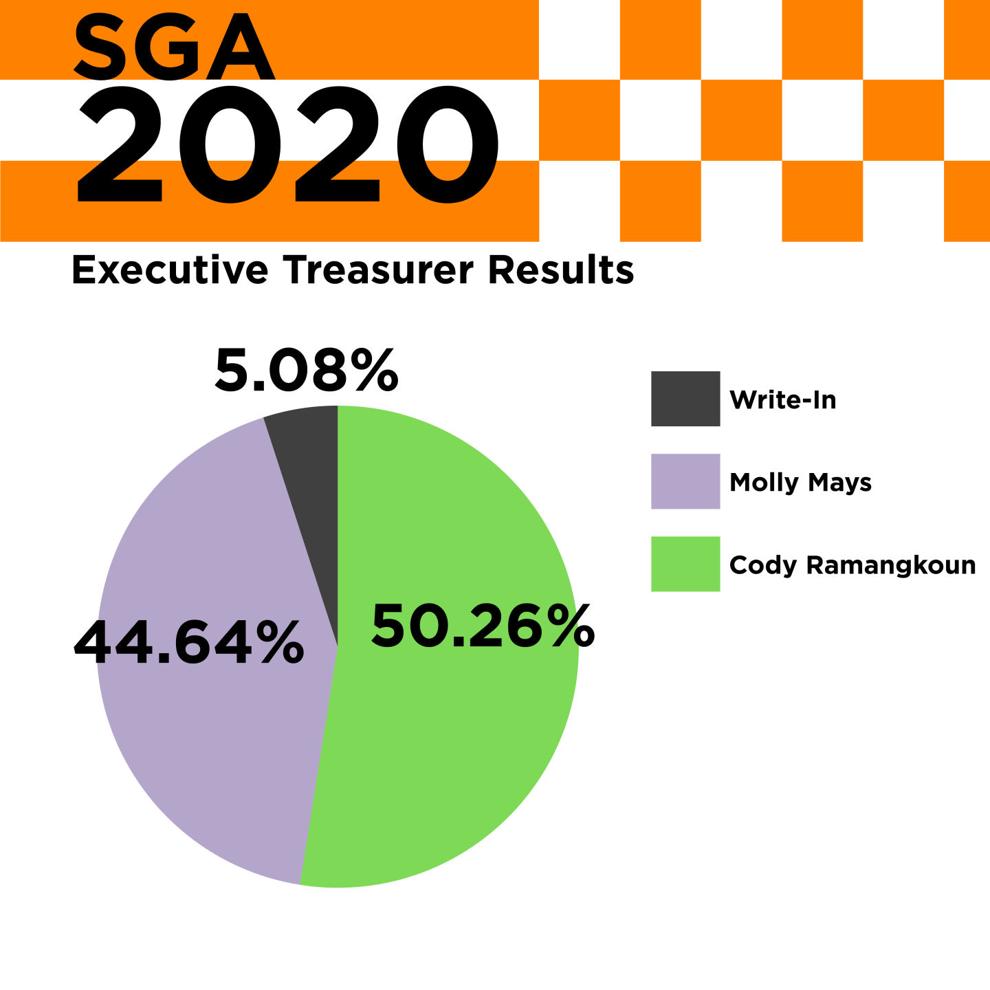 Reflecting back on campaigning, the only thing Hernandez said she would change would be to use Instagram better. Hernandez said that at for the majority of the campaign season, We Hear You UT wasn't able to follow people or post including being blocked for four days earlier in the week, and she mentioned that they weren't the only campaign to struggle as Change also had a problem.
However, despite having issues, Hernandez said she is proud of her campaign and all the effort they put into putting themselves out there to hear what issues UT students care most about.
"We just wanted to show students that we're just everyday students running for these positions, but yeah I wouldn't change anything else honestly," Hernandez said. "This experience its given me so much, it's just been an incredible experience. I can't even put it into words honestly. It's been so hard, but I wouldn't change anything about it."
Moving forward, Hernandez had three takeaways from her entire experience campaigning for SGA: Reach out to students because they want to be heard, understand that as a student leader you won't please everyone but to continue to be resilient and passionate about your work and the biggest takeaway is that there is a life outside of SGA.
"The biggest thing I definitely take away, and its taken me a while to really learn that there's so much more outside of SGA, like there is a life outside of this ... that after this there is a time that I'm going to graduate, that I'm going to go on and do amazing things, and I think everyone that's involved in this experience needs to know that, especially if they lost their seat," Hernandez said.
"That this is not the end-all, be-all," Hernandez said. "And this is definitely not the last that students are going to hear from me or Sophia or Gustavo or Molly. We're going to continue pushing for students and then going on and doing better things."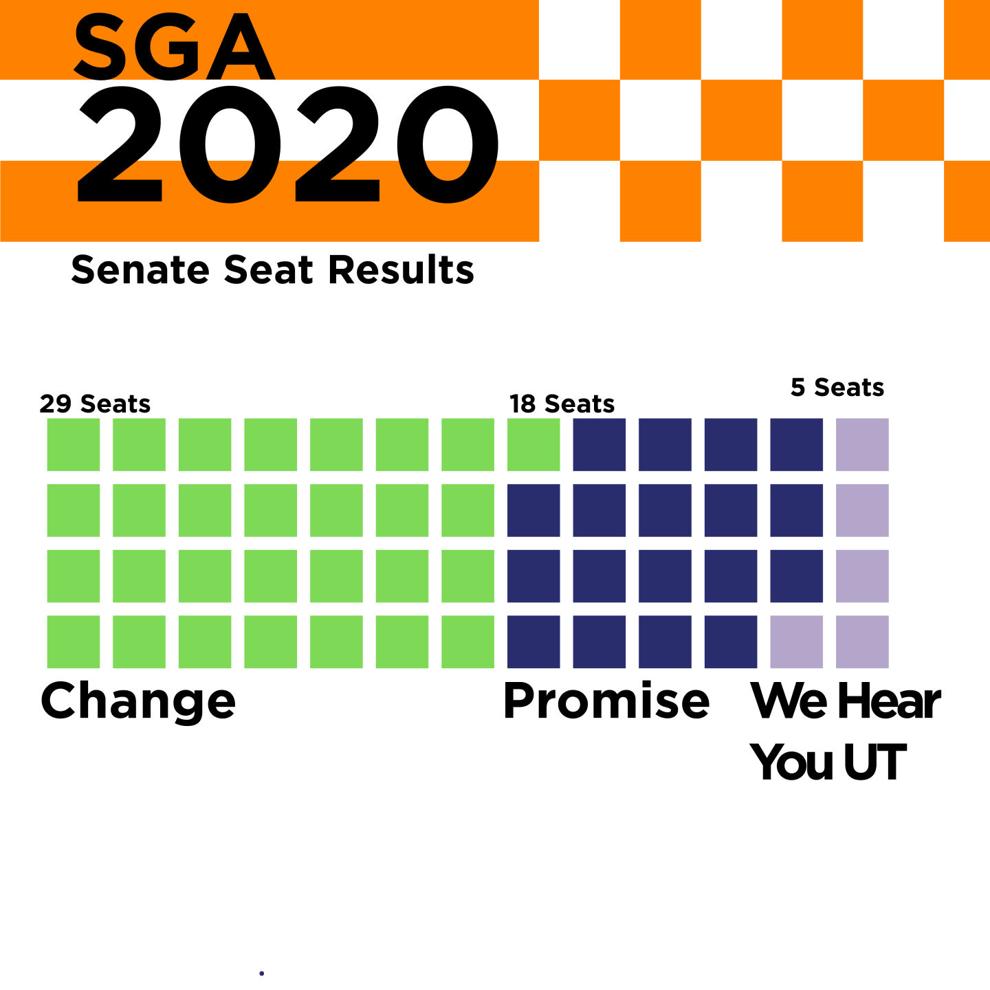 Winning senate candidates are as follows:
College of Architecture and Design:
Dexter Gladney, Jr., Change — 72 votes
College of Arts and Sciences:
Abigail Lawrence, Change — 838 votes
Simon Jolly, Change — 813 votes
Jordan Brown, Change — 790 votes
Catelyn Williams, Change — 786 votes
Daniel Dassow, Change — 713 votes
Louis Mata Ruvalcaba, Change — 667 votes
Kaitlyn Meadows, We Hear You UT — 649 votes
Lindsay Lankau, Promise — 594 votes
Reese Salberg, Promise — 573 votes
Emily Gwydir, We Hear You UT — 570 votes
College of Communication and Information:
Mattie Hayden, Promise — 186 votes
Reagan Berry, Promise — 183 votes
Education, Health and Human Sciences:
Georgia Sharpe, Promise — 442 votes
Riley Holt, We Hear You UT — 312 votes
Christopher Zendejas, We Hear You UT — 262 votes
Haslam College of Business:
Alex Bowman, Promise — 705 votes
Weston Standifer, Promise — 617 votes
Harshil Singapuri, Promise — 576 votes
Matt Foti, Promise — 575 votes
Preston Kolesar, Promise — 552 votes
Lucy Buck, Change — 494 votes
Stephen Monroe, Change — 469 votes
Herbert College of Agriculture:
Raven Schuman, We Hear You UT — 141 votes
Shelby Mainord, Promise — 140 votes
College of Nursing:
Noah Anderson, Change — 109 votes
College of Social Work:
Evan Mays, Change — 28 votes
Tickle College of Engineering:
Kayla Sims, Change — 382 votes
Benjamin Pham, Change — 354 votes
P.J. Odom, Change — 351 votes
Leah Gutzwiller, Change — 348 votes
Kinley Koontz, Change — 312 votes
Central Area:
Katie Seidel, Promise — 248 votes
Elliot Tillman, Change — 239 votes
East Area:
Savannah Hall, Change — 507 votes
RJ Clemmons, Change — 454 votes
West Area:
Marcus McCoy, Promise — 485 votes
Caleb Texeira, Promise — 432 votes
Off Campus:
Brittney Thurman, Change — 1044 votes
Fife Osikoya, Change — 1041 votes
Carmen Danley, Change — 1035 votes
Noah Dandridge, Change — 1031 votes
Solomon Trapp, Change — 1018 votes
Thomas Wahl, Change — 1011 votes
Cecilia Contreras, Change — 1010 votes
Alex Apostoaei, Change — 1006 votes
Zaky Hussein, Change — 976 votes
Aubrey Robinson, Promise — 917 votes
Kaya Heine, Change — 910 votes
Drew Zeigler, Promise — 872 votes
Fraternity Park:
Sam Banks, Promise — 93 votes
Sorority Village:
Holly Koons, Promise — 172 votes
Campus News Editor Alexandra DeMarco, Managing Editor Caroline Jordan and Editor-in-Chief Gabriela Szymanowska all contributed to this article.
This article has been corrected to reflect that Lucy Buck is part of Change campaign. An earlier version of this article misstated that she was a part of the Promise campaign. The graphic for Senatorial seats has also been updated to reflect Change winning 29 seats in the SGA Undergraduate Senate.