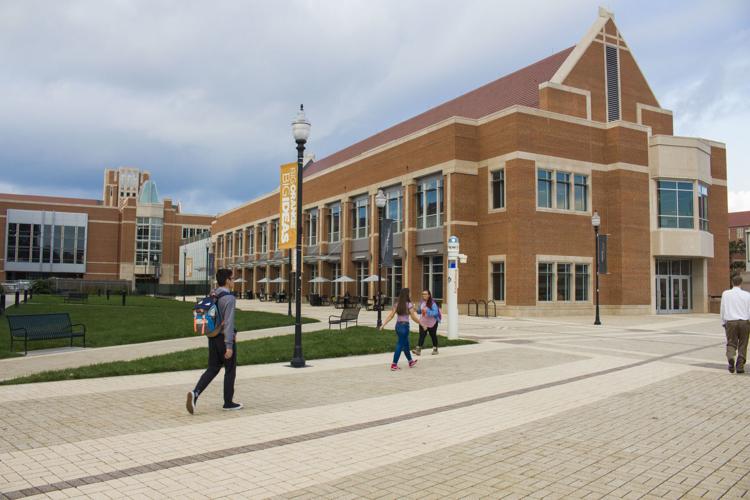 Wednesday afternoon, Chancellor Donde Plowman held an online meeting with the UT Knoxville Advisory Board to discusses UT's response to the coronavirus and its plans for the near future. The meeting was live streamed for viewing by the general public, and a recording of the meeting will be posted on the chancellor's website.
Plowman began the meeting by welcoming two of UT's newest administrators to the team. Deborah Crawford was recently appointed as the vice chancellor for research, making her the university's first permanent vice chancellor for the Office of Research since 2008. Frank Cuevas was appointed as the vice chancellor for student life after serving as the interim vice chancellor since December.
Plowman expressed her excitement for Crawford to join the Vol community.
"We are really, really happy to get her," Plowman said. "She was the overwhelming choice of the search committee. We had four tremendous finalists."
She added that Cuevas has demonstrated his commitment to UT through his great response to the coronavirus outbreak.
"We conducted a national search, and at the end of the day, just hands down Frank was the candidate we wanted, and we are really thrilled to have him," Plowman said. "He jumped in in this COVID situation and I think immediately won the respect of all the [Chancellor's'] Cabinet. He stays calm in the midst of a crisis."
Plowman recapped the way that the university has thus far responded to the coronavirus, expressing her gratitude for the way that UT faculty and staff quickly handled the crisis. She cited the creation of the Office of Emergency Management, which was added to the university prior to the pandemic, as one the key reasons UT was able to respond so quickly. The team began monitoring the pandemic in January and was fully activated in February.
Now, the Pandemic Emergency Response Team meets three times a week for 90 minutes each meeting.
Plowman also praised the way that the Office of Information Technology responded to the pandemic. She stated that the department distributed around 300 laptops and 550 hotspots to students who didn't have access to online learning technology at their homes.
The university also made efforts during remote learning to access students in a lighthearted way. Members of university administration, including the chancellor, gave over 25,000 calls to undergraduate students to check up on them during this difficult time.
Plowman then played a video recapping Vol for Life Class Crash, a program that was introduced in March. Thought up by the Division of Enrollment Management, VFL Class Crash involved several notable alumni and friends of the university surprising students by entering their online Zoom classes. Featured guests included Peyton Manning, Josh Dobbs, Grant Williams, Drew Holcomb and more.
Plowman explained the university's recent decision to announce its intent for students, faculty and staff to physically return to campus in the fall.
"We sent out the surveys. We had over 1,000 people respond to one survey that went out where the studnets, their parents and also faculty were saying we really need a decision. ... We make the best decision we can today based on the information we have, and information changes, but we feel good about this decision," Plowman said.
Currently, the university is undertaking a three-phase plan to re-integrate faculty and staff to the physical campus. The recently announced plan began its first phase on May 11, with the goal of entering Phase Three by August 11. This date was selected to help eliminate child care difficulties faced by faculty and staff with children; Knox County Schools will be opening the same day.
As for the return of all members of the UT community, the Re-Imagining Fall Task Force, a 71-member group, is currently problem solving to determine how students can safely return to campus. Six subcommittees — Teaching and Student Success, Workplace Safety, Residence Halls and Student Spaces, Research, Visitors to Campus, and Engagement and Outreach — are working to tackle the problem from several angles.
The task force has been planning for three scenarios: one in which students return to campus under a new normal, one in which the semester begins in-person but is required to end through remote learning and one in which online only learning is continued through the fall semester.
Although the current plan is scenario one, where students will return to campus under a new normal, all three scenarios are essentially interrelated, Plowman explained.
Administration is currently bouncing around several ideas about how UT will operate in the fall. For one, students will be wearing masks and practicing increased social distancing, which may involve freshmen taking classes in cohorts in order to limit the number of people they are in contact with. Students may be required to sign a pledge that they will engage in safe behavior, such as wearing a mask.
UT is also considering removing fall break from the calendar in order to push back a physical fall start date and overall encourage students not to leave campus during the fall semester. Additionally, the university may aim to complete in-person learning by Thanksgiving. These decisions are not in any way final but are a few of several ideas the university is considering to creatively battle the virus.
Plowman encouraged UT studnets to embody the Vol spirit to responsibly fight COVID-19.
"Vols care for all. What does that mean? It means caring for each other and caring for this community, so really trying to get students to own the responsibility," Plowman said. "You don't go to Kroger without your mask on because that's somebody's grandpa or somebody's mother. We've got an education opportunity."
Next, Kari Alldredge, the vice provost for enrollment management, shared several positive statistics about UT's current enrollment; every enrollment indicator for undergraduate students has increased from last year.
This year, UT received a record number of applications.
"For the first time in the university's history, we have generated over 25,000 first year applications, which is just such a great number, such a great place to be, and if there was ever a year to have a record application pool this is it, because we're going to need to make the very most of those applicants," Alldredge said.
Additionally, UT is up by 79 in first-year attendance confirmations from last year, as well as up one from this time last year for continuing student registration for the fall. The university is in the process of reaching out to every current student who has not yet registered for the fall.
Transfer applications are up 10%, with a 29% increase in confirmations.
Undergraduate graduation rates were up 10% this year, and graduation rates including graduate students were up 11% overall.
Finally, Chris Cimino, the senior vice chancellor for finance and administration, discussed the recent changes to UT's 2020-2021 budget. The budget has recently changed to reflect the financial hardship currently experienced around the world as a result of the pandemic, which UT is not immune to.
For one, the chancellor proposed a zero-percent increase in tuition. This proposition will result in the second time in the past three years that UT has not increased tuition.
UT has made several budget cuts in various areas, including only moving forward with critical hires, delaying projects that are able to be delayed, saving on travel and operations costs and cutting expenditures in several other areas.
The budget for the upcoming year is decreasing by $10 million from the originally proposed budget, resulting in a budget of $1.235 billion. $229 million is allocated for auxiliary services.
The athletic budget is currently slotted with the assumption that fall sports will occur as usual.
The budget was approved for presentation to UT System President Randy Boyd. Plowman agreed that the advisory board will reconvene if any changes are made to the budget.
At the end of the meeting, Plowman recognized members of the board who are leaving, thanking them for their time and dedication to UT during her first year as chancellor. Each member of the board will receive a clock as a gift to thank them for their time.
"I want to say, I was so excited in taking this job for many reasons, but I love the idea of this board, and I want us to continue to grow the role of this board," Plowman said. "I love knowing that I can pick up the phone and call any one of you and get advice, and I have done that several times this year, so I appreciate every one of you."