Since the early 1900s, historically Black fraternities and sororities have played a significant role in shaping African American history and culture.
These prestigious organizations, founded on the campus grounds of historically Black colleges, have since centralized the importance of enhancing the advancement and relationships amongst Black students and professionals through their acts of service.
The Black Greek organizations, also known as the Divine Nine, earned their title due to their many acts of service and pivotal roles in enhancing the livelihood of people of color during and after their times as active members. These fraternities and sororities are made up of many of our most notable and well acclaimed leaders and influencers.
Among many notable members of these Black fraternities are Martin Luther King, Jr., Thurgood Marshall, Steve Harvey and Shaquille O'Neal; the list goes on with thousands of names. Not only do the fraternities have some big names, but as do the sororities. Civil rights leader Shirley Chisholm, music sensation Alicia Keys, Pulitzer Prize winning author Toni Morrison and many more are members of Black Greek sororities.
Most groups in the Divine Nine made their debuts on the illustrious campus grounds of none other than historically Black college Howard University. Howard welcomed its first Black Greek organization in 1908: the ladies in pink and green, Alpha Kappa Alpha Sorority.
The ladies of AKA stand behind sisterhood and self-fulfillment through volunteering. Members of this sorority hold bonds and friendships near and dear to their hearts and promoting unity among college women is very important to them. AKA members make it their duty to serve all mankind.
To join the ladies of the Alpha Kappa Alpha sorority on the grounds of Howard University were the men who wear purple and gold, Omega Psi Phi Fraternity. In 1911, three undergraduate men founded Omega Psi Phi. For these men — manhood, scholarship, perseverance and uplifting others are their cardinal principles. This fraternity has created men of significant character and intellect. Many of the men America has grown to love are Omega men.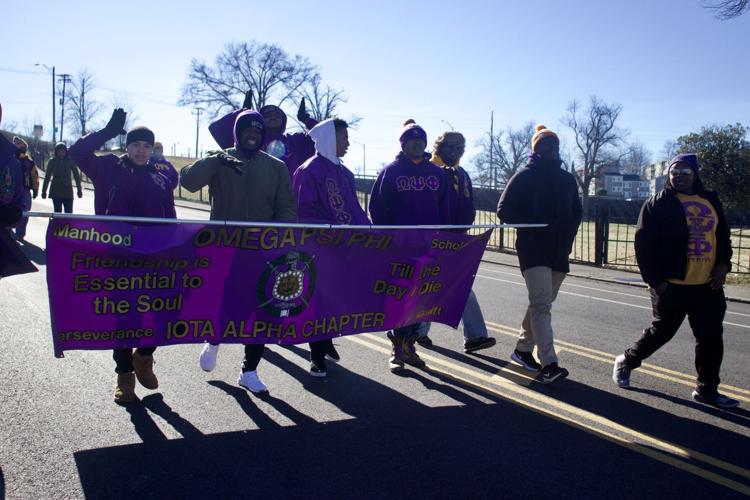 To follow were the women who make crimson and cream go well with anything, the divine ladies of Delta Sigma Theta sorority. DST was founded on the campus of Howard University in 1913 by 22 women at the university. These women stood for academic success and assisting those in need. Their most rewarding act of service was their participation in the Women's Suffrage March in Washington, D.C.
Ashley Heyser, a University of Tennessee Alumni and member of Delta Sigma Theta, explained what membership in a Divine Nine sorority means to her.
"To me being a member of Delta Sigma Theta means being a leader, giving your best self in everything you do. It truly is a sisterhood being a part of such an amazing organization. To be able to follow in the footsteps of the 22 women who made it possible for a woman like me today means a lot. I couldn't imagine not rocking crimson and cream," Heyser said.
Phi Beta Sigma fraternity and Zeta Phi Beta Sorority were the last, but certainly not least, to grace the grounds of Howard University. These two organizations are often viewed as the sister and brother duo. The two both stand for service, scholarship and granting civil rights to all. No other fraternities or sororities are constitutionally bound as Sigma and Zeta are.
Known as the "ice cold brothers in black and gold," the men of Alpha Phi Alpha fraternity incorporated were founded in 1906 on the elite ivy league campus of Cornell University. They were the first Black Greek intercollegiate fraternity. Members of this organization take pride in humanity, freedom and individual dignity when it comes to enhancing the manhood of its members.
The men of Kappa Alpha Psi fraternity made their debut at Indiana University in 1911. The organization has over 100,000 members who continue to stand for the spiritual, social, intellectual and moral welfare of all members. The men of Kappa Alpha Psi rely highly on Christian ideals and achievement.
Johnathan Chaffen, a University of Tennessee Alumni and member of Kappa Alpha Psi, explained what the organization means to him.
"Becoming a part of this organization meant so much to me and still does. To know the history of my fraternity and what my founders had to endure to make it possible for me and other black men teaches me every day that I can't let my trials and tribulations stop me from reaching my true potential. My fraternity was birthed in a world of hate toward people that look like me. So, to see the change that has come since keeps me going," Chaffen said.
Iota Phi Theta fraternity incorporated was the last organization to make up and complete the Divine Nine. It was founded in 1963 at Morgan State University in Baltimore, Maryland. Its members were the last to gain full acceptance into the National Pan-Hellenic Council. Twelve men founded this fraternity with hopes in always keeping their focus on the strengthening and mental growth for the African American community. This organization is dedicated to keeping a vision that builds tradition.
Many other Black Greek organizations have followed in the footsteps of the Divine Nine and continue to play an important role in service, scholarship and the advancement of people of color in all professions. 
This article has been updated to reflect additional information.