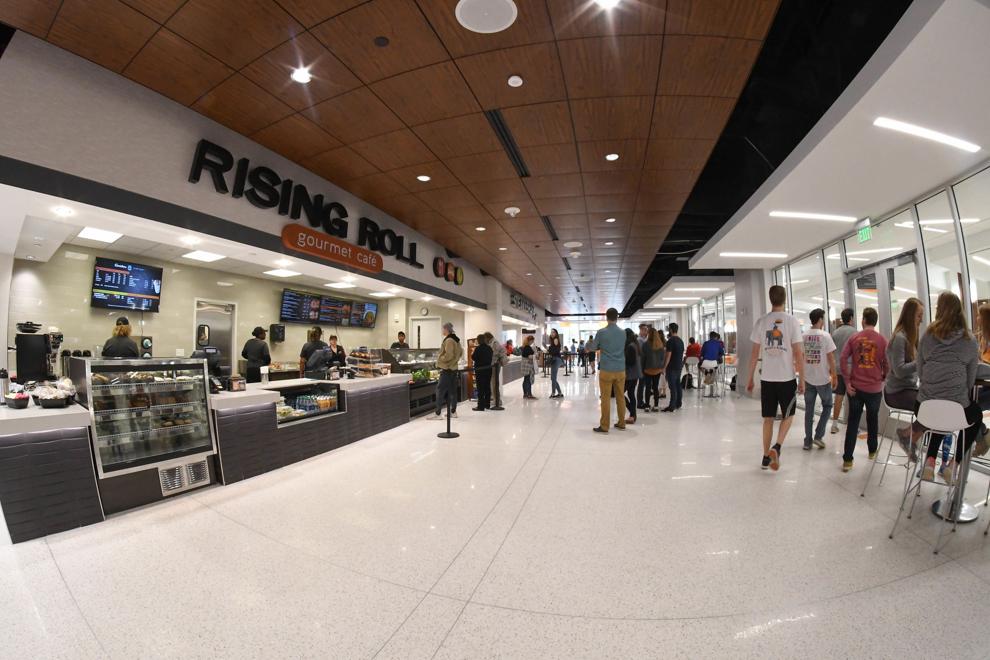 Recently, a UT student began a petition asking the university to end its contract with Aramark, the food service company that provides dining services in both residential dining halls, such as the Fresh Food Company and Presidential Court Building, and other food locations on campus, such as the many restaurants in the Student Union. At the time of writing, the petition has garnered 658 signatures.
Aramark was created in the 1930s and currently provides food service to healthcare centers, institutions of higher education, K-12 schools, work places and prisons through Aramark Correctional Services. Although it operates within larger institutions, the company typically handles all of its contracts with employees independently from the institutions.
Currently, UT's contract with Aramark is set to remain in place through 2027. Over the past 15 years, Aramark has helped fund construction projects on campus, including the Student Union and the new West Campus, with tens of millions of dollars. In return, Aramark has a monopoly over what food is catered and sold in the buildings it funds. For example, all food catered to the Student Union must be catered by Aramark. This means that student organizations holding events in the Student Union must purchase all provided food through Aramark.
According to an article from The New York Times, Aramark granted $15.2 million in dining hall renovations to UT under the current contract. In order to build the $177 million Student Union which exists on campus today and houses several Aramark-operated facilities, the university raised fees for students — even those who did not have a dining plan.
At UT, Aramark and Vol Dining are not unfamiliar to controversy. The company fell under scrutiny last year after the Knox County Health Department's inspection of several on-campus dining facilities returned a less than favorable review. Presidential Court Building, one of two main dining halls included in freshmen students' all-you-can-eat dining plan, was infested with cockroaches, and Twisted Taco, Qdoba, Chick-Fil-A, Salad Creations and Panda Express were infested with gnats. Smokey's Grill was infested with both mice and gnats.
Overall, the Health Department found many instances of equipment build-up, expired food and unsanitary kitchen conditions.
James Michael Sapp served as the marketing coordinator for Vol Dining for about a year. He left Aramark in May for two main reasons: to begin graduate school at the University of North Carolina, Chapel Hill, and because of disagreement with the company's values.
"A lot of my core values don't really line up with the direction Aramark is going," Sapp said.
Sapp feels that Aramark is not fairly compensating its hourly workers in comparison to how much it pays its salaried workers, adding that wages for hourly employees may be insufficient to live in Knoxville.
"We just have to acknowledge, what role does a private company play in a public university, and what does it mean when we start our employees at eight or nine or ten dollars an hour when the living wage for Knoxville is significantly higher than that? How do we ask our employees to lead to to a better life if we're not going to even provide them table scraps?" Sapp said.
Although Sapp may view employees' wages as unsatisfactory, he has nothing but praise for the way that Aramark managers at UT handle employees' schedules. He explained that multiple members of families often work at on-campus dining facilities, and Aramark is flexible with their schedules to ensure that certain family members are able to be home providing childcare when necessary.
He also stated that managers accommodate employees' schedules according to bus schedules.
"I do, from a manager level, think they do a really good job on that they're acknowledging the socioeconomic differences that our hourly employees face," Sapp said.
Sapp also denies that Aramark at UT produces unsanitary food.
"I know that a lot of [the backlash] is against the employees, saying oh, they produce nasty food and things like that, but of those arguments that's not the case," Sapp said. "The company hires passionate chefs who love to cook on college campuses, and so you're seeing people who love food and showing students this is how we love food and how we want you to participate and enjoy your campus experience."
For Aramark employees at UT, any difficult financial situation was only worsened when the university announced its closure in March due to the COVID-19 outbreak. All hourly employees were placed on unpaid, indefinite furlough beginning the week after spring break.
Sapp was also put on unpaid furlough and was able to use about a week's worth of paid personal time off before filing for unemployment. He was not allowed to use any paid vacation days.
According to Sapp, the news incited worry among many Aramark employees.
"I think there was just a lot of fear amongst people. It was really devastating to watch. I want it it to be clear that every manager on this campus has the outmost compassion for their employees," Sapp said.
Sapp described it as "heartbreaking" to watch managers and employees alike become emotional over the situation and be unable to provide an answer as to when employees would return to work. Vol Dining instructed employees on how to apply for unemployment but could not help further.
He hopes that Aramark has a plan for the fall in order to address concerns over unemployment.
"If we all come back to campus, and we ask everyone to leave, are we going to lay people off, or are we going to subsidize income, or how can we continue to support our hourly wage employees throughout the rest of this pandemic?" Sapp said.
The petition currently posed to UT, however, addresses other issues than those mentioned above; it calls for the termination of the university's contract on the grounds that Aramark engages in racist behavior and contributes to the prison-industrial system.
In response to the petition, UT expressed its commitment to combating racism.
"The university is committed to reviewing policies and practices to combat issues of systemic racism that impact our students, faculty and staff," the university said.
The claims made in the petition are not unique to UT. Students and others across the nation have been making similar accusations, with other university students beginning petitions of their own — and the current Black Lives Matter movement has only drawn more attention to the subject.
Zara Batalvi, who compiled this document of sources related to Aramark, is a student studying cybersecurity and international studies at Loyola University Chicago. Aramark is also the food service provider on her university's campus, and she has been leading the fight to end LUC's contract with Aramark.
Batalvi explained that the complaints against Aramark can also be applied to Sodexo and Compass Group, two other large food service providers. Together, the three companies make up the "big three of big food."
"My biggest complaint is really just that big food is a problem that hits every part of our society. It's a race issue, it's an environmental issue, it's a mental health issue," Batalvi said. "It touches on every single part of our lives, and when higher education supports these businesses and allows them to continue accumulating their wealth and gaining business, then we are contributing to all of those issues, and it's even worse when universities put on a face of social justice and advocacy and then on the side they continue to do what's easy instead of what is right."
Batalvi wants it to be clear that while she is well-researched, she is still relatively new to the movement. For further information, she directs students and others to Uprooted and Rising, a group that has been committed to educating students about big food on college campuses for years. The group can be reached on Instagram, @unr_now.
These big food companies profit off of prisons in multiple ways, Batalvi explained. For one, big food companies such as Aramark service private prisons, which are created when the prison system is outsourced to private companies. Private prisons are for-profit, meaning that they generate revenue off of people being imprisoned.
"What that means is their main goal is wealth because they are a for-profit business. They have no commitment to the people in those prisons, they have no commitment to the services they provide in prisons and a lot of the time they cut corners, that being something that Aramark has done. Their biggest complaint is that they don't care about who they have in those prisons ... they directly profit from mass incarceration. The more people in prison, the better it is for them, and that's something you can easily abuse with your power," Batalvi said.
She explained that because prisoners are one of the "most unseen, unheard" groups in this country, injustices committed against them — such as being fed food contaminated with airborne illnesses or lacking nutrition — are not often seen by a national audience.
"That means places like Aramark can get away with the multi-billion dollar lawsuits they've had because they're private. They're providing prisoners with smaller meals or bug-filled meals or dog food or whatever else they do. That doesn't get nationalized, that doesn't spark outrage on a widespread scale. That is something that stays kind of quiet," Batalvi said.
Additionally, Batalvi explained that Aramark also benefits from prisons by underpaying workers for their labor. Food service companies and other corporations are able to underpay prisoners through a loophole in the 13th Amendment permitting slavery for those convicted of a crime.
The 2016 documentary "13th," directed by Ava DuVernay, explores this issue on a deeper level and mentions Aramark by name when discussing perpetrators of the prison-industrial complex.
A 2015 article from the HuffPost also explained that although Aramark has generated billions of dollars in revenue, it is the sixth lowest-paying company in America.
Sapp believes that people should differentiate between Aramark in universities and the Aramark prison system.
"I think it's important to acknowledge the difference between Aramark higher education and then the Aramark prison system. I know it's all under the same company, but I think a lot of what the universities do compared to what the prisons do is very different," Sapp said.
Another national accusation regarding Aramark is that the company services U.S. Immigration and Customs Enforcement, also known as ICE, detention centers. While the company adamantly denies such claims on their website, 2011 documents from the ICE website show that Aramark did provide food to the centers at one point in time.
The company has also been accused of behaving in racist manners. In 2018, a dining hall operated by Aramark at New York University celebrated Black History Month with a special menu featuring barbecue ribs, collard greens and corn bread. The menu also featured Kool-Aid and watermelon-flavored water, beverages containing "racist connotations."
After a student brought the menu to the university's attention, NYU and Aramark were both quick to issue apologies, and the employees involved with the menu's creation were fired. Black employees at the dining hall were consulted regarding the food menu, but the beverage menu was created by two white employees.
The university later switched to food service provider Compass Group, although students have hoisted complaints against the new company as well.
In response to the national criticism, Aramark stated that they believe their company's actions are being misconstrued.
"We have become the target of a well-organized campaign questioning our role in providing important food and nutrition for people that are in the justice system. While we understand and respect the passionate debate around our nation's prison system and its disproportionate impact on black and other non-white populations, we disagree with how Aramark is being characterized and cast as part of the problem," Aramark said.
Aramarl explained that they provide rehabilitative services within prisons.
"We are committed to rehabilitating incarcerated individuals so they can transition to society.  We help rehabilitate them so they can get jobs upon release. We also provide scholarships so they can get degrees. In many facilities, the inmates who work in the kitchen earn money for their trust accounts and/or a reduction in their time served.  None of the information being shared online ever mentions our role with these programs and how they reduce recidivism by as much as 30%," Aramark said.
In terms of her goals, Batalvi explained that to generate real change from such a large company, you must start with specific areas and work your way up — and perhaps, there may not even be a chance for reform.
"The goal is to push Aramark toward real change, but when a company is that big and that broad and has had such an involvement for so long and so much of their wealth comes from this kind of system, the only thing you can really do to shut them down is to actually shut them down," Batalvi said. "I guess my point is that I, of course, I'm fully against their involvement in anything at all. I'm fully against their existence."
And as far as actualizing such change, Batalvi explained that petitions and email campaigns can only go so far. Students looking to bring awareness to big food on their campus need to work with student organizations, reach out to professors and establish connections on campus in order to present proposals regarding their requests.
Batalvi's ultimate goal is to see college campuses replace their contracts with large food service providers with partnerships favoring local food suppliers and farmers instead.
"What I see as the solution and what [Uprooted and Rising] have also argued is the solution is to switch from these food service suppliers ... to self-operated kitchens, so universities are controlling everything in their dining system, and to source out food from local food suppliers," Batalvi said. "That is the best way to cut food service out of that system and to make sure that the local suppliers that are around us, that are not getting enough attention, that should be in the market then can get support and then can get the monetary support of higher education."
This shift could play out in a number of ways, and Batalvi hopes that universities will explore all facets of this possibility.
"There are too many ways and too many options for universities to do nothing at all," Batalvi said.
This article has been updated to reflect a comment received from Aramark after the article was initially published. Vol Dining did not immediately respond to the Daily Beacon's request for comment.