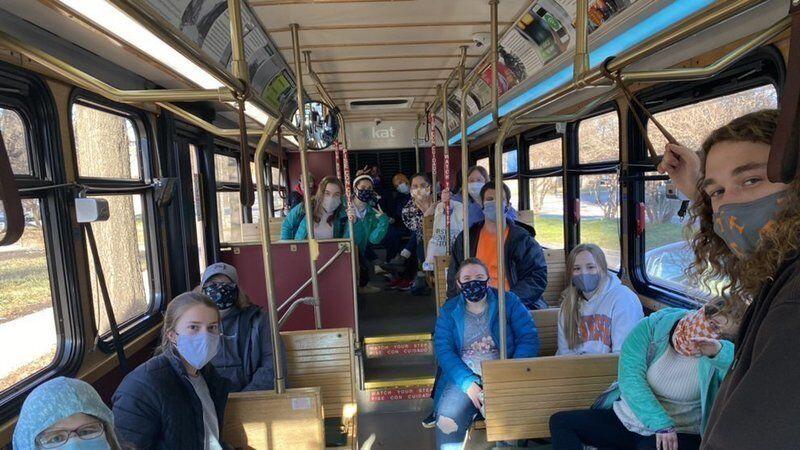 Sean Casey is an undergraduate student with a passion for transportation. When he noticed over the summer that only students in Knox County schools have access to Youth Freedom Passes on the KAT bus system, Casey wanted to make some changes and start a petition.
Casey came up with the idea of giving his fellow students in the FUTURE program, a postsecondary education program for students with intellectual and developmental disabilities, the opportunity to use public transportation through the same free pass offered to Knox County K-12 students.
FUTURE is a vocational certificate program that is work-focused, with many jobs and internships available. The students have found it's significantly easier to get to their jobs by using the bus routes. However, it's becoming costly and inconvenient.
"Most of the (internships) aren't paid," Casey said. "So it's kind of hard for some of us, at least, to pay to ride the KAT bus. And I thought that we could get the Freedom Passes, too."
The program has 23 students this year, normally ranging up to 30, all trying to gain experience in the work field. Emma Burgin, director of the program, explained that there have been numerous times the students have been limited to internship sites close to campus or downtown, where they could access a free trolley.
"If we were to have access to Freedom Passes for our students, we could not only have access to free transportation to work, but they would gain the life skill of being able to use public transportation while they're in the program," Burgin said.
Roughly two weeks ago, Casey got together with advocate intern, senior Mason Austin, to put together a petition and take the steps toward acquiring the passes.
"We have almost 1,000 signatures," Burgin said. "We shared it with our Facebook, Instagram and also here in the College of Education. I've also shared it with a commission for disability here at UT."
Over the last 10 years, UT and many other colleges have brought disability up to the level of visibility and discussion that other marginalized groups such as women, students of color and LGBTQ students have gained within the last few decades.
"Disability is one of the largest minority marginalized groups in the country," Burgin said. "So you know, there's thousands and thousands of students here on campus that live with disabilities. And so finding ways to support them … FUTURE is all about teaching students how to be advocates for not just people with disabilities, but for everyone."
"I'm just so immensely proud of Sean, because he has an advocate's heart clearly, and labeled himself an advocate, which I love. And I think he's a role model for not just the students, but for students at UT in general to have a passion for something, and try to make this a better place for everyone."
If FUTURE students are granted bus passes, then they would have a better understanding of public transportation by the time they graduate, and KAT would have many more active users.
Burgin continued to list the many benefits of public transportation.
"I think public transportation can be a nice thing for people," Burgin said. "It's not just cost-effective, but you can read or listen to a podcast. It's a way to start your day or to even wind down from your day, too."
FUTURE believes that the first step to doing something is knowing how to ask for it, a life skill that many struggle with. From there, advocate interns can help make dreams become a reality.
"Sometimes it's as simple as asking for what you need," Burgin said. "And that self-advocacy is where we start here at FUTURE, right? Because everyone has needs and support that they need. We just prioritize teaching our students how to ask for those things."
By initiating the call for Freedom Passes, Casey has proved that he already knows how to ask for the resources he and his peers need.
"If the university doesn't have a specific program or something that you want to like partake in, they can advocate for that," Casey said.
Casey is much more knowledgeable in transportation than most. He knows every bus route and even knows the manufacturers of the KAT bus. He also updates the CPTDB (Canadian Public Transit Discussion) for Knoxville area transits.
"I want to do something in the paratransit industry. But I don't know what yet. But for now, I'm kind of like a transit advocator for now," Casey said. "I think transportation is important because it helps people who don't have a car or who can't afford an Uber. It helps those people to get to where they need to go in a cost-effective manner."
Some of FUTURE's past projects include helping FUTURE students to join sororities for the first time and securing dorm living in Magnolia Hall.
"This is only our third year of housing, and then sororities and then, you know, this is our first branch outside of the university community for advocacy, but hopefully we'll make some waves at least," Burgin said.
The FUTURE program is still deciding its next steps on whether to take the petition to KAT or to take it to the city of Knoxville. They have contacted Stephanie Brewer Cook, ADA coordinator, and emailed a copy of the petition, waiting for next steps.