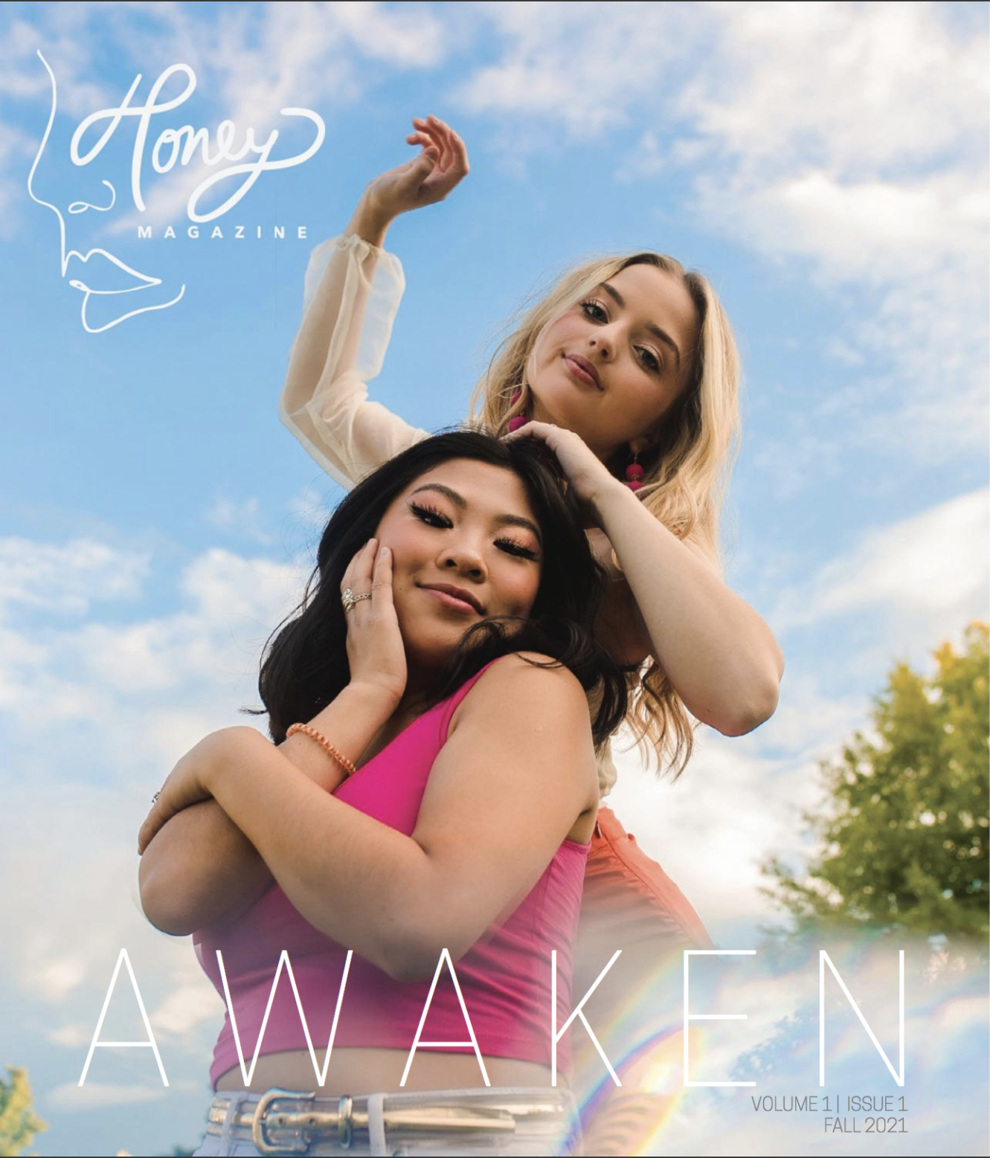 For the first time since it was established in Jan. 2019, Honey Magazine, the first feminist-focused student publication at UT, has published a printed magazine. The magazine edition, called "Awaken," is free to students and is available on news stands around campus.
With honeycomb motifs and a palette of soft pinks and yellows, Awaken positions articles on purity culture, tattoos in the workplace and student activism alongside traditionally feminine aesthetics.
Since it was founded, Honey has striven to create a space for female voices and issues on campus, while also following the evolving contours of the feminist movement and working to create change.
Before Awaken was officially published on Nov. 3, Honey's content was published online on the magazine's website. For junior Chloe Weaver, editor-in-chief of Honey, and the magazine's staff, the print edition represents years of hard work.
"I am learning more from every setback and success of Honey than I ever will in a classroom," Weaver said. "The journey to publishing a print magazine was two years of trial and error. In the weeks leading up to the issue release, it was easy to question if all of the stress was worth it."
Now that Awaken is released, Weaver says that the work has paid off, and that the effort helped to bring the staff together. She spoke in particular about the work of head designer Hayley Gomez and photo editor Leigh McTeer Shields.
"Watching them utilize their talents amazes me, and emphasizes the importance of bringing diverse skills together to accomplish something great," Weaver said. "When I step back from the to-do lists, I see a community of women who are driven and an audience who appreciates the work we put in."
Gomez said that overseeing the design of both the website and the first print edition has been a rich experience. She credited the photography of McTeer Shields as a special strength of Awaken. 
"Our message was to show the empowerment of women and showcase the amazing people across campus," Gomez said. "We hoped for our first edition to be a showcase of all the hard work we've put in from the beginning. Our first print was not an easy feat as we worked non stop making sure every picture, article and design were cohesive to intrigue readers but mostly to be able to show our campus what Honey stands for and encourages by our best so far."
Gabby Bellot, senior and co-content editor, said that the theme of the first print magazine was chosen both because of the newness of Honey and because of the long future the publication hopes to have.
"Honey's first edition reflects the newness of our organization. In the same vein, we chose the theme of Awaken to show that we all were coming from a place of inspiration and excitement," Bellot said. "The process for making this issue also reflects the core of Honey: uplifting collaboration. We worked hard to connect work across all departments, from content to graphic design to photography."
"This was a really impactful learning experience for all of us. I think we're just excited to keep working and making our next issue even better!"
Honey is not only a collaboration between the photographers, writers, designers and editors who make up its staff. With content that includes features on sustainable fashion, social media personalities like senior and TikTok star Gabby DePietro, Britney Spears' infamous conservatorship and men who are feminist, Honey is also interdisciplinary in its own right.
Weaver said Honey's first issue will by no means be its last, and that holding a print magazine in their hands has given staff members the confidence to push forward towards more issues and more advocacy.
"Thinking about the future of this magazine gives me chills. I believe it will benefit so many people," Weaver said. "Whether they are staff members, readers or local businesses, Honey Magazine is bringing people together and I am so glad to be a part of the journey."