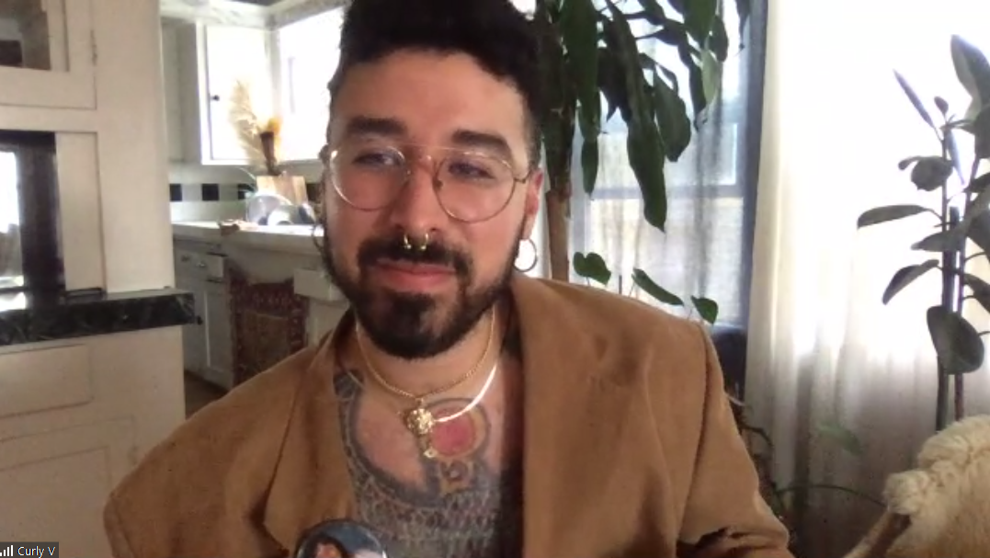 On Monday night, the Latin American Student Organization (LASO) hosted Buzzfeed content creator Curly Velasquez. Velasquez had visited the university virtually via Zoom and LASO hosted a watch party at the Frieson Black Cultural Center.
Velasquez is best known for his work at Buzzfeed and the channel Pero Like, and he spoke about certain areas in his life that led him to where is today.
He spoke about his issues with drugs and alcohol when he was in his early 20s while working as an assistant to fashion designer Jeremy Scott and photographer Dave LaChapelle as well as some of the anxiety he felt growing up queer.
That anxiety introduced him to fashion and fashion design after he offered to make a few prom dresses for some girls while in high school. That led him to some of his jobs assisting photographers and designers, and it gave him some opportunities to meet celebrities such as Lady Gaga.
What he thought helped was the fact that he was young and annoying. He even told the audience to "take chances now, be annoying now."
While first working at Buzzfeed, Velasquez was working in the kitchen unloading Costco orders. He was still struggling with drugs and alcohol and started to do some sex work as well. His job at Buzzfeed helped get him out and offered him some support.
Former Buzzfeed creator Quinta Brunson had talked to him after seeing the 2015 live action adaptation of "Cinderella" and noted how Cinderella, played by Lily James, would always say to "be kind and courageous."
Since then, Velasquez has adopted that line as his life motto and shares it with everyone as something that can help keep you going. That also led to him finding himself once again and to the start of the channel Pero Like where he and other Latinx content creators make videos about culture, history, periods, sexuality and mental health, all from the viewpoint of someone who is Latinx.
When it comes to the term Latinx, a gender-neutral term for people of Latin descent, many are divided on the use. There are some who don't understand the term or are hesitant to use it. But for many Latinx artists like Velasquez, the term invites inclusion, especially in some spaces that they might not see that.
Some students and faculty mentioned that in Tennessee there isn't a large community they can reach out and relate to, but on campus they have found a community that is supportive and understanding.
Senior studying sociology Sheynne Johnson talked about the difference in living in Chicago and moving to Tennessee as someone who is African American and Puerto Rican and not having much of a community in her neighborhood that she can use for guidance and support.
"Coming down here was quite different … the part of town that I live in, there's shops in this part of town because it's like the rich part of town," Johnson said. "So people would be so confused and were like 'you know how expensive it is living up North, this is just what we're used to.' In the part that we live in, there's maybe three or four (Latinx) families, so you know and people would just talk about it."
Velasquez also spoke about dealing with anxiety and how telling himself one thing — like you are already out of bed or you can't get back in bed if you are in the shower — can help keep him focused and help him stay in the moment and not dwell on other things that may be going on.
The talk wasn't all serious though, as Velasquez opened up the floor for any comments or questions, including ones about Latinx icon Selena Quintanilla and the different adaptions of her life. Velasquez ended the talk with fun Zoom photos and some advice that can help anyone who may have a lot of negativity in their lives.
"You can do it … the world is a scary place. People in your life will not support you. People in your life will tell you that you're too this or you're not good. People that are not your friends will not be happy for your happiness, but find people who are," Velasquez said. "It exists. Lean into your dream, lean into the whisper of your life that's telling you 'I kinda wanna sing or I kinda wanna act …' You deserve it, especially in those communities that you're not given that."
LASO will be hosting more events throughout the month that can be found on the university's calendar of events.