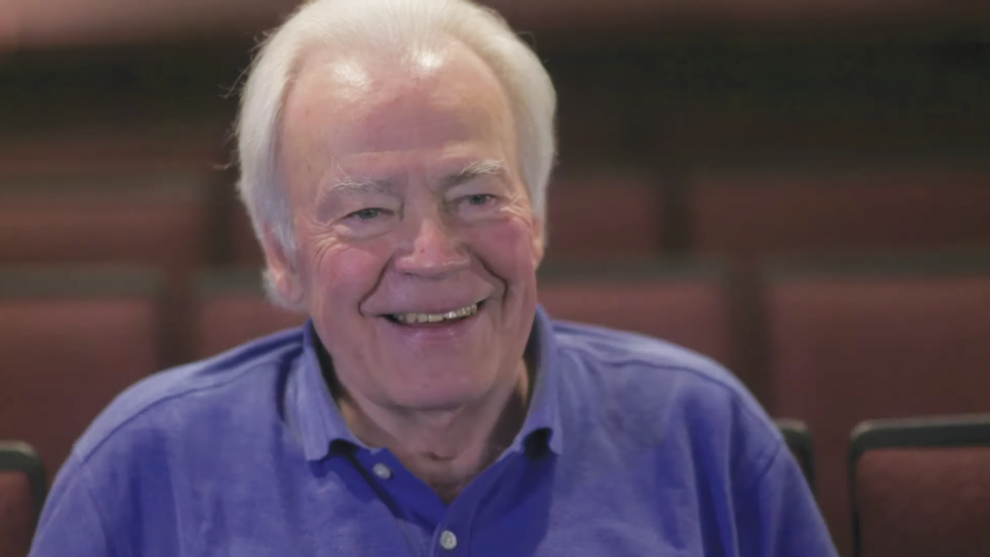 William Burton Larsen, a beloved longtime professor of cinema studies, passed away on Sept. 7 at the age of 73.
Bill Larsen taught at the University of Tennessee for 31 years after earning his doctorate degree. He taught high school in New York for 20 years prior to his time at UT. He led the cinema studies courses for the English department before it became its own department in recent years. He primarily taught Intro to Film Studies, Writing the Screenplay and Film in American Culture, the latter alongside professor Charles Maland, who retired in 2019.
Larsen was in the hospital for a heart-related health issue after retiring from teaching this spring. His sister Nancy accompanied him in the hospital during his final days. They wrote part of his obituary while he was in the hospital.
Bill Larsen is remembered worldwide by faculty, friends and students.
Co-chair of cinema studies Paul Harrill gave a statement about how he and the department have handled this news.
"I've known Bill since 1993 when he was a grad student, and many of my colleagues have worked with him for more than a decade," Harrill said. "So all of us, as well as so many recent students and alumni, are heartbroken over Bill's passing. I have heard from students, some literally on the other side of the world, who have written me to share their sadness."
Harrill added that he and the department are planning a memorial event and film screening on Nov. 6 to honor Bill Larsen.
Professor Charles Maland was one of Larsen's closest friends and colleagues. He got to know Larsen over many years, initially as a student until he began to teach at UT. Maland said that outside of teaching, he and Larsen often got dinner with friends or watched UT sports, heckling the decision making and play calling of the games.
But film, teaching and students were what Larsen poured his heart into. As many students will tell, Larsen was strict, often delivering severe feedback on assignments, impossible exams and a tough demeanor in the classroom.
However, his thorough grading with multicolored pens, as well as his interest in student's well-being and skills, left impressions on students.
"That's kind of the way he was," Maland said. "He was demanding of students, but he cared about his students, and I always thought that Bill did not suffer fools."
"But if you stuck with him and did your best, he was with you. He would work with you. He would encourage you and he would try to motivate you. He always wanted people to pursue their dreams and to develop their talents the best they could."
Maland compared Larsen's outlook on students and people to Immanuel Kant's Categorical Imperative, which proclaims to treat people as ends instead of means.
"I just think the impact that he had, had so much to do with both the care and hard work that he did in responding to student work, but also his just genuine interest in his students as human beings, and each were different," Maland said. "We're all different human beings and if you're in a big university, it's easy to … feel that you are just an ID number. But I don't think Bill ever thought about his students that way."
This care was not lost on students. Film editor Ben Murphy knew Larsen since he began at UT. He sent statements while working on "Avatar 2" in New Zealand after he heard about his death. He said that he was glad to have been able to take Larsen's courses every year that he attended UT and have him as a mentor afterwards.
"His classes were some of the highlights of my time in college, and he easily belongs on the Mount Rushmore of mentors I have had," Ben Murphy said. "His classes were conversations. He had a lecture style that's full of energy and he could get really loud at points, and that was part of his charm. Be it a film theory class or a screenwriting class, he captured your attention and forced you out of your comfort zone."
Ben Murphy echoed Maland's comments about Larsen and how he cared for students, citing how he never accepted lesser work. Ben Murphy said that that aspect about Bill Larsen made him want to work even harder.
"I wanted to make this man proud," Ben Murphy said. "He put in so much work into our papers, all the multicolored marks. If he gave that much care to each and every one of our papers, that made me want to put in that much more effort. I was never that brilliant of a writer, but I knew I had a talent for creating stories outside of the page."
Ben Murphy was recommended to Larsen by his older brother, filmmaker Scott Murphy.
"Ever since I was a kid, I had a passion for film, and I had never met anyone who shared that same passion until I met Bill Larsen in Spring 2008," Scott Murphy said. "No teacher cared as much about their subject or their students appreciating their subject like Dr. Larsen. There wasn't a single class of his where I didn't learn something that has resonated with me."
He added that Larsen pushed him to become better, more so than any teacher he ever had.
"The essays and scripts I wrote for his classes are the only assignments from college that I still hold onto to this day," Scott Murphy said.
He concluded his statement with a moment that he looks back fondly on his friendship with Bill Larsen.
"When I finished at UT, I knew I wanted to direct my first feature film," Scott Murphy said. "It took two years and a ton of work to get it done, but once I finished, there was only one person I wanted to screen it for: Dr. Larsen."
"He invited me over to the Hodges theater one day, and I screened my film, 'Ain't It Nowhere,' in the same room where I watched countless films in his classes. After the movie finished, he and I talked for hours about the film and what all he enjoyed about it. It is still to this day, my proudest moment as a filmmaker."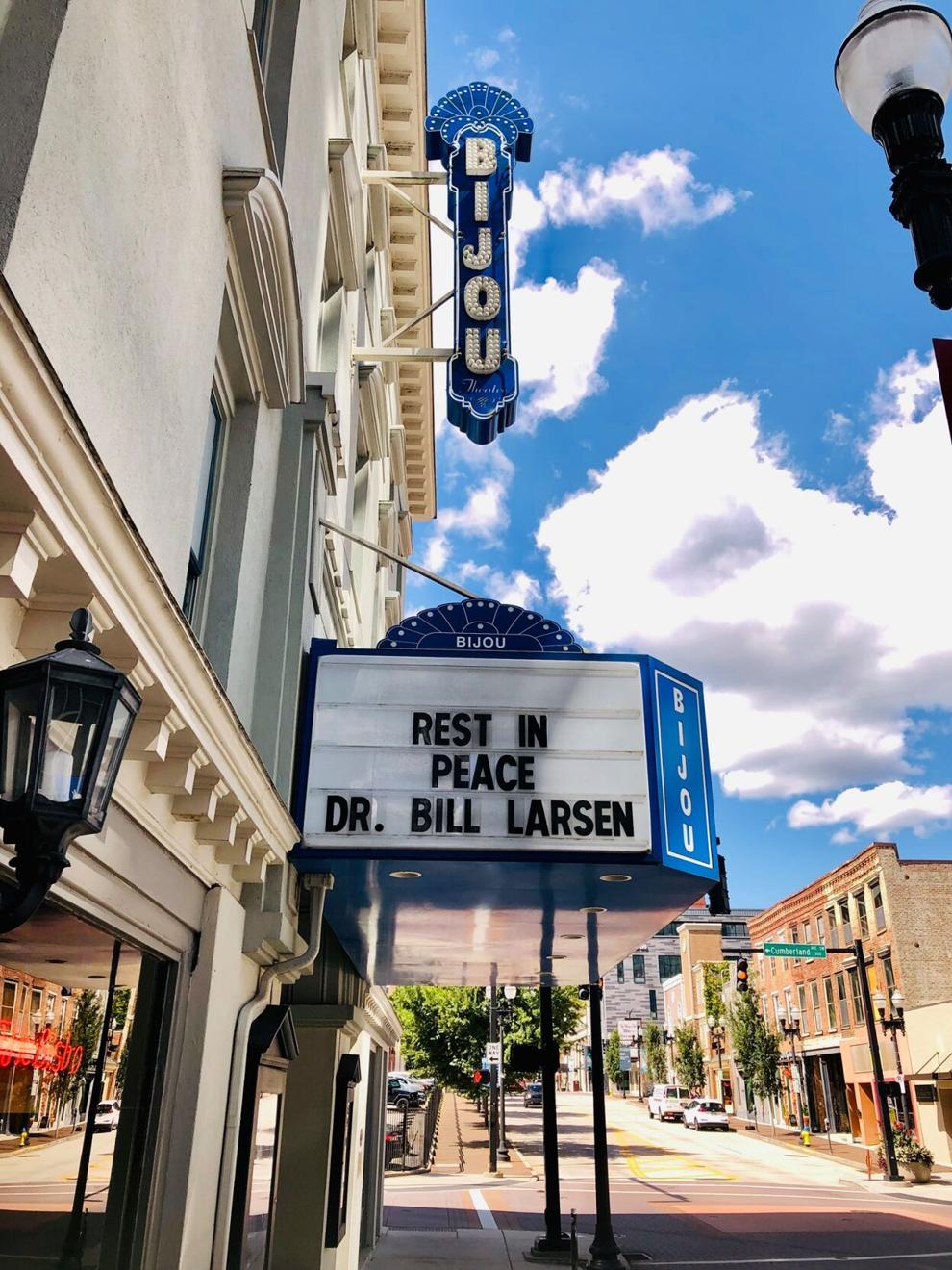 Recent students of Larsen have been able to resonate with his teaching style and personal sentiments. Cinema studies senior Olivia Aylsworth spoke about her experiences with Bill Larsen.
Aylsworth only took two of his classes, Intro to Film Studies and Writing the Screenplay. She connected with him and his New York persona because of her family's northern roots. Through those two classes, Larsen left an impact on her.
"Dr. Larsen has taught me so much throughout my small amount of time that I've had him in class," Aylsworth said. "He's impacted how I've wanted to go forward in my career. I never thought writing scripts is something that I'd ever want to do, and I'm not sure if it's still what I want to do, but it's definitely something that I take more into account because I've had him as a professor. I guess just the way that I look at films, I have a different viewpoint because of him."
She was previously aware of his health situation, keeping that information private at his behest. When the news reached her, it still came as a shock to her, and she reported feeling "speechless and heartbroken."
"We lost a monumental figure at UT," Aylsworth said. "It sucks because he has taught so many students throughout the years, ... and when I hear people who haven't had him or have heard of him but have always wanted to take him, it makes me sad that they'll never experience that."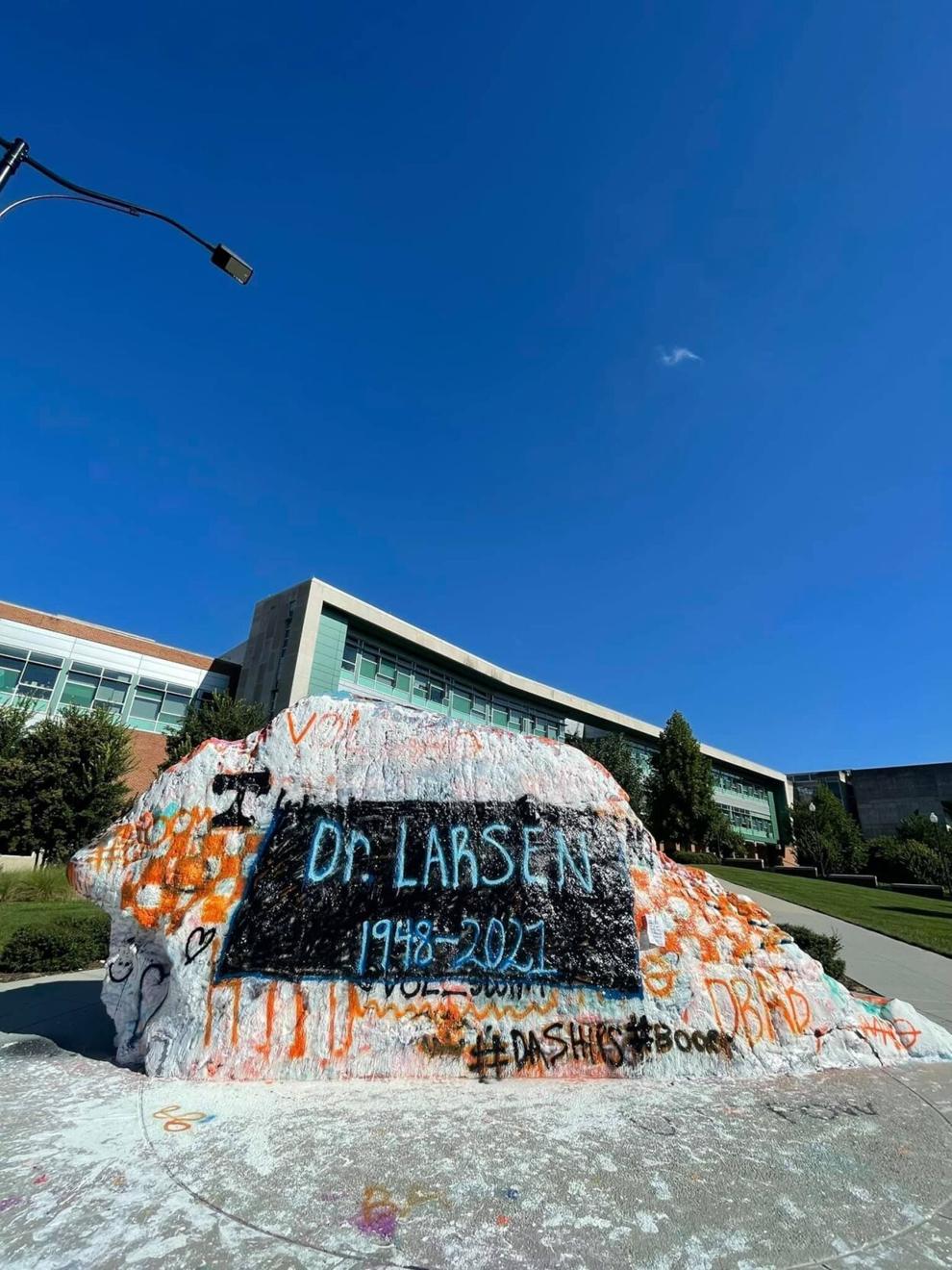 But Larsen's impact and unique character led her to create a short documentary with him as the primary subject, simply titled "Larsen," for one of her classes. She worked with Bill Larsen and Charles Maland closely, filming conversations and interviews with them to portray who Larsen was. She also filmed several students detailing their experiences with Larsen.
After his death, Aylsworth's documentary resonated with people who knew Larsen, getting reposted and shared online. She plans on creating a longer version of the film, but is happy that people get to experience who Larsen was through her film.
"I'm glad that so many people have been able to see who he was and just the little quirks and everything that the students that do know him know," Aylsworth said. "It's really crazy to me, because it just started out as a small documentary for my class … and the video has gone a lot farther than I thought it would."
Maland complimented Aylsworth's documentarian skill for understanding who Bill Larsen was and conveying that to the viewer. Maland remembered a question that Aylsworth asked Larsen at the end of the short film, which showed part of Larsen's softer side. She asked him about why he thought she chose him as her film subject.
"And then he started tearing up," Maland said. "And he said, 'I can't do this. It will ruin my image!' But that memory will linger in my mind for a long time and it says something about the skill of Olivia as a filmmaker, but also about Bill as a person."
Larsen connected with people outside of UT as well. He regularly visited Barnes & Noble, sitting in the café section as he graded papers and ordered the same drinks, always tipping the baristas a $5 bill.
He got to know the staff there over time, including Eli Heaton who currently works for Big Slate Media. Heaton met Larsen as he was still figuring out his academic career. They connected over the topic of film and their mutual love for Ingmar Bergman. Heaton said that Larsen became the reason that he went to UT, leading him away from an expensive offer at the University of North Carolina School of the Arts.
"Best decision I've ever made, and I can say that, that was because of him," Heaton said.
He didn't take many of Larsen's classes, but he was still able to see him regularly at Barnes & Noble. This culminated into different trials and tribulations. One such instance that Heaton shared involved a time that he missed class for a week due to mental health reasons. He went into work that weekend and saw Bill Larsen, who gave him some encouraging words to keep going that Heaton will remember forever.
"He taught me to not get in my own way, and to get out of my head and to get out there and chase what I think I should chase," Heaton said.
When the news came to Heaton, he did his best to keep his composure.
"I was at work, so I had to maintain a pretty straight face, and a couple people at work here had taken his classes … so I told them and then I had to keep a straight face," Heaton said. "After work, I had to go help with some family stuff, so I had to keep a straight face. Finally, I pulled up to the house and I told my girlfriend, 'I need to watch this film that Olivia has made, and I really need you to watch it with me.' I just broke. I sobbed for like three hours."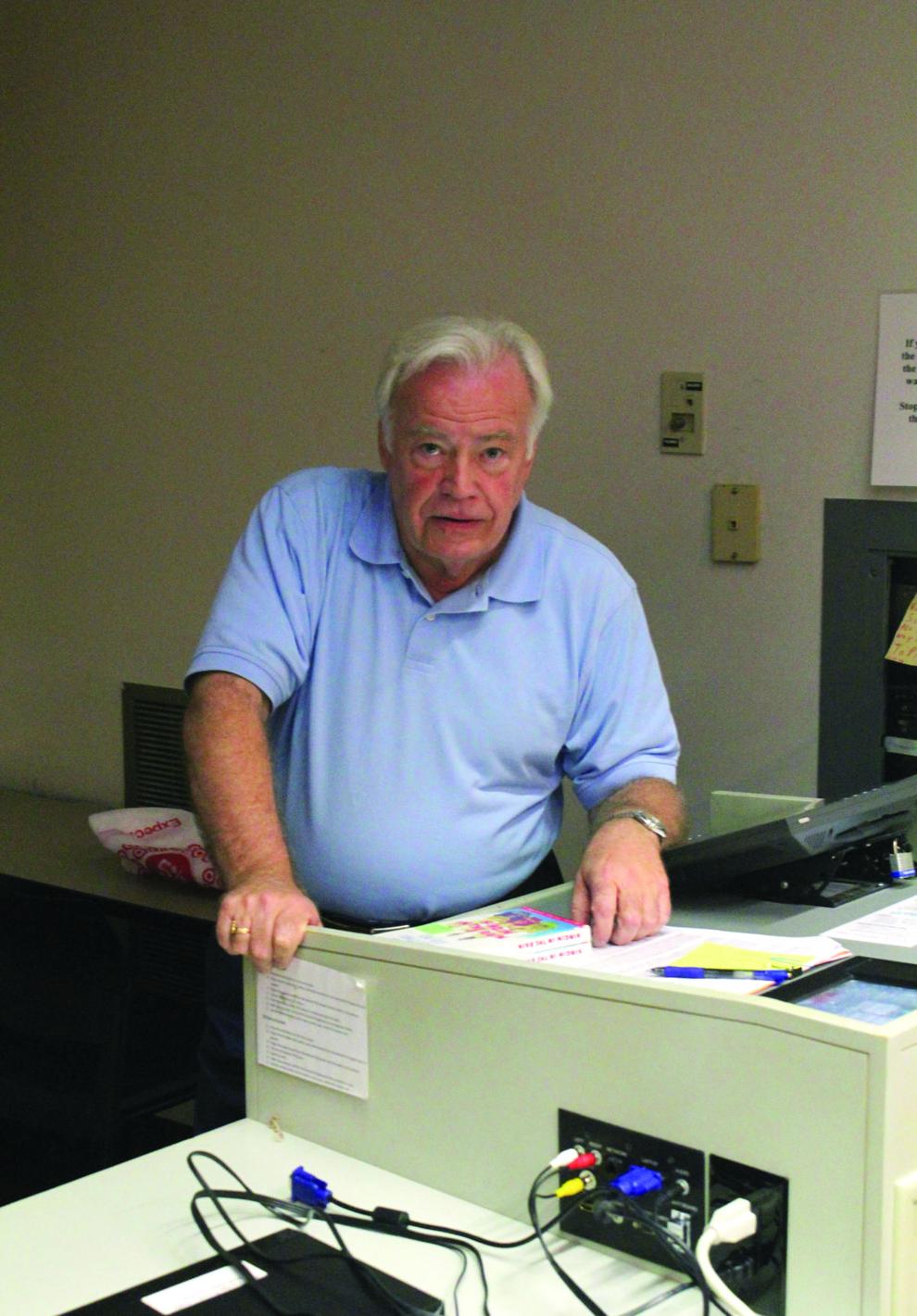 Bill Larsen was the kind of professor who created emotional bonds with students. As seen from student's experiences and stories, Larsen showed a sentimentality towards everyone he knew. He pushed hard because he knew that his students could do well.
"There are countless stories like that of people just like me who have such a special relationship with him," Heaton said. "And that's just not a common thing. You don't get that with a lot of professors."
This sentimentality was never more present than his gift giving. From basketballs signed by Pat Summit to stacks of books with personal notes inside, Bill Larsen knew exactly what to give people. Along with filming the documentary, Maland said that the signed basketball is one of his favorite memories of Larsen out of the thousands that they shared.
Heaton's favorite memory of Larsen was a time that he got to gift something to Larsen. With the knowledge of his love for Martin Scorsese and Edith Wharton, Heaton gifted Larsen the Criterion Collection blu-ray for "The Age of Innocence'' right before Christmas.
"He took it, he said 'Thank you,' and the usual 'Oh wow' Larsen-isms, but he walked away pretty quickly, and I think he was going to cry," Heaton said. "I just wanted to repay the favor, and that paid off."
Some people's favorite memories of Larsen came from working directly with him. Ben Murphy recalled a film assignment for a production class.
"We were filming inside of this elevator, and the script we were given required a small role of someone who was sick and coughing and grossing out the main characters in a small elevator. And I thought wouldn't it be great to get the man himself to have a cameo in the project?" Ben Murphy said. "We shot with him for about an hour. He was so gracious with his time to be in this small class project. I'll remember it forever."
Aylsworth's favorite memory also came during a time of film production. She needed to record some b-roll within Larsen's office, which was one of the last times she saw him.
"I just had a long conversation with him while filming … and he just made sure that I knew that I was important enough and I have the courage to be able to do what I want to do in life," Aylsworth said. "That will forever stick with me. Because I've been told to like follow my dreams to an extent, but he made sure that I knew that if that's what you want to do, if that's what makes you happy, then you just go for it."
Finally, Harrill relayed a recent memory that showcased Larsen's love for his students.
"Late last semester, our faculty were voting on an award for Outstanding Graduate in cinema studies," Harrill said. "Bill was in the hospital at the time, and he wrote me an email from his hospital bed strongly advocating for his choice! To me, that says everything about his Bill's passionate personality, his commitment to cinema studies and his dedication to mentoring and celebrating its students."
As most students will say, a class taught by Bill Larsen was unlike any other class offered. He was tough and strict, playing into a gruff persona brought on from his time in New York. But if students got to know him or began to understand his teaching methodology, Larsen revealed himself to be a kind, caring and sensitive individual and teacher that only wanted to see the best out of everyone.
"Dr. Larsen has impacted so many people, pretty much around the world, because his students have gone on to do so many amazing things, and we all owe it to Dr. Larsen because of the dedication and thought that he has put into all his students," Aylsworth said.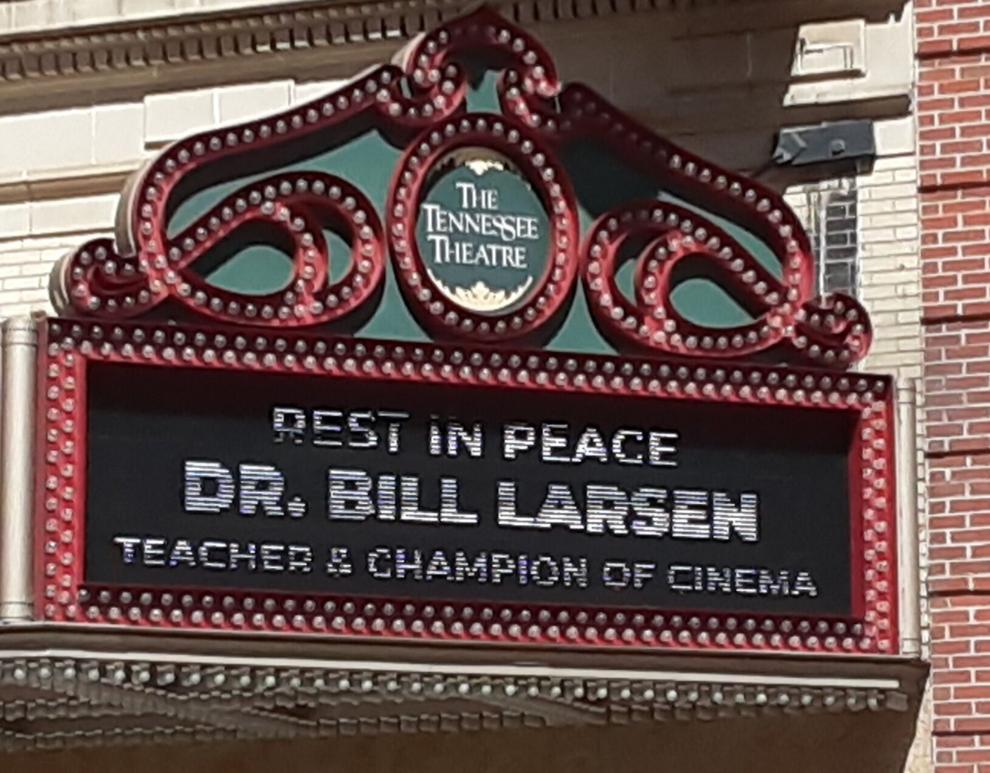 Bill Larsen will be missed, with several faculty, colleagues and students carrying on his legacy.
"Here's to a man whose legacy, love and light spreads across the globe. Rest in peace, Bill," Ben Murphy said.