After enduring a year of Zoom breakout sessions and trigger-happy mute buttons, students returned to campus this semester with the promise of in-person classes — and, as of now, it appears that the university intends to keep this promise. 
With last week's expansion of the campus mask mandate to include all indoor spaces, students wondered if this indicated a worsening of COVID-19 case numbers and a possibility of returning to virtual schooling. 
According to data monitoring on UT's COVID-19 website, the number of active COVID-19 cases on campus has been leveling off after an initial rise, and the number of new cases is declining. 
On paper, it appears that the university is cresting the initial surge of infections that resulted from students returning to campus. However, the accuracy of UT's COVID-19 data is subject to question. 
In surrounding Knox County, COVID-19 case rates have been on a steady increase since the start of August with no indication of leveling off. It's also possible that COVID-19 infections on campus are being significantly underreported, as students are expected to self-report. 
Theresa Lee, dean of the College of Arts and Sciences, believes that lower case rates on campus could be attributable to higher vaccination rates on campus as compared to Knox County. However, because the university is not tracking rates of vaccination on campus, the university is neither able to confirm nor deny this speculation with data. 
Lee emphasized that if students want classes to stay in-person, they should protect themselves from the virus.
"Best thing students can do is get vaccinated and wear a mask when you are indoors or in dense crowds," Lee said. "That is the best thing students can do — stay healthy."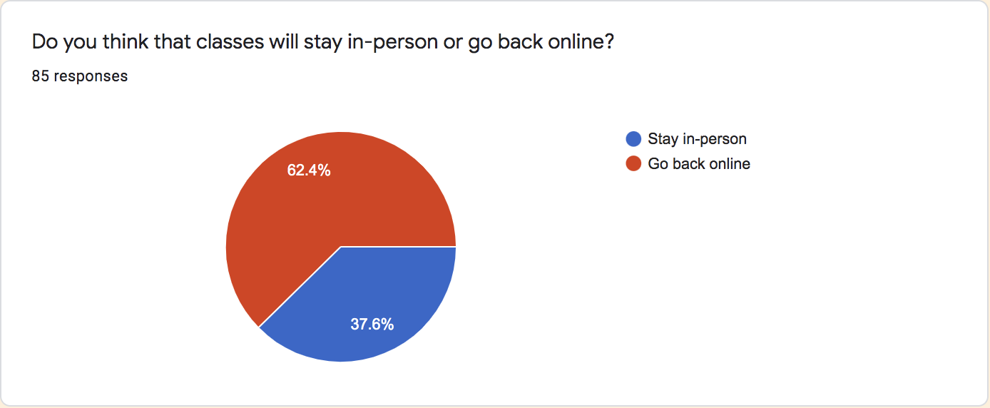 Regardless of current infection numbers, the university shows no indication of returning classes to a virtual format. Terry Higgins, lecturer in the Haslam College of Business, expressed a desire to keep classes in-person for as long as possible. 
"We have an experience here at UT, and the goal is to keep that intact," Higgins said. 
Rather than ping-ponging between online and in-person classes, the university hopes to maintain consistency throughout the semester — for the benefit of both students and instructors. 
Inevitably, situations arise in which instructors must quarantine or miss class for other reasons related to COVID-19. In those cases, Higgins explains that department heads work with those instructors to assess all options on the table, with the goal being to maintain the in-person format of the class. 
The university also acknowledges that student attendance is being impacted by the pandemic — which is why instructors have been asked to remain flexible with their attendance policies. 
As noted by Emily Landry, a professor in both the Haslam College of Business as well as the Department of Sociology, faculty are attempting to make this semester less stressful for students while still offering in-person instruction.
"My approach to teaching right now is to keep a human face on everything we're doing and not penalize students for the stress and the very real circumstances they could be facing," Landry said.
Although instructors have not received indication that classes might be moved back online, most are prepared to make the transition at a moment's notice. 
"I've prepared my classes to go online at any point," Landry said. "I can do that if I have to." 
It's also not within the power of individual instructors to decide whether or not to hold their classes in-person. A small number of instructors have attempted to move their classes online without departmental approval, and as a result, are receiving complaints from parents and blowback from departmental heads. 
"It's being dictated that we're not moving classes online," Landry said. "We're being encouraged to be creative in minimizing contact." 
Landry appreciates the freedom that the university has given to instructors to be creative with their classroom policies. However, it also burdens instructors with the task of continually reevaluating the costs and benefits of their classroom approaches.
This story will continue to evolve, but as of now, the university remains committed to maintaining the in-person format of its classes. Their goals are clear: maintain consistency throughout the semester for its students and staff, and provide a classroom experience that is more enriching than what Zoom can provide.