As the conversation around housing and food insecurity has grown amidst the topic of college aged students experiencing homelessness, so too have the resources being offered.
While the permanent solution of college youth homelessness is still in the works and may take years to implement, there are several current organizations which can extend a helping hand.
Smokey's Pantry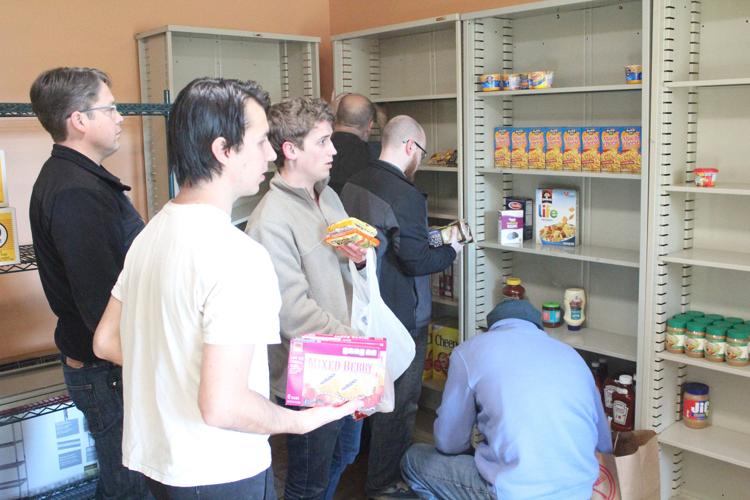 Located off of Melrose Place, housed inside the Lutheran and Episcopal Campus Ministry's Tyson House is Smokey's Pantry, a FISH Hospitality pantry on UT's campus.
Smokey's Pantry, open Tuesdays from 4-6 p.m. in the fall and spring semester, is a free food pantry where individuals can come as often as they need to pick up both food and hygiene products.
Started in January 2016 as a partnership between the Tyson House Student Foundation, the Office of the Dean of Students, the Student Government Association and the Office of Sustainability, the pantry has become a vital source for those struggling with food insecurity on campus.
"It opened because one of our residents at Tyson House had experienced food insecurity and so she knew the need first hand," said Director of Smokey's Pantry Caitlynne Fox.
Fox has worked with the pantry since the fall of 2018 when she started as an intern. Now, she waits in the main sitting area, greeting the Volunteer community as they come through the doors.
Fox said that on a typical Tuesday, they serve about 60-80 families — the number of people who physically come to the pantry — during the two hours the pantry is open.
Fox explained that similar to their partner FISH Hospitality Pantries, Smokey's Pantry doesn't take any qualifying information — that means no identification or financial statements are needed to prove that guests need food.
"That's really important for college students, especially because they may not have any financial statements if they've never had a job before or if their parents may have things like that," Fox said. "So it can be a big barrier to get access to food if you take anything more like that."
When individuals come into Smokey's Pantry, Fox said they simply ask for their name, their address or phone number, a zip code, how many people are in their family and if they are a UTK student. This information gives the operation an idea of how it serves the UT community and how to expand services as needs grow.
Research found in a 2018 University of Wisconsin HOPE Lab report showed that one in three college students nationally dealt with low food insecurity, meaning they had trouble getting adequate food within 30 days.
Fox said that the same is true for Tennessee Volunteers.
"I think one of the biggest things is that you don't have to be like in your mind's image of what a hungry or homeless person looks like to come to a food pantry," Fox said. "People that come to the food pantry look just like me and you, look just like everyone you sit in class with. Even some of your professors and the facility service workers you see on campus."
"We're here for all Vols. That's kind of one of our founding principles is that it's a food pantry for all Tennessee Volunteers," Fox added. "So that means students, faculty, staff and community members."
Fox said that right now, the pantry is focused on continuing to provide for the community, either by extending the pantry's hours or providing a second distribution day.
Smokey's Closet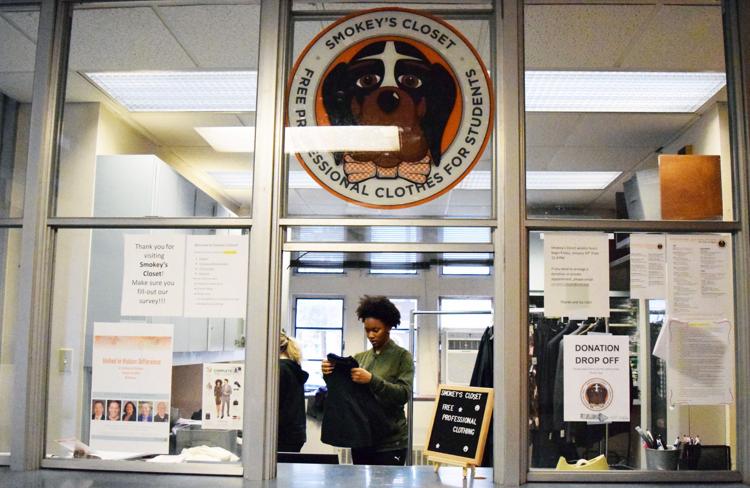 Smokey's Closet, founded by SGA in 2016, provides undergraduate and graduate students with free professional clothing. The idea behind the closet is to help college students find professional clothing so they can "feel confident in all professional environments."
The closet primarily helps students find affordable business casual clothing.
"It's not always about just having so much aesthetic, like big buildings and lots of classrooms, but it's about the basics," said Camille Brown, the closet's director and a junior in retail and consumer sciences. "Like do we have food, shelter and clothing for our students so that they can not worry about the safety needs and the psychological needs. Are they able to have the confidence to walk in a classroom and raise their hand and not feel like people are looking at them in a crazy way."
"Or can they kill the interview and not worry about if the interviewer is looking at the clothes and if they have on the right thing," she added. "And so it's like just doing that and seeing like from the data that we're collecting, like how many students are actually being helped is amazing."
And while the closet's purpose is mostly to provide business professional clothing, there are also essential clothing items available. Brown recalled a time when two international students were able to get warm coats during an unexpected bout of cold weather.
The store recently moved to the ground floor of Greve Hall during the 2019-2020 school year where it is open from noon until 4 p.m. on Fridays.
Big Orange Meal Share
Big Orange Meal Share is a short-term meal assistance program which aims to help those facing food insecurity.
Students in need of a meal can go to the Office of the Dean of Students' website where they fill out a short form to determine a need-based allotment for each student.
The process to get the meal swipes happens pretty much overnight, said Abigail Brumfield, coordinator in the Office of the Dean of Students.
This past fall, Brumfield explained that Vol Dining donated 1,000 meals to the Office of the Dean of Students to be used as a part of Big Orange Meal Share. Those meals were on dining cards similar to a guest meal card and the cards were loaded with five, 10 or 20 meals per card.
Prior to the fall semester, students donated their unused guest swipes to the program. Each dining plan comes with guest swipes; however, many go unused as students are unaware of the option or simply have no need for them.
When the unused swipes were donated, Brumfield explained that the process was time-consuming, moving the donated swipes from a pool to individual accounts, and so the program transitioned to the pre-loaded cards from Vol Dining.
"Students being able to donate their meals is an important part of this process and I think all the campus partners are committed to it, but wanting to make sure it's efficient and can meet students' needs," Brumfield said. "So I think we'll continue to look at that."
The program is sponsored by the Office of the Dean of Students, Vol Dining and Swipe Out Hunger, which is a national organization working to help people understand the unseen epidemic of student hunger.
The program is available through the spring, summer and fall semesters, but the summer semester goes at a different pace.
"How can we make students feel comfortable and that there's nothing wrong with asking for help," Brumfield said. "But that's really a message that we share from the Dean of Students' office, too, that we're here for you, you're not alone. You're not the only one experiencing this and also, when you reach out, we're going to help."
If any student is experiencing housing or food insecurity on campus, these are a few of the resources offered through the university to help students get through tough times. All students have to do is take the first step in reaching out to be connected with those resources.