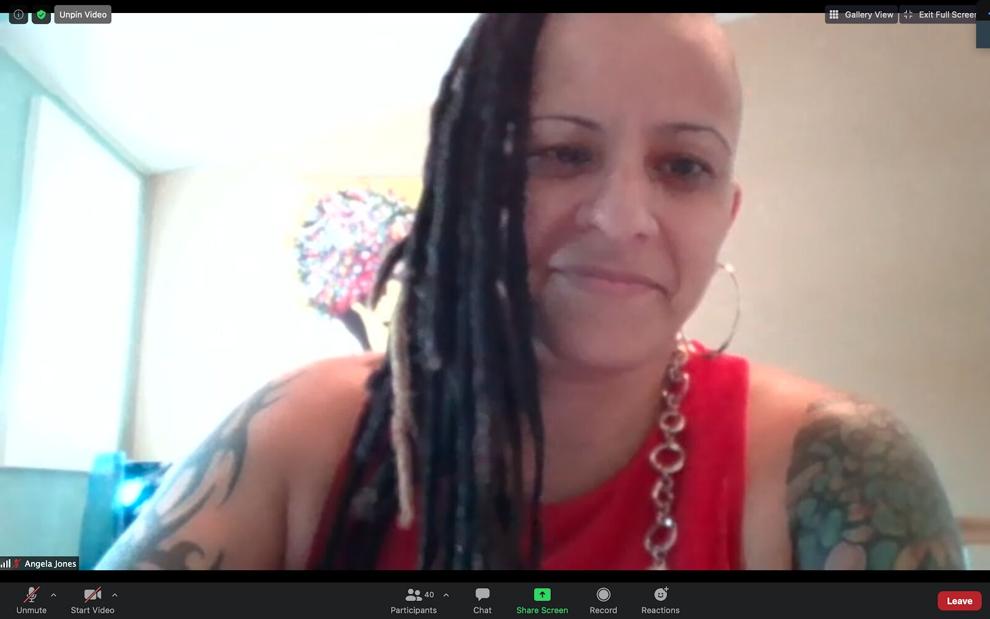 Sites like OnlyFans have only grown in popularity since they were founded, resulting in an increase in cam models specifically and sex workers overall. Rather than working the traditional nine to five desk job, some are drawn toward the sex work industry instead. 
The idea of "camming" is appealing because it has the potential to yield high profits and reports extremely high rates of job satisfaction because of its sole focus on pleasure. 
In a lecture series presented by the Interdisciplinary Program in Women, Gender and Sexuality, Angela Jones discussed the current climate of the webcam industry. As an associate professor of sociology and coordinator of WGS Studies at SUNY-Farmingdale, Jones detailed her unique research in her book titled "Camming: Money, Power, and Pleasure in the Sex Work Industry."
In her candid lecture, Jones discussed the implications that come with sex work and the hardships people of all genders encounter in an industry dominated by capitalism. She prides herself on being "unapologetically political" and absolutely refuses to censor herself. 
Due to the rising costs of living in society and a stagnant minimum wage, many people are struggling to provide for themselves, Jones explained. This is then driving them to seek other alternatives for work, such as camming. 
"It is critical to note that it is the failures of global capitalism and capitalist industries to provide workers living wages that drive people to cam," Jones said.
Throughout the entirety of her speech, Jones repeatedly mentioned the dangers of capitalism and how it affects sex workers.
"Capitalism has always been an important system to interrogate and challenge, but I think it is really important to think about how the system of capitalism also overlaps with all of these other systems," Jones said. "We have to continually be linking those identities to those systems of social stratification. … Those identities are located in very real systems that privilege some, disadvantage others, and cause very serious real world harms to people's lived experiences and to their material realities." 
By examining certain individuals who influenced her work and describing their personal stories, Jones noted the institutional systems affecting these people as a form of oppression. She was able to successfully do this by also drawing from her own experience as a sex worker.
"As I've come to learn, the camming industry is not a utopian paradise. It is an exploitative capitalist marketplace that also reproduces white supremacy, patriarchy, heterosexism, cisgenderism and ableism," Jones said. 
For example, Tiffany, one of the workers mentioned by Jones, works out of a studio rather than her own home. Some of the disadvantages of this include only being allowed to take a slim percentage of the overall profit she is making. Instead, the studio and the cam site take a large percentage of the money. 
Tiffany's stage name is also not legally hers to own. If she wanted to leave the studio in the future, she would not be permitted to take her name with her. This could result in extreme consequences, such as losing the personal following she originally obtained, Jones explained. 
Jones then highlighted the benefits of the webcam industry in comparison to other forms of sex work.
"Camming provides a unique space for sexual exploration, whereas strip clubs are highly regulated environments," Jones said. "According to cam models, the camming industry has opened up opportunities for people around the world who before would have not performed sex work." 
While cam sites have provided safer forums for people to work, sex workers are still subjected to discriminatory practices through the regulation and flagging of videos. By prohibiting certain sexual acts, these sites are in turn "limiting pleasure" and subjecting individuals to forms of policing.
Through the process of studying these sex workers, Jones found a common pattern.
"A key finding in my research is that … the gender pay gap is inverted. Women's wages far exceeded mens," Jones said. "There is simply a higher market demand for sexual services performed by women than men in this field."
While this is true, everyone's experience in this industry is radically different, Jones explained. Despite all women being paid relatively the same amount, Jones mentions that cisgendered women report dissimilar experiences compared to trans women. 
Jones explained the gender gap in the sex industry through a new, alternative perspective. 
"However, … this wage gap is also the reflection of the gendered and racialized sexual scripts that performers draw on in creating manufactured identities and performing sex in this field" Jones said.
Sex workers have often been the target of hate crimes and face violence on a consistent basis, Jones said. Prejudicial beliefs held by citizens regarding sex work are reassured by policies enacted by the U.S. government, which present a real threat to people in the industry.  
"In light of what happened in Atlanta and all of these consistent cases that we are seeing in the news of sex workers being targeted for violence and harm, we have to realize the way in which our policies, U.S. policies, are actively contributing to and facilitating the violence, harm and stigma that these folks face everyday," Jones said.
Patrick Grzanka, associate professor of psychology and chair of the WGS Interdisciplinary Program at UTK, commented on the importance of Jones' book, especially for college students.
"It's my responsibility to expose our students to cutting-edge and award-winning work/scholars in the field," Grzanka said. "Dr. Jones' book is an important new contribution to the study of sex work broadly and virtual/online sex work, specifically. Her book is the very first of it's kind and takes a uniquely intersectional approach to understanding how race, gender, sexuality and other dimensions of difference and inequality influence camming."
Despite facing backlash from Institutional Review Boards questioning the legitimacy of her research, Jones said that the positive validation she has received from sex workers continues to make her work meaningful and worthwhile.