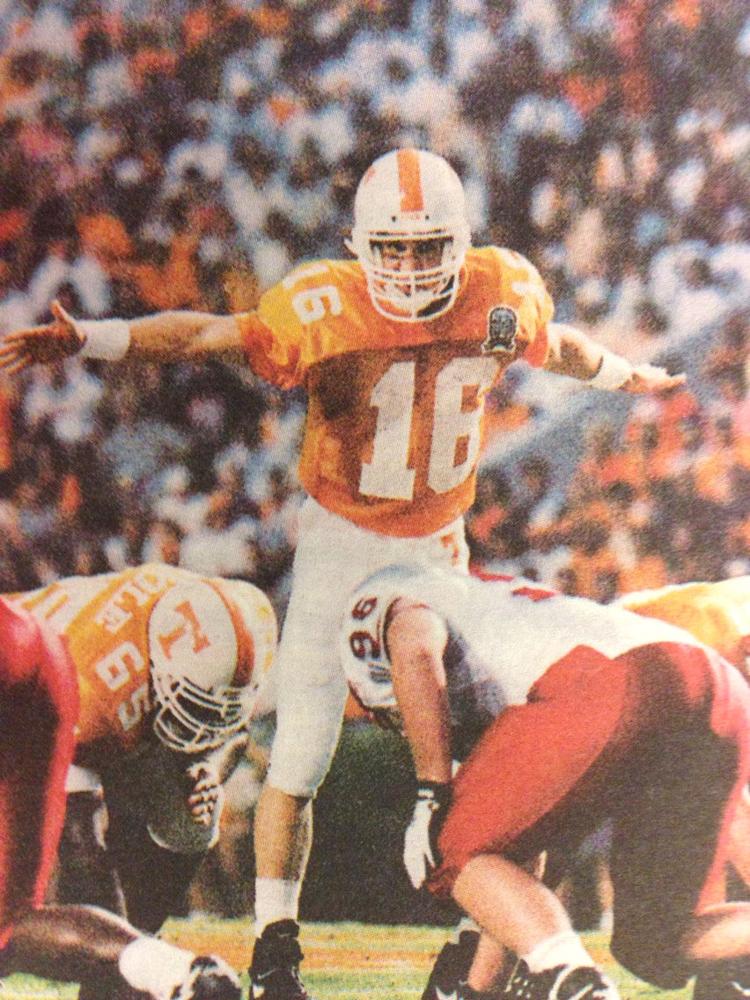 On Thursday, UT alumnus and former professional football player Peyton Manning surprised UT students with a visit to an online Communications Studies Senior Capstone Zoom course, led by Professor John Haas.
The surprise visit is the first in a series of several planned class drop-ins entitled VFL Class Crash, which will feature Vols for Life, well-known alumni and other friends of UT. The program was created in order to spread positivity and light during the difficult situation that people across the world are facing amid the coronavirus outbreak.
The idea for Manning's visit came from UT's Media Relations team, specifically Tyra Haag and Russ Hollingsworth, who reached out to Haas the night before his Thursday class to tell him about their plan to ask Manning to join the Zoom session. Haas was Manning's academic advisor and taught Manning in several of his courses during the football player's time at UT as a communications studies student, so the two have a connection dating back to the mid 90's.
After hearing the proposal, Manning quickly agreed to participate in the class. Haas explained that Manning was great to work with and excited about the opportunity to encourage students.
"He was incredibly gracious with his time. He is a true Volunteer, because a Volunteer steps forward when people need assistance, and the students need assistance right now," Haas said.
In order to surprise students with his presence, Manning joined the Zoom call under an alias with his audio and his video features turned off. Much of the class also had these elements disabled, and when Haas asked his class to turn them on in order to read their nonverbal responses to his lecture, Manning did not enable his.
Subsequently, Haas called out Manning for "being late" to class, and when he enabled his video and audio and began speaking, the class slowly realized who was in their presence. The interaction between Manning and Haas was not scripted; the two created the act in the moment.
Manning gave a cheeky response to Haas' joke about his tardiness.
"I'm sorry Dr. Haas, it's been a while—it's been at least since 1996, '97 since I've been in a class," Manning said.
He then shared several words of advice pertaining to the students' current circumstances.
"I just wanted to drop in and say hello to all of the fellow communication students there and realize this is a unique time and probably not the ideal way you guys expected to spend your senior year, but I just encourage you to keep a positive attitude, keep working like you're doing," Manning said.
Manning encouraged students to use their extra time to be grateful for what they have and help out other people.
"Try to take advantage of the little bit of the extra time that you have to accomplish something else or help out somebody in need, a lot of people [are] hurting out there during this time," Manning said. "Be thankful for what you have and just know, University of Tennessee is proud of you and is gonna support you every way you can, and you know Dr. Haas and his department [are] gonna do the same thing."
The video of Manning visiting the virtual class, which can be viewed here, went viral online and was shared by ESPN, CNN, CBS Sports, Yahoo! Sports and "People" magazine. Students from the class also posted the video on many social media pages.
Haas explained that he hopes that the students in his class, and those in the classes that will later be surprised by other guest drop-ins, are able to gain a positive memory from this program, especially considering the disappointing way that these circumstances have impacted graduating students.
"The idea behind this campaign is what we're going to do is try to leave you with some memorable experiences so that you can carry those away, just like graduation would've been a memorable experience," Haas said.
For one particular student who had often expressed to Haas her love for Manning, the experience was certainly something that she won't soon forget.
Senior Hailey Manus explained that she and her family have always been huge fans of the Tennessee Vols and of Manning in particular, especially because of his contributions to the Communication Studies program.
Manus explained how surprised and excited she was when Manning appeared in her virtual class.
"We all were mostly in shock and I know I couldn't even form words! He was so kind as he always is and very encouraging," Manus said.
She expressed her gratitude toward Haas and Manning for making the drop-in possible and explained that the visit was especially important as a senior whose plans for her final semester at UT were recently deterred.
"As seniors we have all been a bit down about graduation being cancelled and not being able to be with our friends and professors in classes during our last semester," Manus said. "Peyton most definitely gave us the pep talk we needed to write that proposal and raise our spirits! ... We will never forget it!"