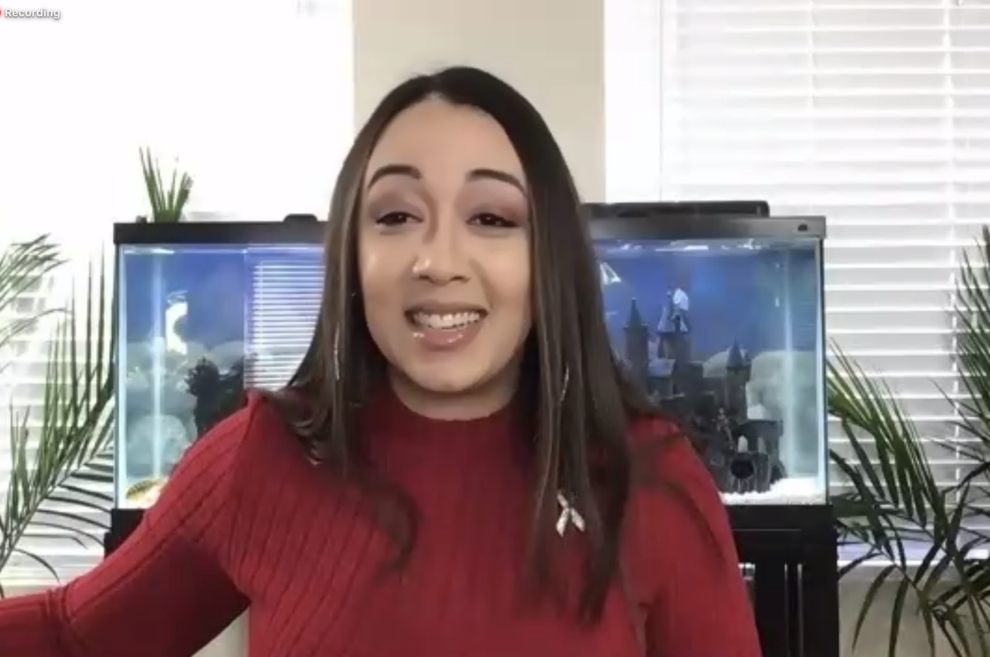 In Tennessee, 16-year-old children cannot legally purchase alcohol. They cannot vote. They cannot purchase a firearm.
There are a few things they can do, however. 16 year olds can drive. They can also be sentenced to life in prison
This is exactly what happened to activist and author Cyntoia Brown, who spoke at this year's Rethinking Reentry Symposium on Tuesday afternoon. The symposium, organized by the UTK College of Law and the Tennessee Journal of Race, Gender and Social Justice, featured discussion on reentry to society after incarceration and voting rights. The event was organized by Taylor Flake-Lawson, who interviewed Brown during the lecture, and led by symposium editor Johnelle Simpson. In conjunction with the symposium, the UT Legal Clinic, along with UT law students, will be holding a clinic on March 20 to help individuals restore their voting rights.
Brown spoke during the annual Rose Lecture at the beginning of the event.
At 16, Brown was convicted on first degree murder charges in the shooting death of Johnny Michael Allen, who had solicited her for sex. Brown, a victim of child human trafficking, alleged that she shot out of self defense, yet was still convicted and given a life sentence.
Over the next 15 years, Brown and her legal team filed appeal after appeal, to no avail. However, her case took a turn in 2018 when Brown's situation caught the eye of several celebrities, including Kim Kardashian and Rihanna. Such celebrities shared the details of Brown's case on social media — which went viral — and advocated for her release.
"I actually was receiving letters from people all across the country," Brown said. "I never received a letter from a celebrity, just these wonderful people all across the country and other countries telling me that they were praying for me, they were out there signing petitions and making phone calls. ... It told me that there's a community out there that still cares about those of us that find ourselves on the inside and feel alone and that you don't have a voice anymore."
At the same time, Brown's legal team was preparing for one final appeal — an appeal to clemency. As Gov. Bill Haslam neared the end of his term, Brown was granted a clemency trial, which only 2% of Tennessee clemency applicants receive.
Finally, after more than a decade behind bars, Brown's sentence was commuted to 15 years by Haslam in early 2019. She was released from prison in August of that year, just months before the beginning of the coronavirus pandemic.
About 17 different lawyers were involved with the pro bono case, lawyer Charles W. Bone of Bone McAllester and Norton said. Bone began representing Brown about a decade ago after seeing the documentary made about her case, "Me Facing Life: Cyntoia's Story."
"I was just angry," Bone said. "I was compelled by the issues that are faced by juveniles and others in the system, and as Cyntoia said, the system is broken, and anybody who denies that the system is broken has really not looked at it very closely."
Bone explained the value he places on giving back to others, including pro bono work.
"I've always thought from the very beginning in my practice as a lawyer that I had an obligation to give back and to help those in need, and I think that's an obligation that you have whether you're lawyers or not," Bone said.
Brown spoke to the support offered by Bone while she was incarcerated.
"To know that you have someone that will go to the ends of the earth to advocate for you, to know that all you have to do is say, I'm going to call Mr. Bone, and it's taken care of, that's everything, because you know he does care," Brown said.
While in prison, Brown always had her eye set on her future. She completed both her GED and bachelor's degree, with honors, while in prison.
""It's a wonder that I was able to stay sane and of sound mind … [God] really just inspired me to get out and do his work, the work that He came here to do in the first place and the work that he calls us all to do," Brown said.
Now, Brown has leveraged her case's popularity and her personal experience in the judicial system to advocate for other inmates and victims of childhood sex trafficking.
During the Rose Lecture, Brown and Bone spoke about the process of reentry and the challenges that previously incarcerated persons face when reentering free society.
Brown began by discussing the school to prison pipeline that children in the court system often fall victim to — the way that one wrong decision, one misstep can change a child's life forever.
As a child herself, Brown first appeared in court after skipping school. She said that rather than the court attempting to address the underlying problems that were causing her to have trouble in school, her fate was predetermined.
"No one really paid attention to that," Brown said. "No one really tried to help me there, kind of just pushed me off and locked me up and got rid of me, kind of just an out of sight, out of mind kind of thing."
Brown said that no one, from her school's employees to judges, set out to ask her how she was feeling — particularly about her identity struggles that she couldn't quite express.
"For me, it was identity issues," Brown said. "I was struggling with my identity as a young, biracial girl, adopted girl, and my peers in class, they didn't understand that, and I was really rejected by them and I was struggling with that rejection, but I didn't know how to really articulate that."
Brown's journey in the judicial system is not a rarity; oftentimes, a child's introduction into the juvenile court system begins through school. Then, the choice to send that child to a facility, such as a juvenile prison, rather than enroll them in preventative programs only furthers the child's involvement with the legal system.
"Stop always thinking that you have to put a kid in a facility," Brown said. "That should be the last resort. Facilities are horrible. They are horrible."
Tuesday's lecture took place on the eve of a Tennessee Supreme Court trial involving a situation not dissimilar to Brown's. Tyshon Booker, who is from Knoxville, is currently serving a life sentence for a murder he committed in 2015, when he was 16. Wednesday, the Supreme Court will be hearing his appeal. Both Brown and Bone recommended that people seeking more information on this subject pay attention to that trial.
As in the cases of both Brown and Booker, many incarcerated people have been in and out of the prison system since they were juveniles, and once a person is incarcerated, the resources available to them to move forward with their life are limited.
Brown explained that the prison library at the maximum security Tennessee Prison for Women, where she served her sentence, contained outdated books and no internet access.
"You literally are there pretty much like on a deserted island," Brown said. "You don't have much access to the outside world whatsoever."
Additionally, the preparation for reentry available to inmates is less than adequate, Brown said. Most vocational classes at the prison were discontinued by the time that Brown was released, with the exception of the cosmetology program. The classes available to help inmates receive an equivalent to a high school degree are ineffective, taught by overworked teachers who don't have the adequate resources to teach students with a variety of different knowledge levels.
Skills regarding life in the outside world are difficult to obtain for those incarcerated since childhood; for example, little is taught in prison about healthcare and negotiating medical fees, Brown said. This prospect is especially concerning considering that within prison, little medical care is available — and almost no dental care is provided; when she was released from prison, a dentist told Brown she needed $10,000 worth of work on her teeth.
"I've witnessed several women die in prison from conditions where medical kind of just ignored [it]. You literally have to fight to get that attention," Brown said. "Dental? Pretty much out of the question. Don't even think about dental. You're going to be put on a waiting list. You'll never be seen."
Once inmates are released from prison, the programs available outside are often just as bleak as those within the prison, Brown explained. Those formerly incarcerated are often unable to find adequate housing, as loans and leases may require background checks and an acceptable credit score. This is a steep hill to climb for a person with a felony record, or someone who either has poor credit or hasn't been able to build credit. Background checks also prevent many from obtaining employment.
"You're free, but you're kind of not free because it really informs everything that you're doing, and you always have to take it into consideration, how you move, and there's always that constant threat that someone is going to try to hold something over you and throw you back in," Brown said.
Transportation is another challenge. Previously incarcerated persons may not have a driver's license, may be unable to obtain a driver's license and may not be able to afford a bus pass.
Finally, formerly incarcerated people often do not have the right to vote, a situation that Brown herself is in.
So, what is the solution to the problems posed by Tennessee's current reentry system? In terms of voting, Brown recommends that formerly incarcerated people turn to other outlets, such as meeting with legislators and advocating for certain bills. In general, Brown said that better educational programs must be established to teach incarcerated people about life outside of prison.
There is much that an individual person can do to further this cause, as well. In the 18 months since her release, Brown has focused on giving back to the community.
"From the time that I was out, I literally hit the ground running," Brown said. "I was constantly on the go, constantly on a plane going somewhere, meeting with people, speaking with people and sharing with them this message," Brown said.
Brown created the Foundation for Justice, Freedom and Mercy alongside her husband J. Long. The foundation is currently working on its first initiative, the GLITTER Project, which stands for Grassroots Learning Initiative on Teen Trafficking Exploitation and Rape. GLITTER has partnered with Nashville foundation Epic Girl to raise awareness for youths affected by human trafficking and is selling silver, glittery ribbon pins for $10 a piece, whose profits go entirely back toward the initiative. To get involved, check out jfamfoundation.org.
Brown is also pushing for Jan. 29 to be recognized specifically as Child Sex Trafficking Awareness Day, as January is Human Trafficking Prevention Month.
"We felt we needed to have some specific focus on the youth, and so that's what we're doing right now," Brown said.
For those looking to get involved with efforts to improve reentry, Brown recommends actually going out and talking to incarcerated people or children in facilities.
"It's one thing to go out and talk about what we should be doing, but if you're not listening to the people and understanding the problem that they're actually facing, then you're kind of just going out there blind," Brown said.
For more information on Brown and reentry after incarceration, check out her book "Free Cyntoia: My Search for Redemption in the American Prison System."